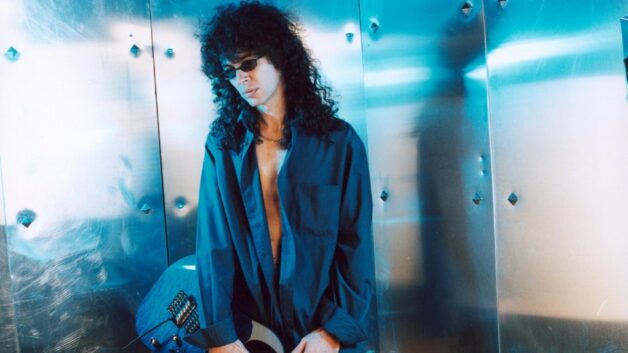 Patrick Rondat
Instrumental, France
It is difficult to summarize Patrick Rondat's career as it is so full of musical encounters. Originating in the eighties' metal scene, he became especially known in the instrumental metal genre.

He participated in the "Hard Rock Rendez-Vous" (Vogue 1989) compilation which exposed him to a wider audience. First, there was a French tour with Blue Oyster Cult, then the release of his debut solo album "Just For Fun" which consolidated his position as a leader in the instrumental metal genre.

He changed direction with "Rape of the Earth" (Vogue / Music For Nations 1991). His first two albums were distributed internationally and he participated in the famous live show on BBC Radio 1 London. On his second album, his omnipresent technique enhanced more mature and finished compositions where musicality occupied a major place. Parallel to his solo career Patrick collaborated with other artists. The meeting with Jean-Michel Jarre in 1991 opened up new musical horizons. After performing at Monsters of Rock (AC/DC, Metallica, Queensryche, etc.) he began working with Jean-Michel by recording the album "Chronologie". Subsequently he participated in an impressive series of concerts around the world, namely at Wembley in 1993 which remains etched in his memory.

The meeting with Jean-Michel lead to the recording of "Amphibia" (FDM 1996) which Jean-Michel produced. Patrick is accompanied by Tommy Aldridge and Patrice Guers. This album carries on the musical change of direction initiated in "Rape of the Earth" where progressive influences in the compositions are reasserted. An adaptation of Vivaldi's "Presto" is a highlight (Vivaldi tribute).

Patrick has crossed the path of other musicians on many occasions: Tony McAlpine, Simon Philipps, Steve Lukather, Stu Hamm (Cannes Music Passion), Gary Moore (BBM)- Patrick was his opening act at the Zenith in Paris) not to mention Joe Satriani's invitation to participate in the G3 tour (1998) with Michael Schenker for fourteen unforgettable concerts.

"On the Edge" (FDM), released in 1999, is a transitional album where Patrick explores other musical worlds. Two prestigious musical guests, Didier Lockwood and Michel Petrucciani are invited to join Patrice Guers and Tommy Aldridge alongside Patrick.

During this period he begins a collaboration with British singer Ian Parry by joining Consortium Project. He records two albums with them and participates in a European tour with Patrice Guers (who joins Rhapsody some years later), Dirk Bruinenberg (Elegy drummer who then becomes Patrick's official drummer for his solo work), Stefan Lill, and Gunter Verno(Vanden Plas). After this positive experience, Patrick joins the Dutch band "Elegy" for two albums followed by a worldwide tour.

Jean-Michel Jarre invites him to perform at concerts in Monaco, Gdansk, Athens, Bejing (DVD Universal Music). The time is right for Patrick to prepare his new solo opus "An Ephemeral World" (2004 NTS). The album concept is based on our culture of the ephemeral. Considered by many as his most accomplished album, he confirms his qualities of composer and outstanding instrumentalist. The album release is followed by a tour of France with the band Freak Kitchen. Manu Martin joins Patrick on keyboards, this consolidates the group spirit.

A meeting with the classical pianist Hervé N'Kaoua in 2008 resulted in a different collaboration requiring rigor and humility. This duet, coming from totally opposite musical cultures, sheds new light on sonatas for piano and violin (Fauré / Beethoven) but also on orchestral pieces ("Winter" by A. Vivaldi). The recording of an album is followed by concerts in France and Italy.

In 2009 XIII bis Records released a 5-CD compilation retracing Patrick's career (Just For Fun, Rape of the Earth, An Ephemeral World, Hervé N' Kaoua – Patrick Rondat and the unreleased Live at Canal 93 – 2005).

For over twenty years Patrick has also dedicated himself to teaching, which he considers essential to sharing and passing on his musical heritage. He participates in training courses, masterclasses, and workshops in France and abroad, and even recorded an educational DVD "Virtuosity and Velocity" in 1997.

Patrick is currently working on a songbook and a new album.
The official Guitar Pro tabs and scores library