Guitar Pro is the leading software for reading and editing tabs. For 25 years, Guitar Pro has been helping musicians worldwide learn to play the guitar, compose songs, and transcribe and edit songbooks.
I buy Guitar Pro
Play accompanied

Hit play and learn your favourite songs accompanied by the score.

Create

Edit your scores easily with numerous editing tools such as scale and chord diagrams.

Craft your sound

Play with more than 100 instruments to create your own tabs: guitars, basses, drums...

Customize your tabs

Create professionally designed sheet music for your songbooks or students.

Share

The Guitar Pro file is the most widespread and shared among musicians and guitarists worldwide.

Enlarge your repertoire

Subscribe to mySongBook to access thousands of scores for all levels directly in the software.
More than 15 million downloads

Leading software since 1997

Also available in Application format

Available in 13 languages
Learn faster, develop your technique and create your repertoire of songs by downloading any tablature online.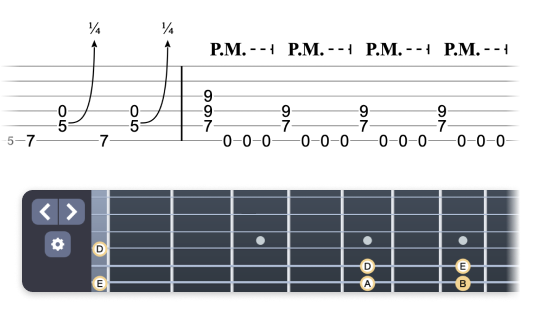 Learn songs without knowing music theory
Guitar Pro lets you choose your notation, whatever the instrument: tablature, standard notation, or rhythmic notation. No need to master music theory to learn a song.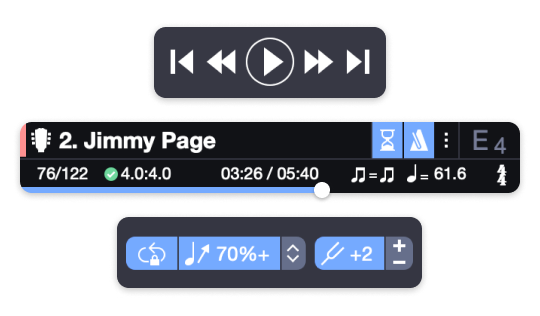 Use advanced playback features
Metronome, visual countdown, looping, solo/mute, speed trainer... Guitar Pro offers many tools to help you learn.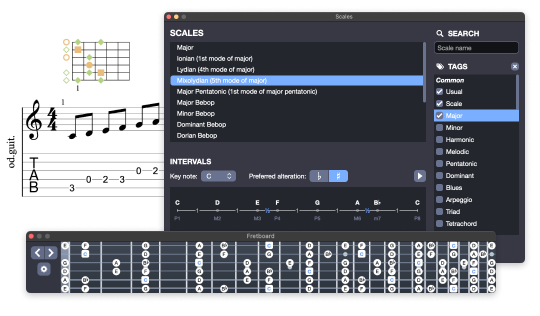 Take advantage of the chord and scale tools
Guitar Pro includes libraries containing thousands of chords and scales to develop your creativity.
And many other playing features
Use the audio player to accompany you and learn faster: loop, speed trainer, metronome, visual countdown, etc...
3 musical notations are available: tablature, standard and rhythmic notation
Find hundreds of thousands of free tablatures on the internet
Use the virtual guitar neck to find notes more easily and to visualize left-hand positions
Import an audio track to make your file a real backing track
And many others...
I buy Guitar Pro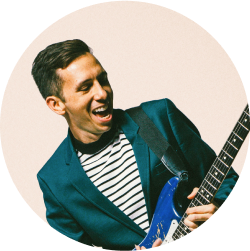 Compose complete songs, transcribe songs, and create educational content for your students. Guitar Pro has been the reference in tablature editing for many years. We continue to innovate in order to offer you more practical editing features to save you time.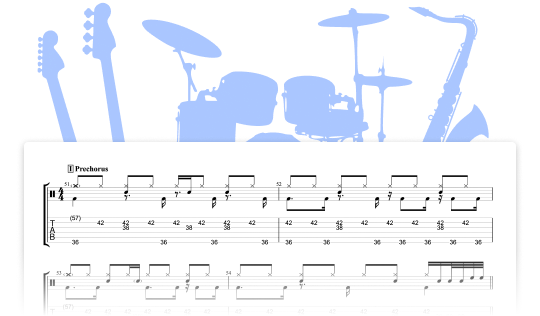 Create tablatures with many instruments
You can compose for dozens of different instruments. Guitar Pro allows you to edit instruments from 3 to 10 strings, keyboards, drums, percussion, and much more.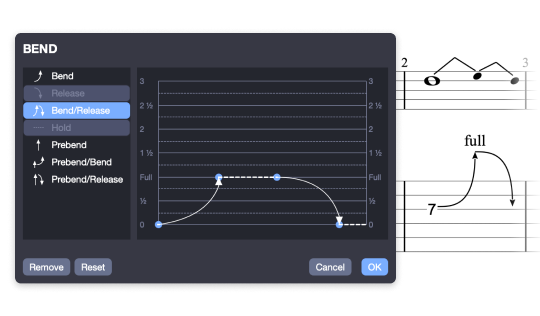 Enjoy specific guitar technique notations
Bends, vibratos, slides, palm mute, let ring... every effect or notation element can be edited in Guitar Pro. Express your creativity to the fullest!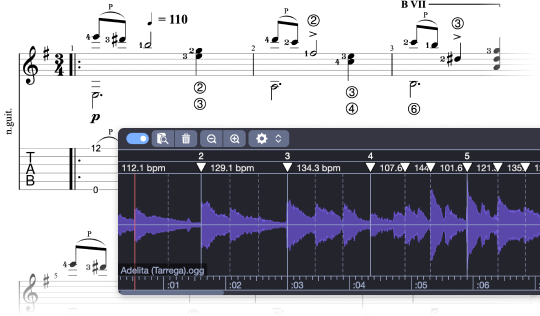 Use the audio track to transcribe faster
Import an audio track into your project to create realistic backing tracks. You can also use your audio track to transcribe songs more easily.
And many other editing features
Set the number of strings (from 3 to 10) and the tuning of your guitars
Easily set tempo, rhythmic signature and automation
Use the chords and scales tools to compose more easily
Use the command palette to edit faster
Transpose or detune your scores at any time
And many others...
I buy Guitar Pro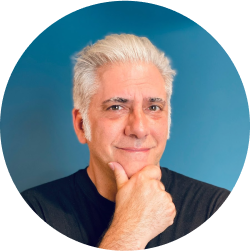 Create backing tracks and emulate more than 100 instruments: guitars, basses, drums, pianos, ukuleles, winds, brass or traditional instruments.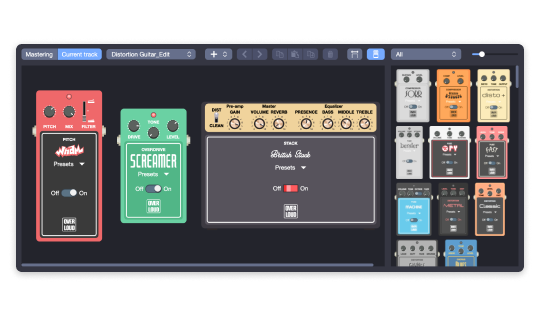 Virtual effects chain
Reverb, chorus, delay, compressor, EQ, tremolo... Guitar Pro comes with dozens of legendary pedals to help you fine-tune your sound.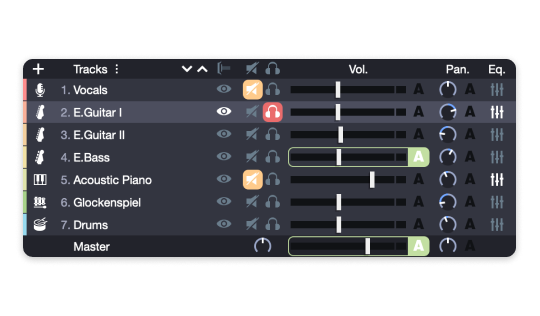 Mixing each track and mastering your project
Apply mixing and panning effects to each track to create a consistent mix for your song. Mastering options also allow you to improve the sound of your tabs.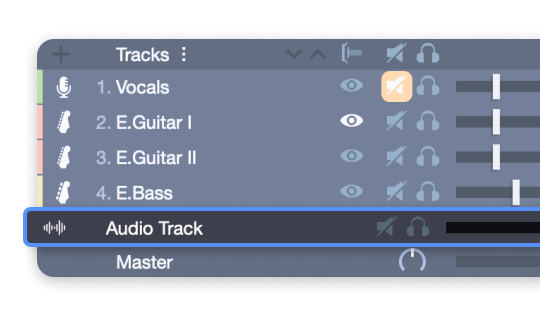 Adding an audio track to your project
The audio track is an excellent way to make your scores more realistic. For example, you can ask your singer or drummer to record himself and then import his audio file into Guitar Pro to create a pre-prod of your future song.
And many other sound features
Use the detune feature to try another tuning in one click
Mix MIDI and RSE (Realistic Sound Engine) on any track
Manage pan and volume automations to create realistic renderings
Use the focus/unfocus mode to quickly isolate one track from the others
Fine-tune the sound of each note to create more precise and realistic scores
Mix each drum element separately
And many others...
I buy Guitar Pro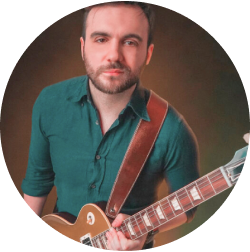 Create professionally-looking sheet music to edit your own songbooks or share your files.

The exceptional quality of the scores
Guitar Pro respects the standards of music writing and allows you to enjoy a very high resolution for your scores.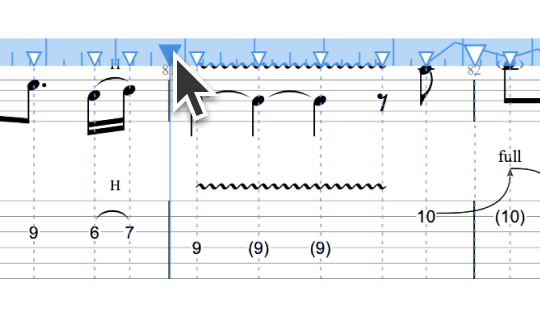 Use the design mode for a clean layout
The design mode allows you to set up each element of your score: spacing between notes, bar alignments, etc...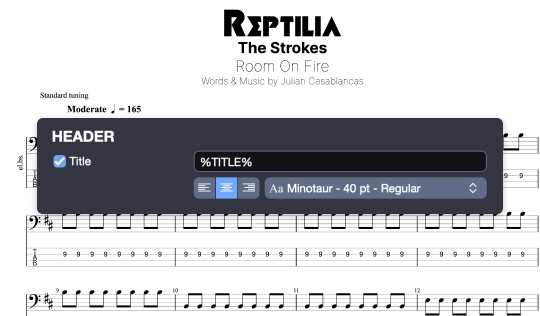 Setup all the elements of the partition
The stylesheet gives you the possibility to configure the fonts and graphic aspects of your scores to make them unique and professional.
And many other layout features
Add detailed information about your scores (copyright, author, etc...)
Display chord or scale diagrams on your files
Add lyrics or indications on the score
Align your bars easily with the new design mode
And many others...
I buy Guitar Pro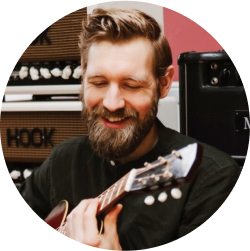 Use the most popular file extension on the market, download and access thousands of free tablatures on the internet, and share your work easily with other musicians.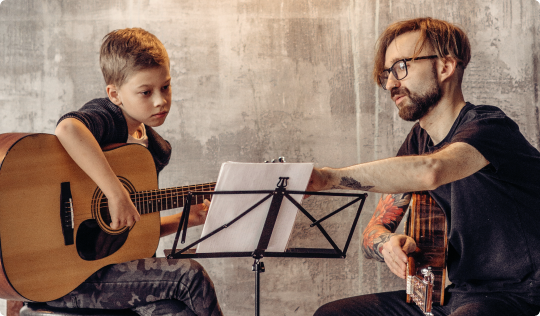 Music teacher
Create your teaching materials quickly and train your students with interactive scores. Share your knowledge with an effective teaching tool.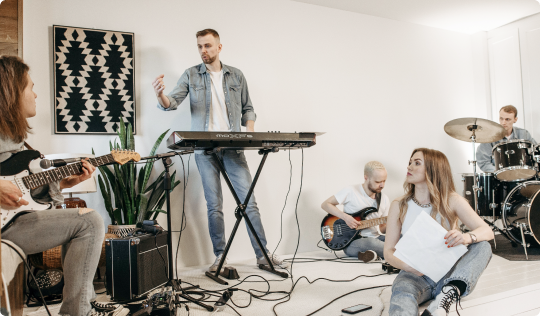 Bands, solo artists and composers
Collaborate with other musicians and compose your future hits together. Guitar Pro allows you to move forward outside of your weekly rehearsal!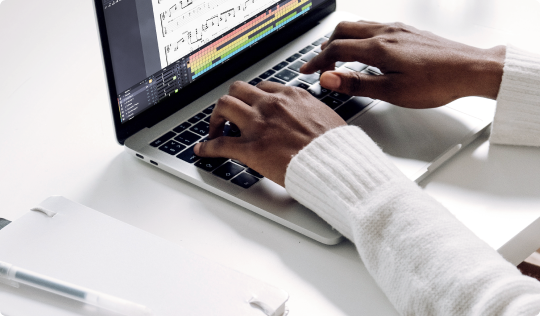 Journalists and bloggers
Edit the scores that will be published in your future educational pages of your magazines and blog posts.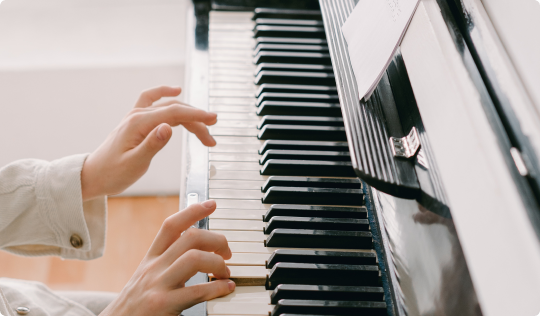 Multi-instrumentalists
Guitar Pro is not just for guitarists! Edit or play scores for bass, drums, piano, ukulele, violins and much more!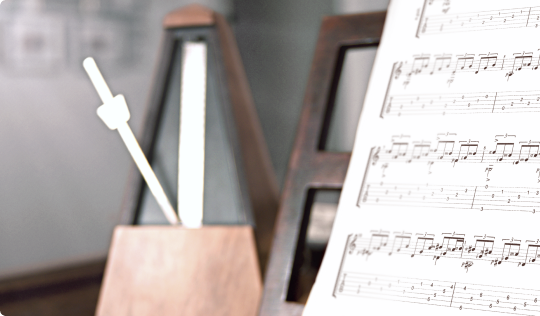 Students
Learn to play in rhythm and accompanied by virtual instruments. Slow down the tempo, listen and visualize the score to progress at your own pace.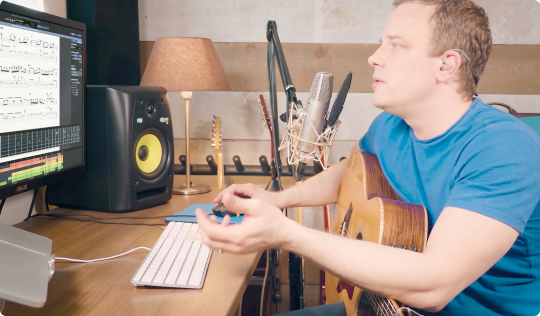 Influencers and content creators
Create, edit and share your scores with your community.
And many other sharing features
File import formats: .gtp, .gp3, .gp4, .gp5, .gpx, .gp, PowerTab, MIDI, ASCII, TablEdit, MusicXML and audio (.mp3, .wav)
File export formats: .gp5, .gp, .gpx, PowerTab, MIDI, ASCII, TablEdit, .mp3, .wav, FLAC, OGG, AIFF and .pdf
Use the password file lock feature to secure your work
And many others...
I buy Guitar Pro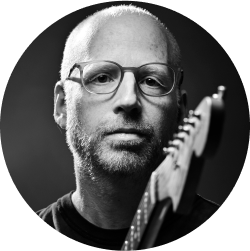 Access thousands of quality scores made by professional transcribers.
Subscribe to get access to a lot of "Full Score" with tracks for bass, drums, vocals and other instruments. Play solo guitar arrangements, and duets for voice and guitar in many musical genres such as Rock, Pop, Metal, Funk, Reggae, Blues, Jazz, Classical, Country and many more.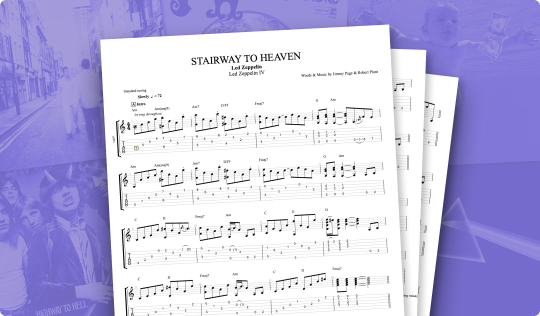 New tabs added every week
The mySongBook team of transcribers offers you new content every week to feed your passion for the guitar!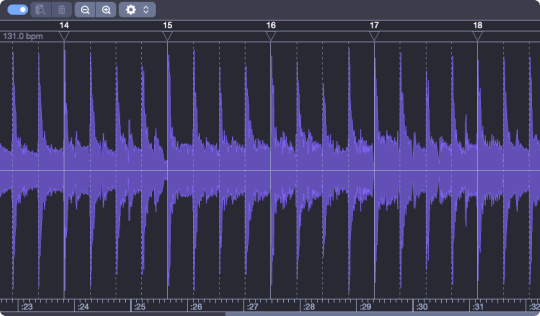 Play accompanied by scores containing an audio file
Discover our new file format including tablature for all tracks and a backing track for the voice.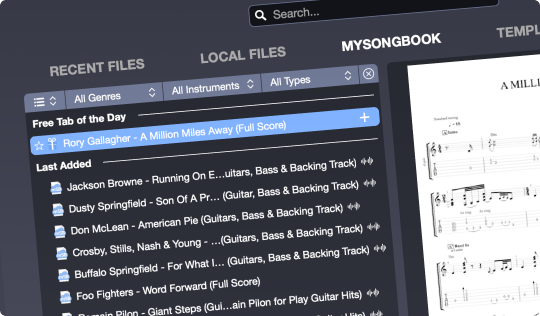 Access your tabs directly in Guitar Pro
The mySongBook library is directly integrated into Guitar Pro. You can access your files directly in the software. No need to search for badly transcribed tablatures on the Internet.
And many other features are available on mySongBook
Access many arrangements: full scores, guitar and vocals, solo guitar, simplified songs, and scores with an integrated audio track to play along with a backing track
Learn to play all the tracks of your favourite songs: rhythm and solo guitars, bass, drums, piano, vocal track
Learn more easily with our simplified scores specially made for beginning musicians
Access your mySongBook tablatures on the Guitar Pro applications for iOS and Android compatible with smartphone and tablet
And many others...
I buy Guitar Pro
Can I install Guitar Pro 8 on several computers?
The purchase of a Guitar Pro license entitles you to install the software on 5 computers or operating systems simultaneously. These installations are intended for a single user, and by extension, for his or her family in the same household.

You will be able, for example, to reinstall Guitar Pro if you have changed your operating system, or to benefit from a double installation on a home computer and on a laptop belonging to the same user.
In which languages is Guitar Pro 8 available?
The software is available in English, French, German, Korean, Spanish, Italian, Japanese, Polish, Portuguese, Russian, Swedish, Traditional and Simplified Chinese. Other translations will be proposed in the next free updates of the software.
Where can I download Guitar Pro tabs on the internet?
The mySongBook catalogue gives you access to several thousand professional scores. These scores are available by subscription or can be purchased individually. Every day, a score from the library is available for free to all Guitar Pro users.

You can also find Guitar Pro files for free download on the Internet. Many sites, artists, teachers and users share their files.
What are the system requirements for Windows and macOS?
Recommended and minimum system requirements for Guitar Pro 8:
Operating system
Windows 8 / 10 / 11
macOS 10.13 or later
Administrator rights
Required
Processor
64-Bit 1GHz Dual-core Intel/AMD/Apple Silicon
RAM
4 Gb
Soundcard (computer)
Required*
Hard drive free space
2 Gb
Screen resolution
1024 x 768 pixels
*To plug your guitar in the software with a low latency, we recommend you to use an external sound card (ASIO compatible for Windows and Core Audio compatible for macOS).