Van Larkins
Acoustic, Australia
Van has been fascinated by music since he was a child and began playing fingerstyle guitar in Western Australia when he was 16 after hearing artists like Andrew York and Andy McKee.

The concept of writing music for a whole band, and performing these arrangements on a single acoustic guitar are the reasons why he has never put the guitar down.

Similar to other fingerstyle artists, Van composes for an entire band with bass, drums, melody, rhythm, and harmony in mind, and applies influences such as EDM (Electronic Dance Music), funk, and alternative rock. He then infuses the music with Australian flavor, inspired by his home country and the many adventures he had there.

The Van Larkins signature "Kallquist" baritone guitar he plays was built for the tuning he is currently using, which is open C (CGCGCE). Everything from the 'tap-tone' of the German Moon Spruce top, to the bracing, reflects this. He chose the baritone to fill the lower register of his live and studio sound and to compliment his use of harmonic melodies. The back and sides of his guitar are very strong to enable him to play his percussions and the light top adds sustain and tone to the beat.

Van has chosen to share with us his song called "Outback Storm". You will find musical directions, overdubs, guitar percussion, and multiple techniques like taping and harmonics in that fingerstyle song.
Why do I like Guitar Pro?
I have been using Guitar Pro since the very beginning of my career to create the scores of my compositions and share them. It is simple to use and continues to evolve and in my opinion, is light years ahead of any other TAB software out there.
I can easily and quickly add guitar percussions tracks and other percussive techniques to my arrangements. The sound quality of Guitar Pro has improved a lot over the years. Guitar Pro 7 ticks all the boxes for me, intuitive and a whole lot of fun to use.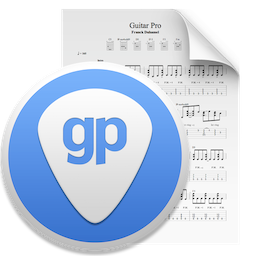 van_larkins_outback_storm.gp
The official Guitar Pro tabs and scores library