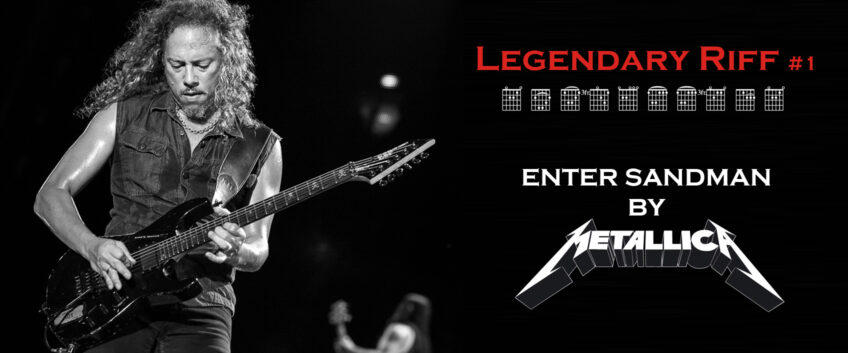 Legendary Guitar Riff #1 – Enter Sandman by Metallica (Free Tab)
Last update:
Author: Thomas Duflos
We are proud to introduce our new "Legendary Riffs" pedagogical video series! Each week, find a legendary riff to learn by video and tablature. We begin this series with "Enter Sandman" by Metallica.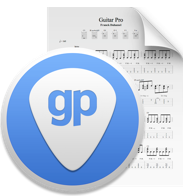 "Enter Sandman-riff-Metallica.gp"
(click on the image to download the Guitar Pro tablature)
About the song
An excerpt from their eponymous album "Metallica", released in 1991, "Enter Sandman" is one of the American Thrash group' most iconic riffs.
Composed by Kirk Hammett, James Hetfield and Lars Ulrich, Enter Sandman is a great riff to work on your palm mute and your movements on power chords (bar 5). No particular technical difficulty except maybe the string skipping on the last riff in F# (bar 18).
In order to make the riff sound as it is played by the pair of guitarists Hammett / Hetfield, be sure to slide on the E note at the entrance of the first riff and mark the left hand vibrato on the A (bar 2). Finally, remember to mark the accents on the "and" of the fourth beat of each bar to stay in the spirit of the original riff.
Did you like this video? Learn the full Enter Sandman tab at mySongBook.com.
Leave a comment
Your email address will not be published.
The official Guitar Pro tabs and scores library
Free
Guitar Pro tabs
pack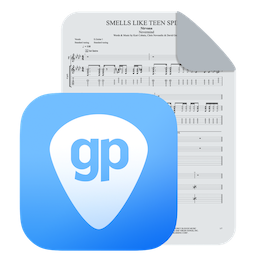 Download hundreds of riffs, licks, and exercises to spice up your guitar practice time.
Get the latest Guitar Pro generation