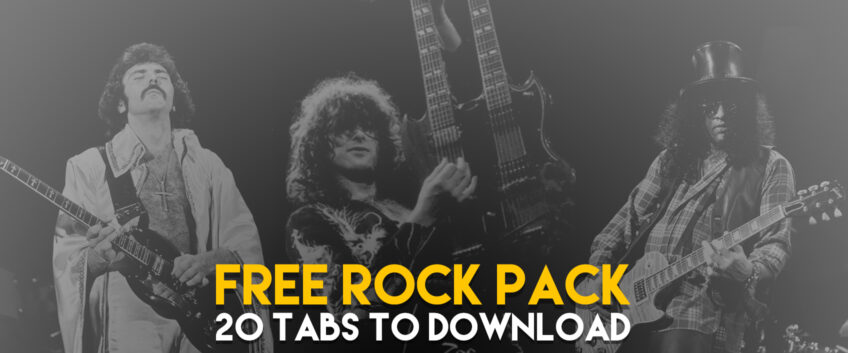 Free Rock Pack – 20 Famous Riffs to Download
Last update:
Author: Thomas Duflos
New Riffs please! We know that you're always searching for new riffs to get inspired or improve your technique. That's perfect timing because we've designed a new pack including 20 riffs from legendary songs for you. Enjoy!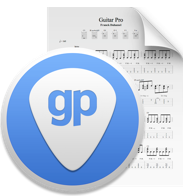 "Free_Rock_Pack.zip"
(click on the image to download the .zip file for Guitar Pro 7)

"Free_Rock_Pack.zip"
(click on the image to download the .zip file for Guitar Pro 6)
What you will find in this bundle
• Black Sabbath – Paranoid
• Blue Oyster Cult – Don't Fear the Reaper
• Chuck Berry – Johnny B. Goode
• Deep Purple – Burn
• Dire Straits – Money for Nothing
• Eric Clapton – Cocaine
• Guns N' Roses – Welcome to the Jungle
• Jimi Hendrix – Purple Haze
• Joe Satriani – Satch Boogie
• Kansas – Carry On Wayward Son
• Led Zeppelin – Black Dog
• Lynyrd Skynyrd – Sweet Home Alabama
• Michael Jackson – Beat It
• Ozzy Osbourne – Crazy Train
• Queen – Bohemian Rhapsody
• Steppenwolf – Born to Be Wild
• Survivor – Eye of the Tiger
• Toto – Hold the Line
• Trust – Antisocial
• ZZ Top – La Grange
About this guitar rock package
This pack is a kind of follow-up to our Legendary Riff videos series available on our Youtube. We've made this bundle based on your favorite tabs at mySongBook.com. We're offering some of our best-selling content to you here!
In this bundle, you'll find 20 riffs excerpts including all the instruments from the original songs (guitars, basses, drums, etc.) so you can play along easily. All of the following tabs have been transcribed by our transcriber team.
Feel free to leave a comment if you have any question about these riffs or ideas for upcoming packs of this kind. Enjoy guys!
Leave a comment
Your email address will not be published.
The official Guitar Pro tabs and scores library
Free
Guitar Pro tabs
pack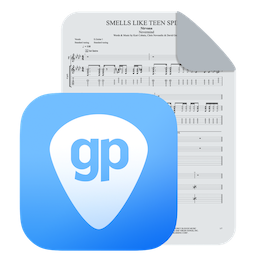 Download hundreds of riffs, licks, and exercises to spice up your guitar practice time.
Get the latest Guitar Pro generation