John Konesky
Country, Metal, Rock, United States
John Konesky is the lead guitarist of the band Tenacious D, with whom he has toured the world's biggest stages with the renowned Jack Black and guitarist Kyle Gass.

Inspired by Chet Atkins, Jerry Reed, and John McLaughlin, among others, John began playing guitar at the age of 9.

In 2009 John Konesky created a Youtube channel with Kyle Gass called "Guitarings" in which they teach Tenacious D songs, as well as techniques and theory ranging many different styles.

You can take lessons with John via his Patreon, which includes more detailed lessons on technique and theory along with Guitar Pro tabs for all lessons.

In 2015, he won a Grammy for his work on Tenacious D's cover of Dio's song "The Last in Line."

Today, in addition to Tenacious D, John plays guitar in several California bands that perform all over the world: Wynchester, Kyle Gass Band, and Trainwreck.

Learn 3 licks from John Konesky and check out his interview on our blog here.

Why do I like Guitar Pro?
I started using Guitar Pro 5 years ago. It quickly became indispensable for the lessons I was giving on skype at the time. It was extremely useful to be able to immediately make professional tablatures for my students. 
I also used it to enrich my teaching content. I now use it to write down my compositions when I'm afraid of forgetting a part of them. 
Instead of having a recording, I have a transcription that I can go back to if I forget a particular fingering. 
Guitar Pro 7 is another step in the evolution of the software. It works perfectly on the new macOS and the new interface is fluid and intuitive. I love it!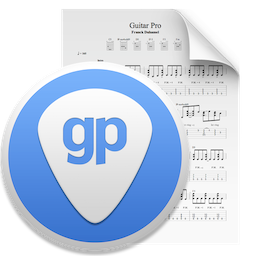 Ridgerunner_Solo.gp
The official Guitar Pro tabs and scores library