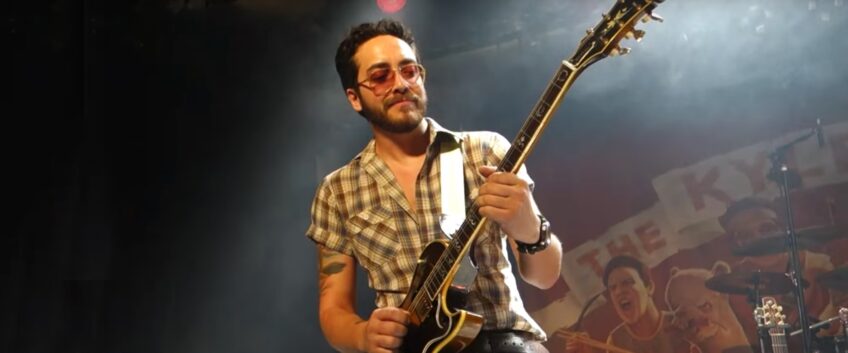 Tenacious D Electric Guitarist John Konesky's Interview & Licks
Last update:
Author: Thomas Duflos
Download these 3 cool guitar licks written by the talented guitarist John Konesky and take up the challenge.

John S. Konesky has been the lead electric guitarist of the band Tenacious D since 2005. You might have seen him dressed up as the anti-christ on stage next to the other members of the band, famous actors Jack Black and Kyle Gass. John is also a producer, an actor and a guitarist in several bands. He's been playing with the bands called Kyle Gass Band and Wynchester. John has accepted to share with us some of his great riffs.
Have you found the pick of destiny, the legendary guitar pick that gives its holders great guitar skills? Because you might need it to play these infernal guitar licks.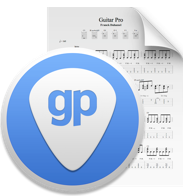 "John Konesky Licks for GP7.gp"
(click on the image to download the .zip file for Guitar Pro 7)

"John Konesky Licks for GP6.gp"
(click on the image to download the .zip file for Guitar Pro 6)
Lick 1
This lick is the solo on the song called "Ridge Runner" by the band Wynchester. It's a fast country solo, very fun to play.
John switches keys frequently in this solo and enjoys using scales other than the overused pentatonic scales.
You can use the third-guitar track as a backing track to practice it.
Take a look at this tutorial video made by John Konesky himself in which he's playing the solo in the original tempo and then very slowly bit by bit.
 Lick 2
The second lick introduces the main riffs of the rock song called "Regretta", by the Kyle Gass Band.
The riff of the first bar is used in the intro and in the chorus too. The verse riff is composed of a cool palm muted arpeggio followed by a fast descent in sixteenth notes. In the pre-chorus, John is playing a fast 2 strings chugging riff with a dotted 16th triplet feel.

It acts in a similar manner to the triplet eighth feel but with sixteenth notes. It means that for every pair of 16th note, the first note will be played like a dotted 16th note, while the second will be a thirty-second note.
Lick 3
The third lick features the ending guitar solo from the song called "Toot of the Valley" by the Kyle Gass Band.
In this long solo in Dm you will meet pull-offs, hammers and bends. You can play this solo with a friend because many parts of the solo are harmonized, take a look at it in the second track. John also added a rhythm guitar which you can use as a backing track for practicing. Don't forget to tune your guitar to dropped D tuning (DADGBE).
5 Questions to John
How did you learn the guitar? By yourself or did you have a teacher?
Starting from around 9 years old and up until I was about 18, I learned guitar with a teacher. I always enjoyed discovering things about music theory back in those days. I'm glad I had that background. Now, I don't really care as much about the technical side of things, I just play what I enjoy, or what I'm hired to do and that's fun for me. Using Guitar Pro has helped me re-learn some of the sight reading skills I'd long forgotten, at least from a rhythmic standpoint.  I still can't read music in performance but it's nice knowing enough to be able to write up transcriptions.
What songs do you like to play just for fun?
My guilty pleasure is writing fingerstyle arrangements of classic TV theme songs. I've always loved fingerstyle guitar, and I'm a child of the 90's, so all those goofy theme songs from TV shows of that era have always lived somewhere in the back of my brain. One day I started playing around with the Perfect Strangers theme song and I was like, well this is really dumb and fun! So I started writing up more of them. Someday, I'd like to make a record of them but I think only like one person would buy it and it would be my Mom.
Which guitarist(s) influenced you the most?
For fingerstyle Chet Atkins and Jerry Reed. For country, I really can't get enough of Brad Paisley's guitar playing lately. My all-time favorite is John McLaughlin. I love guitar-based jazz fusion from that era. Those Mahavishnu Orchestra records are just insane.
Can you tell us more about your band called Wynchester? And tell us please about your other projects at the moment.
Wynchester is a band that Mike Bray and I started a long time ago but never really had the time to focus on until now. It began by us frequenting a country jam night in the valley where we live and we just slowly started writing and building it up. It's a very free and fun project. The writing process has always been effortless between Mike and I. We have a very good rapport creatively. I'm not really working on much else at the moment. I'm keeping my fingers crossed that some Tenacious D stuff comes up soon because that's always a blast, but I won't know anything until it's time to record. Kyle Gass Band is on a little break at the moment, although we just had a really fun reunion with our old band Trainwreck.
Have you been using Guitar Pro for a long time? What do you think of the new Guitar Pro 7?
I started using Guitar Pro maybe 5 years ago. It quickly became a huge part of my Skype lessons, giving me the ability to make professional tabs on the spot for my students was invaluable. I also used it to develop a trove of great lesson content that I would use in my lesson plans for my students. Now I use it to transcribe my own music sometimes if I'm worried about forgetting something. Rather than just have a recording, I also have a transcription I can reference if I forget a particular fingering. Guitar Pro 7 is yet another step forward for the software. It runs smoother on the new macOS, and the new interface is sleek and intuitive. I really dig it!
Follow John
Leave a comment
Your email address will not be published.
The official Guitar Pro tabs and scores library
Free
Guitar Pro tabs
pack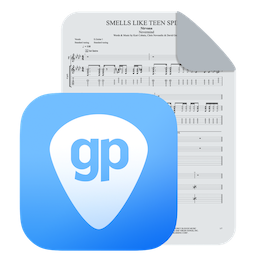 Download hundreds of riffs, licks, and exercises to spice up your guitar practice time.
Get the latest Guitar Pro generation