Mike Salow
Rock, United States
Mike Salow is an American guitarist, songwriter, and music educator from Minneapolis, Minnesota.

He graduated with honours from McNally Smith College of Music, where he received a B.M. in guitar performance, along with a music business minor.

After graduating, Mike was invited back to McNally Smith to join the guitar & ensemble departments as a teacher. He taught there from 2013 until McNally Smith's sudden closure in December 2017.

Mike is currently a teacher in the instrumental jazz program at St. Paul Conservatory for Performing Artists, an arts-focused high school in downtown St. Paul, Minnesota.

Mike is also the founder of Ideal Music Lessons, an in-home and online music lessons service based in Minneapolis/St. Paul in which he is sharing free guitar lessons, tips, and tricks all over the internet via social media; most notably on Instagram where he's amassed the majority of his following.
Mike also works closely with FretboardBiology.com, an online guitar program designed by Joe Elliott, the previous guitar department head at McNally Smith College of Music and Musician's Institute.

Outside of teaching, Mike gigs regularly with various groups throughout the Minneapolis/St. Paul area. Most notably, as the guitarist & backing vocalist for the band, Chester Bay.

After joining the band in 2009, Chester Bay toured throughout the Midwest, they were featured in Rolling Stone magazine, and they opened for acts such as Fitz and the Tantrums, Los Lobos, and The Avett Brothers.

Aside from his regular gigs, Mike co-founded the progressive metal band, Ideology, along with drummer, Charlie Engen of Five Finger Death Punch. Ideology released its debut self-titled album in 2016 and is yet to announce its sophomore release.

In 2021 Mike released his debut solo album entitled, The Hunt, which can be streamed on any platform.


Why do I like Guitar Pro?
I've used Guitar Pro for my entire career and I consider it to be the industry standard of tablature software. It's intuitive and easy to use, and it's something I use almost every day to create lesson material for my students and social media followers/subscribers. My job would be very hard without Guitar Pro.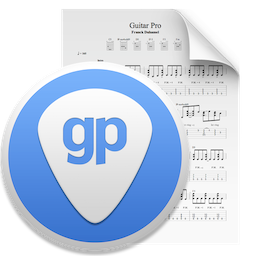 So-It-Begins.gp
The official Guitar Pro tabs and scores library