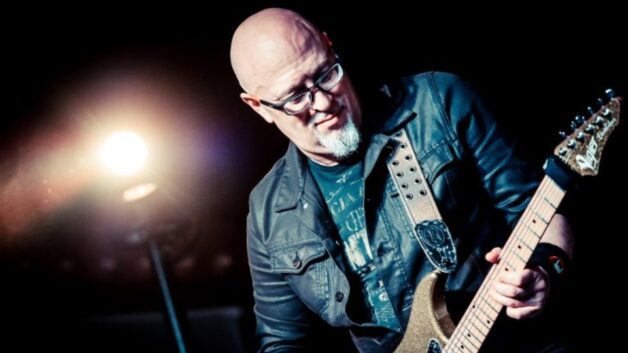 Christophe Godin
Instrumental, France
Christophe was born in 1968, he started playing the guitar at the age of 13, on an acoustic guitar in his home, and he started his first band 6 months later.
One of France's lead guitarists, Christophe Godin's career goes far beyond the exaggerated image of a wrestler-looking guitar hero that follows him. After he played in various bands, the album Temple, in 1995 gave him both national calibre and more than positive press.
In 1996, he plays on Guitare Attitudes, a compilation of French guitarists, and in 1997 he creates the Mörglbl Trio !! with Ivan Rougny and Jean-Pierre Frelézeau. Two albums (The Mörglbl Trio !! in 1998, and Bienvenue à Mörglbl Land, in 1999) take them on to the international stage.
Christophe also teaches at the Geneva E.T.M. and writes for various guitar magazines. A regular contributor to the Nancy M.A.I., he leads master classes all over France.
In 2001, he creates Gnô, with Gabriel Vegh and Peter Puke, who release Trash Deluxe. Besides his duet with Pierrejean Gaucher (the 2G), Christophe produces his own project Christophe Godin's Metal Kartoon. The band has been on tour since 2004, and released an album in 2005, with all of the ingredients of the musician's career: humour, unusual lyrics, virtuosity, and a blend of jazz, funk, and metal.
Grotesk is released in 2008, which Mörglbl will play on the roads of France, Europe, and beyond. Each new performance confirms a growing tie between the band and their audience.
In 2009, Jazz for the deaf is something of a shock, and the audience is thrilled by the heights and musicality offered by the musicians. As Christophe himself whispers on the side, "the guitar hero is back!"
Since 2012, a series of albums follows for Mörglbl, Brütal Römance, Tea Time for Pünks in 2015, and the last one, The Story of Scott Rötti, in 2019. Not to mention the live DVD to celebrate the 20th anniversary of the band, Mörglbl 20th Anniversary, in 2020.
But Christophe does not stop there, in 2020, a new formation is born, the trio of Annecy associated with the singer Maggy Luyten to create the group The Prize, whose eponymous album is released in 2022.
Christophe Godin represents the Vigier electric guitars, the Cole Clark acoustic guitars, Laney amps, Zoom and Palmer stompboxes, and Savarez strings.
Why do I like Guitar Pro?
Guitar Pro is the ideal tool for both teaching and composing, so simple and flexible it is! For such a poor reader as I, (and as quite a bunch of my fellow guitarists!), it makes it so easy to set up tablatures or scores, with on top of it the new functionalities that yield results of a rarely paralleled quality!
The tool is getting more and more flexible. I export MP3s for my students, it's great, and it allows them to listen to a specific part. The tool is getting better and simpler, so it's great and very easy to use on all instruments.
Guitar Pro rocks and rules!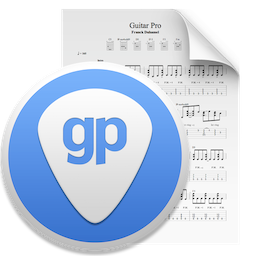 christophe_godin-hells_balls.gp
The official Guitar Pro tabs and scores library