Éric Legaud
Acoustic, France
Multi-instrumentalist, composer, YouTuber, guitarist, and professional pianist, Eric Legaud is surely the coolest guitar teacher in France. Recognizable by his hat and his good humor, he teaches guitar and piano with passion and simplicity.
Eric started playing music at the age of 6 with the piano. It was later, at the age of 14, that he touched his first guitar.
In 2001 he received the first piano prize at the Paris Conservatory, he then entered the University of Paris VIII in musicology.
After his studies, he created his own music school in the impasse Canart in Paris. He then performed on stage in Fabrice Talon's play « Camino ».
In 2010, he created his famous Youtube channel MrGalagoMusic. It will reach more than 63 million views and more than 300,000 subscribers in 2019.
« From interpretation to composition » was published in 2018, this method dedicated to beginner guitarists offers many tips and advice that are essential to make progress.
Eric doesn't stop there, in 2014 the Galago Music application was released on Android and iOS, giving access to his 230 guitar lessons for free.
A second method is being written, this time for pianists, its release is planned for 2020.
Why do I like Guitar Pro?
Guitar Pro est le logiciel qui m'a permis de progresser à la guitare ! J'ai toujours apprécié de pouvoir ralentir ou accélérer la lecture des tablatures, de pouvoir visualiser plusieurs pistes à la fois et d'avoir un rendu sonore qui n'a cessé d'évoluer au gré des années. Je l'utilise encore systématiquement pour composer des morceaux, écrire des partitions pour mes élèves ou bien intégrer un visuel sur mes tutos Youtube.
Bref, c'est pour moi absolument le must en la matière !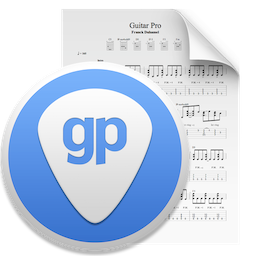 eric_legaud-le_depart.gp
The official Guitar Pro tabs and scores library