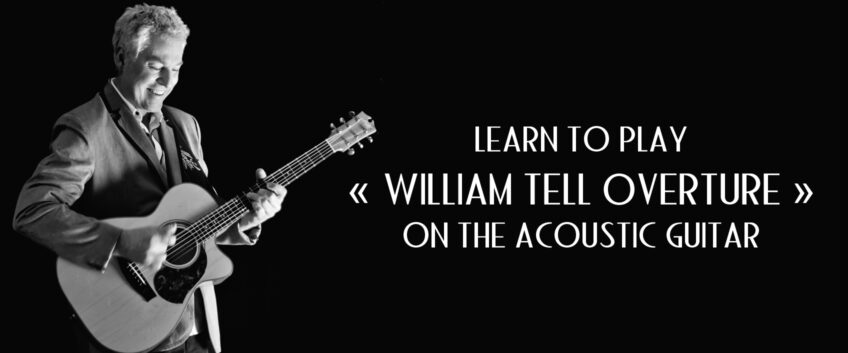 Learn to Play "William Tell Overture" on the Acoustic Guitar
Last update:
Author: Thomas Duflos
Michael Fix, our Australian fingerpicking expert, has put together an exclusive arrangement of Rossini's "William Tell Overture" for you. Make sure to download the Guitar Pro tab of this previously unreleased guitar arrangement in the article. Enjoy!
Guitar Pro tab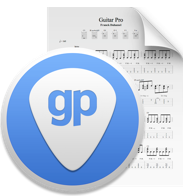 "William Tell Overture – Michael Fix.gp"
(click on the image to download the tablature)

"William Tell Overture – Michael Fix.gpx"
(click on the image to download the tablature)
Video
Michael Fix's tips 
"To make an orchestral piece like William Tell Overture work as a guitar arrangement, it's important to exaggerate the dynamics. For example, I play the introduction loud, then when it moves into the main theme (bar 7), I mute the strings and play quite softly. When I go up the octave at bar 11, I un-mute, and use the open chord sound. I follow this pattern throughout.

Fortunately the key of E is perfect for the guitar, it means we can use the whole of the fingerboard from open chords up to the 12th fret.

The galloping rhythm is also very important in this tune, and when the pattern breaks at bar 35, it's a wonderful release. That's also a high point dynamically. 

At bar 43, I bring the volume down, and mute the bass strings. I keep that whole section low, and then hit it hard (bar 57) to create surprise.

One of the trickiest phrases for me to play is the phrase at bar 23-26. When learning, just play it very, very slowly. Repetition is the key.

Finally, be careful not to rush it; I try to keep the tempo around 155bpm."
About Michael Fix
Michael Fix is widely acclaimed as one of the world's finest acoustic guitarists. Michael began performing at the age of 12, and in his early twenties moved to Sydney, where he was discovered by the legendary Tommy Emmanuel. Emmanuel became a mentor to the young guitarist and spent several years teaching and working with him.
He has won three Golden Guitars and numerous other awards in Australia, and tours widely throughout the world, particularly Germany, Italy, the Netherlands, Austria, and elsewhere in Europe.
Over the past two decades, he's released 13 albums, together with several singles and EPs, and has established himself globally as a leading performer, appearing at festivals and concert venues across Australia, Europe and Asia.
Michael is an internationally recognised composer, whose music is also widely heard in TV shows and documentaries all over the world.
Links
Leave a comment
Your email address will not be published.
The official Guitar Pro tabs and scores library
Free
Guitar Pro tabs
pack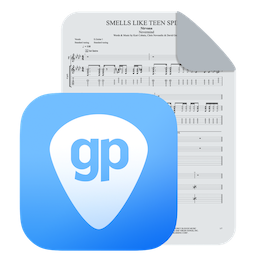 Download hundreds of riffs, licks, and exercises to spice up your guitar practice time.
Get the latest Guitar Pro generation