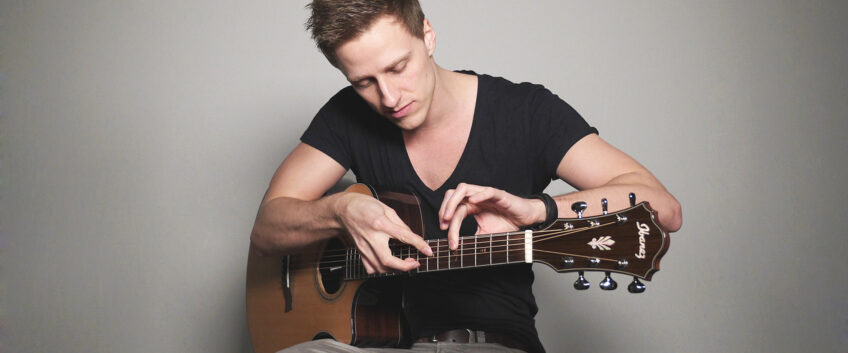 Beginner Percussive Guitar Fingerstyle Tutorial by Tobias Rauscher
Last update:
Author: Thomas Duflos
We are glad to present you a new lesson by Tobias Rauscher, the great guitarist behind the "Tobias Guitar" Guitar Academy. Today's lesson will introduce you to the wild world of percussive fingerstyle guitar with a riff especially designed for beginners. Enjoy!


"Tobias Rauscher – Memories (Percussive Part).gpx"
(click on the image to download the tab)
The riff

"The percussive part I am showing you in this tutorial is taken from my song "Memories". It includes several techniques like body percussion, slap harmonics and legato playing. The riff looks more difficult to play than it actually is and it makes a lot of fun to play. In the tutorial I show you how to play it step-by-step. You can download the Guitar Pro 6 files as well.

Percussion in tabs

When it comes to notating percussive elements in tabs the most common method is to indicate the percussive hits with "X's". Hereby, the X's on the higher strings (eg. G, B, E) can indicate a higher pitch than X's notated on the lower strings (eg. E, A, D). An alternative method is to position the X's parallel to the location the percussive elements are performed at on the guitar. In this case hitting the guitar's lower parts, for example the lower side of the body would be be indicated with and X on the high E string. Hitting the guitar on Top would then be indicated with an X on the low E string.

However, the indication of percussive elements can drastically vary from guitarist to guitarist and song to song. Thus, it is best to compare the tabs with ideally the video to see where the percussion is played at exactly."

– Tobias Rauscher
About Tobias Rauscher
Tobias Rauscher is a 29 year old German Modern Percussive Fingerstyle guitar player and part of the modern acoustic guitar movement that is led by players like Andy McKee and Tommy Emmanuel. His playing style combines melodies with percussive elements in own compositions full of technical refinements – pure and clean – performed on only one guitar.
Tobias started to play the electric guitar at the age of 14 as an autodidact and initially played mainly Rock and Metal. In 2004 he founded his first band "Synatic" and played the guitar in several other musical projects. In 2010 he finally decided to fully focus on playing solo acoustic guitar.
He received first attention through his videos on YouTube with more than 10 million views by now and a steadily growing community. In late 2015 he created his online Guitar Academy to help other guitarists to learn the art of Modern Percussive Fingerstyle.
Learn percussive fingerstyle
Sign up for Tobias's Guitar Academy at www.tobiasguitar.com and get tutorials directly into your inbox. You will get notified as soon as the Academy opens its doors again.
Follow Tobias on…
Leave a comment
Your email address will not be published.
The official Guitar Pro tabs and scores library
Free
Guitar Pro tabs
pack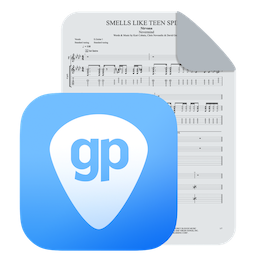 Download hundreds of riffs, licks, and exercises to spice up your guitar practice time.
Get the latest Guitar Pro generation