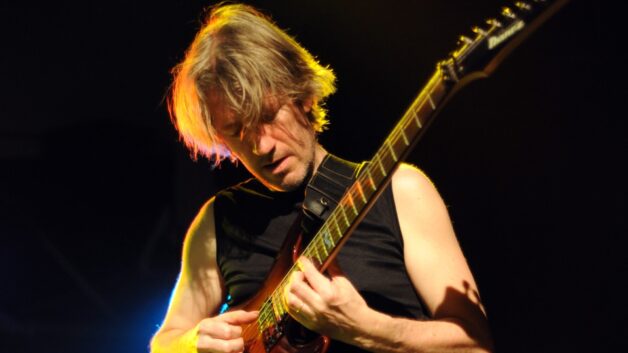 Yannick Robert
Jazz, France
A guitarist, teacher, and pedagogical director of the Ibanez schools, Yannick Robert has been an active member of the Jazz and Fusion scenes for years, thanks to the unique playing technique he has developed.

He is currently on tour with the BLUES & BEYOND QUARTET with Sébastien Charlier, Dominique Di Piazza, and Yoann Schmidt. The band recorded 2 albums: La Danse du Chat (2011) and Echec et Malt (2013). He also recorded at Peter Gabriel's Real World Studios for Alien Beats Records. He currently prepares a series of gigs with his trio "A Jazz Tribute to Sting" with Cédric Affre et Bruno Schorp.

Yannick has been endorsed by Ibanez Guitars since 1995, with whom he has conceived a signature Fretless model. He appears on the albums Fretless Guitar Masters and Village of the Unfretted. He has authored many pedagogical books and DVDs and recorded several albums as well as a series of masterclasses for the imusic-school.com website.

A permanent member of the Music Academy International, he is chief collection editor with ID Musique, Carisch, and Lemoine publishers.
Why do I like Guitar Pro?
Among the existing music-editing software, GUITAR PRO seems to me to be the only one that allows you to transcribe guitar-specific musical phrasing accurately, yannick_robert-keltik_bluesrespecting all of its particular effects and wide diversity… which is no small feat!
The official Guitar Pro tabs and scores library