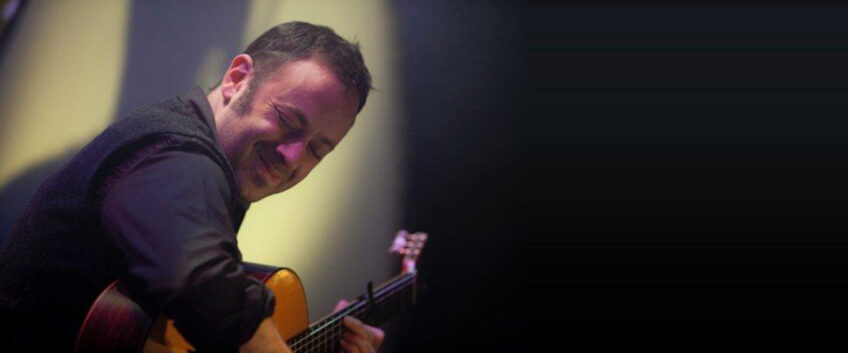 Guitar Lesson – Discover Rumba Flamenca in tablature
Last update:
Author: Thomas Duflos
We are here going to get a closer look at a very popular genre in the Flamenco repertoire: Rumba Flamenca. The Gipsy Kings made it famous, but this modern trend of Flamenco (inspired by Cuban Rumba) can be found in the albums of many a great guitarist, such as Paco de Lucia (notably on "Entre Dos Aguas").
This is an article by Mathias Berchadski, professional Flamenco musician.
The tablature

"Mathias Berchadsky – Rumba Flamenca.gpx"
(click on the image to download the tab)
Exercise n°1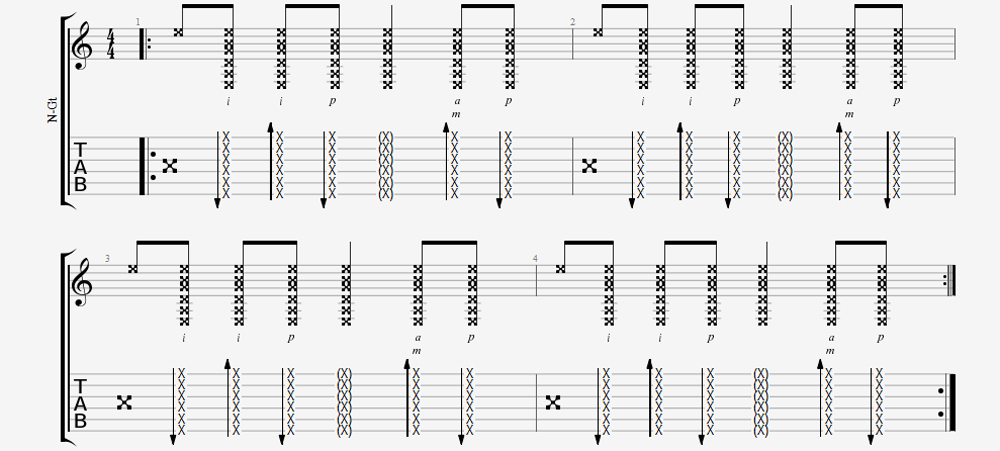 Slowly work the founding "Cuerda tapada" groove with a metronome, with your left hand covering the strings on the fretboard. This allows you to muffle the sound and concentrate exclusively on your right hand (pay particular attention to right-hand fingering).
The term "Golpe" that you find on the score is specific to the acoustic guitar. It consists in hitting the guitar's sound board with the fleshy part of the ring finger's tip to imitate the sound of a drum (well, don't hit too hard).
Be patient with this first exercise; it takes a little while to turn this into a spontaneous move but with some slow, careful practice you will manage.
A little groove tip: think of slightly accenting the 4th-beat attack in each bar.
Exercise n°2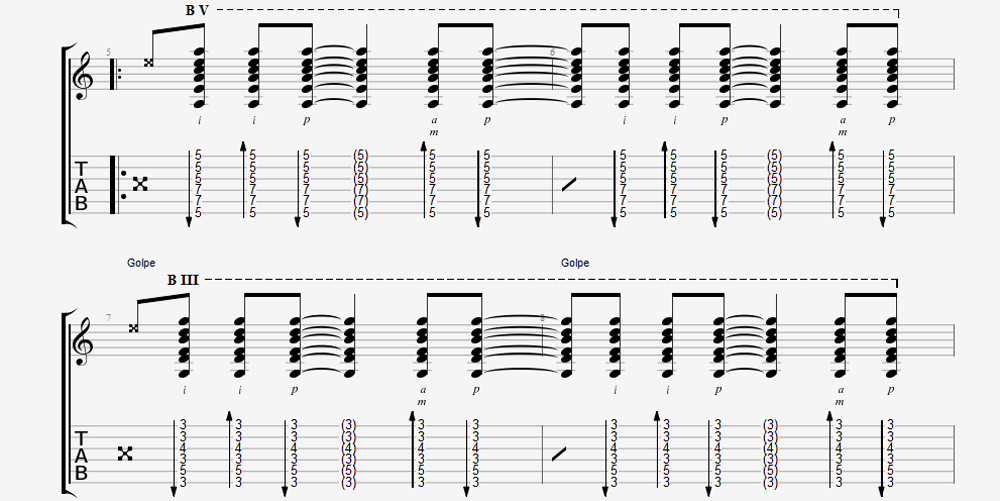 The same groove, this time with chords. The chords are very simple, so you can concentrate on the rhythmical aspect of the sequence. Remember: "Golpe" on the 1st beat and accent on the 4th beat.
Exercise n°3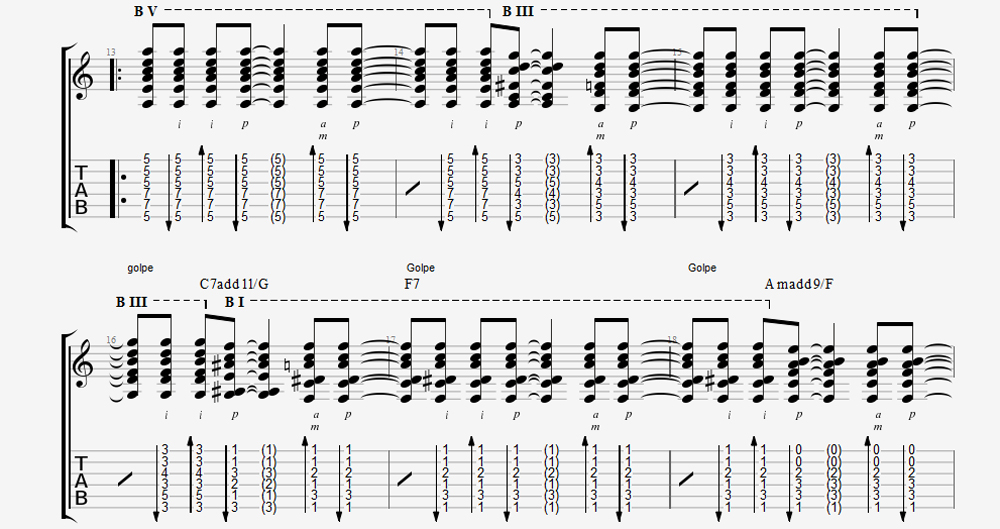 The same groove with more chords. Note that the passing of the dominant chords uses the same barre chord position as for the resolution chord. Practice slowly so you can hear the chord changes well, and make sure you always slightly stress the 4th beat of each measure.
Exercise n°4

Some typical little theme in the style. You can play this with a pick, but if you wish to keep closer to the traditional tone it is better to use your fingers, alternating between index and middle finger, and using rest-strokes. Note that you may improvise upon this grid by using the A minor pentatonic scale or (if you are bolder 😉 ) the A minor harmonic scale.
About the author
Mathias Berchadsky was born in an artistic family, and was surrounded with musicians at the youngest age. He naturally picked up the guitar when he was 12.
He has accompanied singers and dancers, and worked with some great Flamenco figures: La farruca, Alejandro Granados, La tremendita, Laura Vital, Inma la Carbonera, Pastora Galvan, El Pipa… Besides, he has worked and recorded with many World Music artists in France and New York, such as Minino Garay, Bevinda Ferreire, Benoit Morel, Vernon Reid…
A composition enthusiast, Mathias writes for television and cinema, and composes for many flamenco companies in France, Canada, and Spain. He also takes part in the recording of many movie soundtracks (Joseph et la fille, Le mac, Une petite zone de turbulences…).
Website: https://elmati.com
Leave a comment
Your email address will not be published.
The official Guitar Pro tabs and scores library
Free
Guitar Pro tabs
pack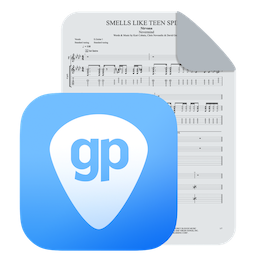 Download hundreds of riffs, licks, and exercises to spice up your guitar practice time.
Get the latest Guitar Pro generation