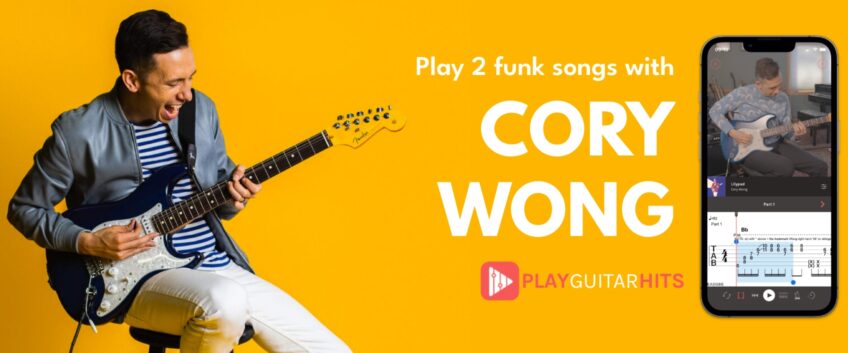 Take a funk lesson with Cory Wong in Play Guitar Hits!
Last update:
Author: Julien Bitoun
To improve your right-hand playing, funk master Cory Wong invites you to learn how to play Lilypad and United, two songs from his albums "Motivational Music for the Syncopated Soul" and "Cory and the Wongnotes".
How to play it funky?
Funk music is a style that has a very strong rhythmic element, meant to make you want to stand up and move your feet. It originated in the sixties in the USA, as an evolution of Afro-American dance music styles like rhythm n' blues.

Some of the original great funk guitar players have been Jimmy Nolen (from James Brown's band), Leo Nocentelli (from The Meters), and Freddie Stone (from Sly and the Family Stone).

From left to right: Jimmy Nolen, Leo Nocentelli and Freddie Stone.


Later masters include Chic's Nile Rodgers and Prince. Some players have also been mixing funk with other styles like Jimi Hendrix did by incorporating rock and psychedelia into his funky mix. Funkadelic guitarist Eddie Hazel was deeply influenced by that approach.



From left to right: Nile Rodgers, Jimi Hendrix et Eddie Hazel.

Jimmy Nolen is responsible for coining the term that best defines the funk guitar style: the infamous "chicken scratch", which is a technique that consists in constantly moving your right-hand wrist playing sixteenth notes and alternating between ghost notes and actual notes as part of your barrage of strumming.


Get that funky sound
Of course, that technique goes along with a strong percussive sound that has been refined over the years. The quintessential funk guitar sound is the Strat's fourth position, which combines the middle and neck pickups.

Being out of phase with each other, they create that hollow, clicky sound that perfectly complements a highly active right hand. The second position, which does the same with the bridge and middle pickup, also works really well with a slightly more aggressive vibe.

The amp has to be clean. Funk guitar does not work with crunchy classics like tweed-era Fenders, Marshall stacks, or the glassy brightness of a Vox AC-30. The perfect complement for a funky Strat is a blackface-style Fender amp, like a 65 Deluxe Reverb or Twin Reverb.
From left to right: the Fender Twin Reverb and the Fender Deluxe Reverb.


They have the clean headroom, the subdued mids, and the bright spiky highs that make the attack stand out. But sometimes no amp at all is even better than any amp: Nile Rodgers or Prince were famous for plugging straight into the recording console via a D.I. box, in order to stay as clean as possible.

Effect pedals are not that fundamental in funk, and should only be used to spice up some special parts unless you're really trying to push the envelope. A fair amount of compression can help even out your right-hand attack, and some chorusing can help widen your stereo field to make your sound stand out.

Also, the wah pedal has become a staple of funk guitar, to the point that it's almost a cliché. And if you're looking for that funky quack of the wah but need to concentrate on your hands, try the auto-wah or envelope filter: it can also be a very cool sound.
On the left: the auto-wah pedal from Guitar-Pro 8 and on the right: the Jimi Hendrix wah-wah pedal of Guitar-Pro 8.

Enter Cory Wong!
Among the new generation of funk musicians, Cory Wong stands out as the ultimate modern guitar hero. He's a very lovable, goofy, and fun character, but also a very impressive, hugely talented musician.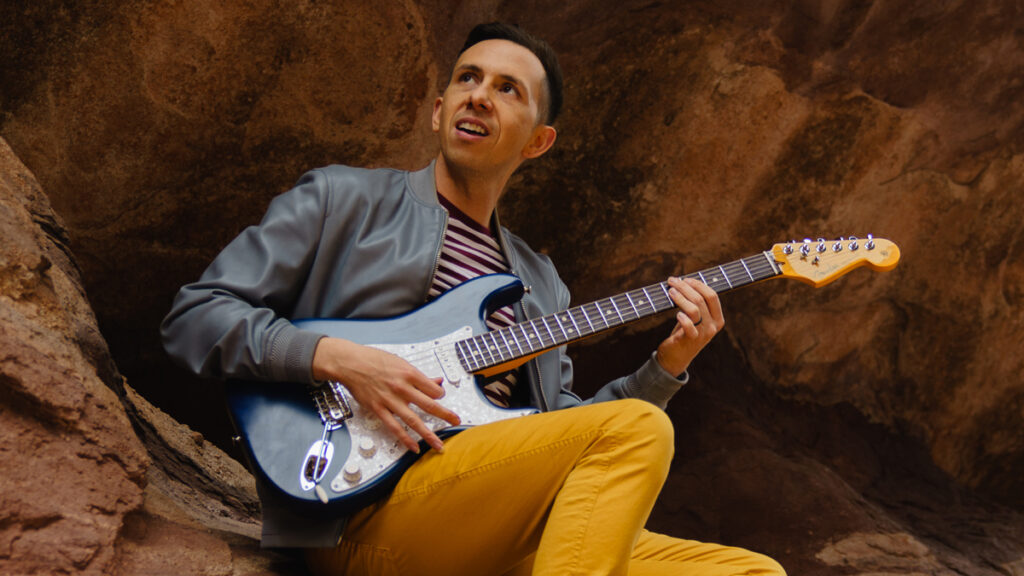 Cory is from Minneapolis, so there's a lot of Prince in his musical DNA, and he definitely nails that powerful funky approach, with a right-hand groove that is second to none.

He grew up playing in jazz clubs so he also has access to a wide vocabulary of complex chords and scales, but then he also worked as a session player in Nashville, which taught him to be as versatile as can be.

He joined the famous funk band Vulfpeck in 2016 and has been part of the unit ever since, including performing at a sold-out Madison Square Garden in 2019, an insanely rare feat for an instrumental-oriented funk band.

Cory Wong has also released his first solo music in 2017, and continues to record albums and EPs at a staggering rate, including many collaborations and his other band, The Fearless Flyers, featuring Mark Lettieri from Snarky Puppy.

Cory is also involved in many other projects, including a Youtube show (in which he plays with his band the Wong Notes, and performs humorous skits), a podcast (Wong Notes, in which he chats with guitar players that have influenced him) and a great social media presence.

Soundwise, he follows in funky footsteps with his Fender signature Cory Wong Stratocaster that features a "panic switch" that allows the player to switch to the fourth position at any time. Cory's signature Strat is also slightly smaller than a regular Fender, just like Nile Rodgers' favorite Hitmaker Strat.

Amp-wise, Wong uses solid-state amps live, either the Roland JC-120 or DV Mark Raw Dawg heads, which are known for their stiff feel and massive clean headroom.

At home, he relies on simulations, whether from the Kemper or from his signature Neural DSP Archetype plugin (which also features a simulation of a DI Box for those straight-into-the-console kind of sounds). Pedals are not a huge part of his sound, yet he's been known to use a Wampler compressor and his signature Jackson Optimist Overdrive.
Learn from Cory himself!
One more thing that Cory Wong knows perfectly how to do is to talk about his playing and teach the ways of funk. He's done it on several platforms over time, but never with the same detail-oriented approach than with Play Guitar Hits.
Two Cory songs are available in the Play Guitar Hits app: Lilypad (from his 2020 solo release The Striped Album) and the 2021 single United.

Lilypad is an instrumental where the guitar takes center stage with intricate chordal phrases and funky palm-muted double stops, as well as a more traditional funky rhythm when the horns kick in.
Click on the picture to download the Guitar Pro file.



United features the soulful singing of Antwaun Stanley, which gives more of a supporting role to Cory's guitar, featuring brilliant chord voicings and a right hand that just won't quit.


Click on the picture to download the Guitar Pro file.



For each of those two songs, the Play Guitar Hits app has two parts from the song (usually verse and chorus) with tablatures available in the Guitar Pro format. For each song, a first video features Cory talking about the song and how he approaches it, while another shows him playing the part along with synchronized tablature, as always in the Play Guitar Hits app.

This allows you to focus on a few notes, and slow down Cory's insane playing in order to really grasp the essence of his moves. Those two songs will improve your right-hand funky strumming, as well as your chord vocabulary.


Get funky!
If you haven't tried the Play Guitar Hits app yet, you're in for a treat: it allows you to pick from a huge catalog of available full songs, all played by pro players in sync with the tabs. Full playbacks have been made on purpose for those songs, and you even have access to precious tips on how to get close to the sound of those guitar staples.

Learning how to play funk guitar can be an overwhelming proposition, especially if you've not dedicated your playing to that particular style. But with the help of Cory Wong, you should be able to understand what makes a guitar part funky and how to get close to that Wong magic.

Play Guitar Hits lets you slow down the videos, which is perfect for getting the proper right-hand position, and features both hands at the same time all the time.

You want the funk? It's never been easier than with Cory Wong's lessons in Play Guitar Hits!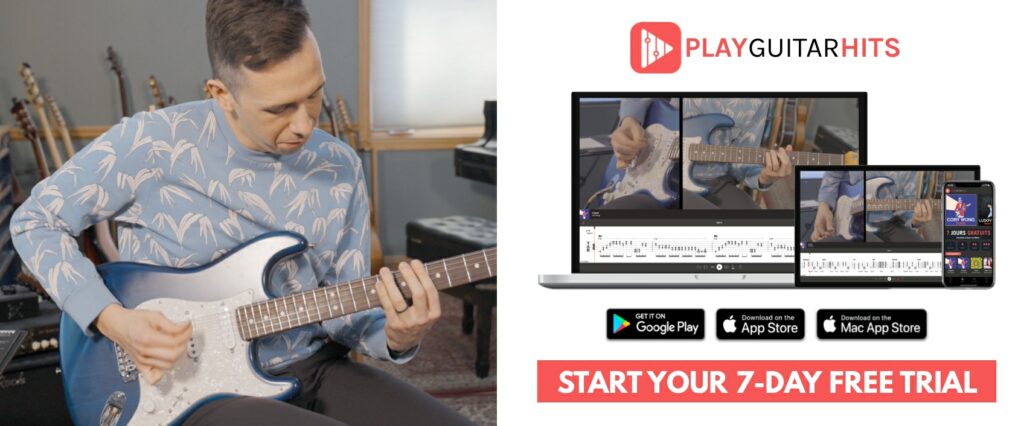 Leave a comment
Your email address will not be published.
The official Guitar Pro tabs and scores library
Free
Guitar Pro tabs
pack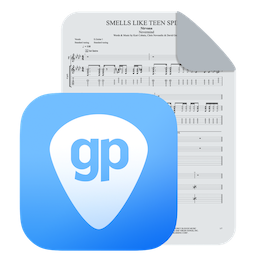 Download hundreds of riffs, licks, and exercises to spice up your guitar practice time.
Get the latest Guitar Pro generation