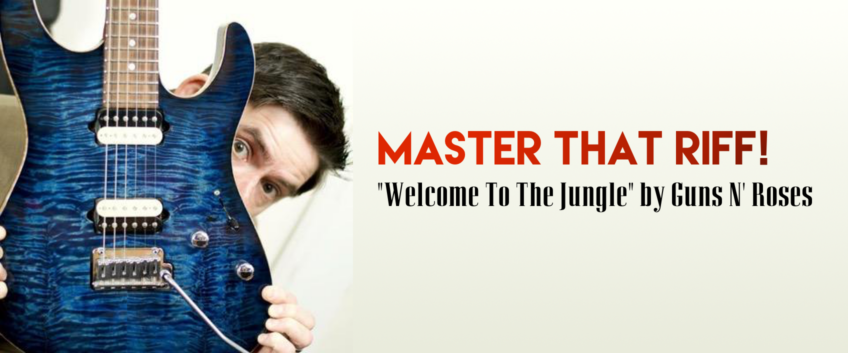 Learn "Welcome To The Jungle" Guitar Riff by Guns N' Roses
Last update:
Learn how to play the iconic intro guitar riffs to "Welcome To The Jungle" with Mark McGuigan.
To help you play these riffs, Mark shares with you a video and the Guitar Pro tab. The in-depth lesson looks at Slash's and Izzy's guitar parts as well as talking about the delay settings required to emulate the classic guitar sound used.

"Welcome to the Jungle Intro.gpx"
(click on the image to download the Guitar Pro tab)
Based in Arrochar, Scotland, Mark is a full time guitar teacher. His aim is to teach every student, regardless of age or experience, with the same passion that drives his own playing; and, most of all, to make the experience as relaxed and enjoyable as possible. Since picking up the guitar in 1989, he has gained a broad knowledge of theory, techniques and styles. His own tastes in music are eclectic, and include: jazz, rock, metal, fusion, funk, folk, classical, dance, drum 'n' bass and hip hop. He also created online guitar lessons on his website Mastertheguitar.co.uk.
About Guns N' Roses

At the end of the eighties, Rock n' Roll needed a sulfurous saviour to make it sound dangerous again, and this L.A. band of homeless drug fiends was perfect for the job : right place, right time. Their 1987 debut Appetite For Destruction sold close to thirty millions, and introduced Slash as the new guitar king, complete with Les Pauls, cranked Marshalls and top hat. The band broke up in 1993, but singer Axl Rose got a band of top musicians together and released the highly controversial Chinese Democracy in 2008.
After more than 20 years, the band is back together. Singer Axl Rose and guitarist Slash played together in public at the Troubadour, in West Hollywood on April 1st.
Leave a comment
Your email address will not be published.
The official Guitar Pro tabs and scores library
Free
Guitar Pro tabs
pack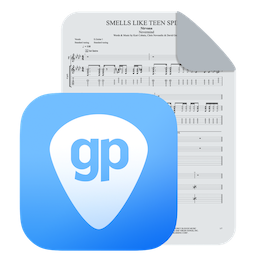 Download hundreds of riffs, licks, and exercises to spice up your guitar practice time.
Get the latest Guitar Pro generation