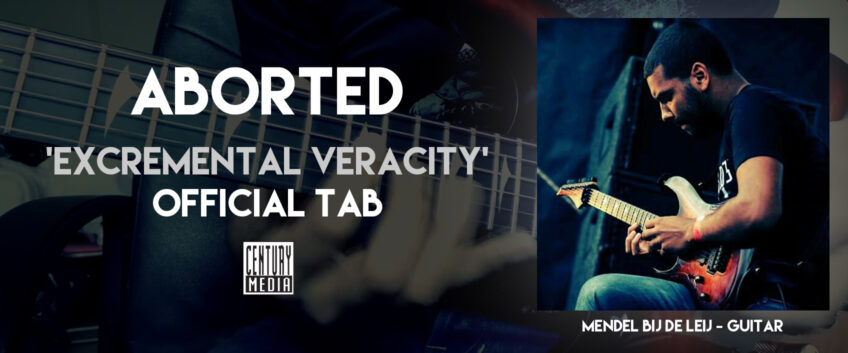 Learn to Play "Excremental Veracity" by Aborted with @Mendelmusic
Last update:
Author: Thomas Duflos
Aborted guitar axeman Mendel Bij de Leij has shot a pretty nice playthrough video for "Excremental Veracity". It's a real pleasure to share with you his own note-for-note Guitar Pro tab of the song. Enjoy!

"Excremental_Veracity-Aborted.gpx"
(click on the image to download the Guitar Pro tab)
About "Excremental Veracity"
"So to cut right to the chase: our song Excremental Veracity isn't a very hard song per se, but the solo is still a knuckle buster for me personally. Put tapped string skipping arpeggio's in a blender with alternate picking + some feel (hehe..) and you've pretty much got the solo part in a nut shell.

For some the hardest part maybe the tapping ending of the solo, most of the smoothness comes from damping the strings with your picking palm and tapping hard with your fretting hand, so called: out of nowhere tap. Listen to Michael Romeo or Greg Howe, as they inspired me the most to start this string skipped tapping. Luckily they're diminished arpeggio's, so the note distances stay the same.

One particular thing that was hard to tab out were the tapped harmonics, looks closely to the video and read the advice above the section (measure 65).

The bend/harmonic you are hearing at measure 63 (1:35 on video) in the tablature was pure luck/accident while I was recording the solo, I tapped the 22th fret and somehow, I don't know how, there was an harmonic while I tapped.

I was never able to recreate this ever again, it was accidental but we kept the take because of it. The only thing that could've happened (I think) was that my picking-palm accidentally touched the string at the exact moment and tapped it with my other hand thus creating the harmonic.

Advice: Start slow, and build: 100 bpm, then 110, then 120, 130 etc.

Good luck and enjoy"

– Mendel bij de Leij (Aborted)
Discover the album
You can purchase "The Necrotic Manifesto" (2014) on the Century Media Records official store.
Follow Aborted on…
Leave a comment
Your email address will not be published.
The official Guitar Pro tabs and scores library
Free
Guitar Pro tabs
pack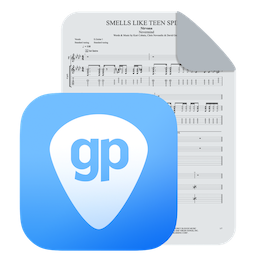 Download hundreds of riffs, licks, and exercises to spice up your guitar practice time.
Get the latest Guitar Pro generation