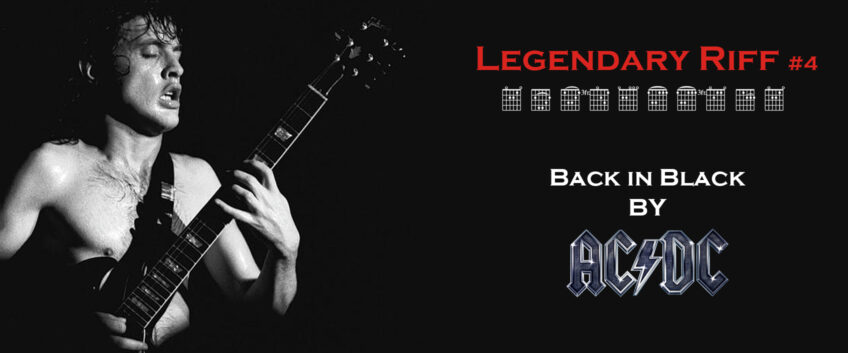 Legendary Guitar Riff #4 – Back in Black by AC/DC
Last update:
Author: Thomas Duflos
Within this 4th riff, we rediscover the legend of AC/DC with the track 'Back in Black'. Find the demonstration video and the Guitar Pro tab below.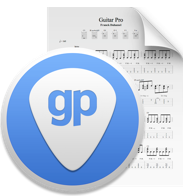 "ACDC-Back_in_Black-Riff.gp"
(click on the image to download the Guitar Pro tab)
About this extract
Back in Black is considered to be one of the most emblematic Hard Rock tracks of the 1980s. Taken from the album of the same name, it pays homage to singer Bon Scott, who died a few months before the official release of the album.
The introduction riff, typical of Angus Young's style, is highly impressive in its efficiency and simplicity. No matter what, try to be flawless in keeping the rhythm. Effectively, the riff is made up of various silences, which force you to keep quiet in between your distorted attacks.
Try to be as precise as possible during the descent in E minor pentatonic (bar 4), and particularly in the bend at the end of the lick. Also try to keep that 'staccato' style of the phrase in bar 6, so that you're tight with the drum punches.
Good Luck!
Did you like this extract? Learn the complete tab for Back in Black at mySongBook.com.
Leave a comment
Your email address will not be published.
The official Guitar Pro tabs and scores library
Free
Guitar Pro tabs
pack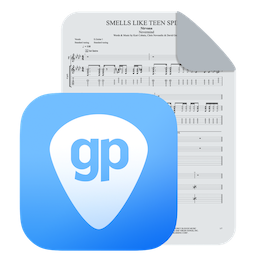 Download hundreds of riffs, licks, and exercises to spice up your guitar practice time.
Get the latest Guitar Pro generation