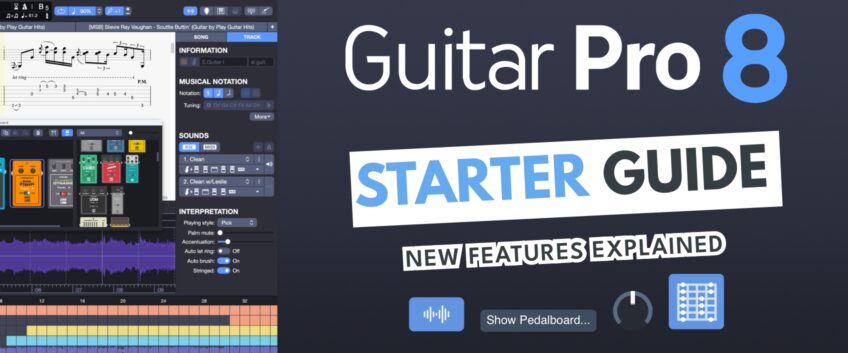 Guitar Pro 8: download the starter guide – 2022
Last update:
Guitar Pro 8 was released last May 2022 bringing numerous new features to help you make tabs more precise, better-looking and better sounding. We thank you all for your feedback and comments. You helped us make this a success!

We have prepared a PDF guide for you explaining where to find these new features and how to use them.


Starter guide content
1 – Audio track
2 – Nested tuplets
3 – Scale diagrams
4 – Pedalboard
5 – The Command palette
6 – Design mode improvements
7 – Drum Mix
8 – Focus / Unfocus current track
9 – Audio note settings
10 – Locked sound on the Line In
11 – Piano fingerings
12 – Piano pedal indications
13 – Fixed Tempo
14 – Chord transposition and diatonic transposition
15 – Copy and paste improvement
16 – Filters for mySongBook files
17 – Tempo to the decimal point and below 30 bpm
18 – Visual metronome & visual countdown
19 – Pin Eles in recent Eles
20 – Quarter tone on tremolo bar
21 – Sound preview during playback
22 – Improved PNG and PDF export
23 – Slash in standard and drum notation
24 – Courtesy accidentals
25 – Modifying the selection on the score
26 – Shortcuts modifying speed during playback
27 – Triple click

Here is a quick overview of several new features of Guitar Pro 8 that we hope you'll like:

Add an audio file to your score
Among the new features, we have added the possibility to add an audio file to your scores.


This new feature can be used in many cases :

You can use it to transcribe a song, to practice accompanied by a backing track, to make your scores sound better, to add the recording of voice and drum tracks, or even add comments and teaching instructions to your scores. The possibilities are endless!

Comment below if you have suggestions and questions about this new feature!


Make your sound unique with the new Pedalboard
The new pedalboard makes it easy to view and adjust your effect chain and mastering. Drag and drop the pedals and amp you need and make your sound settings in a few clicks.


Edit Scale diagrams
With this new essential tool, you can edit and add your scale diagrams to your scores. You can modify the shape, and the colour of the dots, and add text to them. You can also change the orientation of the diagram, and the number of strings and frets. And you can even choose the starting fret of the diagram.


Save time with the command palette
Quickly access Guitar Pro's notation options to edit your scores faster. This new feature will boost your productivity massively!

Enter the first letters of the name of the feature you need to use into the command palette and then press enter to use it on your score. It's also a way to locate a feature in a second!

Learn more about how to use the command palette in the starter guide.

Make your scores look pro
Enjoy an improved design mode which allows you to move and place each beat where you need it on your score. You can also align the bars very easily thanks to the automatic guideline.


In addition, several useful edition options have been added to the Stylesheet.

You can now adjust the spacings of the chords and scales diagrams in the score header, the systems, the staff and the scale.

You can now choose the font of all the music symbols and most of the score indications like palm muting, slap, pop, rasgueado, pick scrape and more.


Focus or unfocus a track
This new feature allows you to amplify or attenuate the volume of a track to create a volume contrast with the other tracks of your score. For instance, this can be used when practising a guitar solo or any track in particular.



Version 8 brings many other very useful improvements, find them here on our presentation page here, check it out!





Download the complete Guitar Pro 8 "User Guide" here.


Guitar Pro 8 video tutorial from Simple Guitar
Leave a comment
Your email address will not be published.
The official Guitar Pro tabs and scores library
Free
Guitar Pro tabs
pack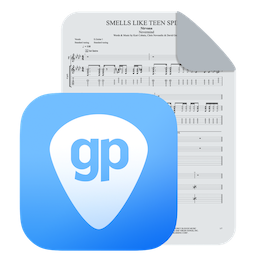 Download hundreds of riffs, licks, and exercises to spice up your guitar practice time.
Get the latest Guitar Pro generation