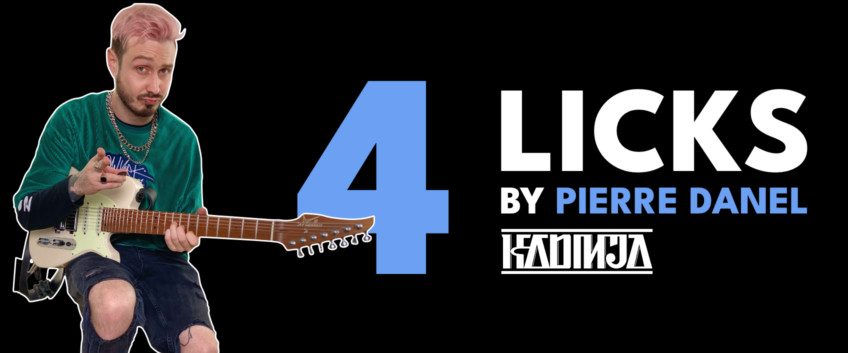 4 metal licks by Pierre Danel from Kadinja
Last update:
Authors: Florent Elter Thomas Duflos
Play 4 licks offered by the talented metal guitarist Pierre Danel to practice your speed and technique. Practice them with the free Guitar Pro tabs and the multi-angle videos.

New: 2 songs from Kadinja are now available in the Play Guitar Hits application. Try it for free for 7 days!.

Grab your electric guitar!
New!

Learn "From the Inside" et "A November Day" from Kadinja with Play Guitar Hits with interactive scores, backing tracks. You can practice them using a metronome and a countdown. You can also slow the tempo down and loop sections, give it a try! Start your 7-day free trial.

www.playguitarhits.com.


The 4 licks
Pierre considers his music as modern metal. He prefers this term to that of 'Djent' music.
The style of music I like to play has got a violent side, but it's very open musically with many influences like jazz and funk." Pierre Danel.

What is djent music?


Djent is a musical style with jazz, groove, and progressive metal influences, combining very rhythmic playing and low tones that are mostly generated by low-tuned eight-string guitars. One of the most famous bands in this style is Animals As Leaders.


LICK 1
The first lick is a phrasing in B minor Dorian (Bm Dorian) on which Pierre plays in hybrid picking and legato. This exercise is based on several B Dorian arpeggios. This type of phrasing is part of Pierre's playing habits.

What is hybrid picking?

This right-hand technique consists of playing

How to play legato?

Legato playing consists of playing a sequence of notes on one or more strings by playing the first one with a pick, then the following ones with the fingers of the left hand with a hammer-on or a pull-off.

What is the Dorian mode?

The Dorian mode is a scale structure. It's a series of intervals that follow one another in a specific order. This scale or mode forms a pattern that can be moved and played along the neck.
Taking the major scale as a reference, the Dorian mode is placed on the second degree. It is a minor mode comprising a major second, a minor third, a right fourth, a right fifth, a major sixth, and a minor seventh.

Example: Dorian D: D E F G A B C.


Click on the picture to download the Guitar Pro 7.6 file.


LICK 2

For this second exercise, Pierre plays a pentatonic scale in D minor. Here he plays 3 notes per string in hybrid picking at a high speed.


Click on the picture to download the Guitar Pro 7.6 file.



LICK 3
This third lick is a tapping exercise in A minor pentatonic. Here we go down the neck playing fifths and fourths and we go up playing a pentatonic scale.


Click on the picture to download the Guitar Pro 7.6 file.


LICK 4

Pierre offers us for this fourth lick a superb jazz-style finger-picking rhythm, with "after beat" percussion played on the second and fourth beats. Pierre is playing a chord grid in D major that is inspired by the song "American Boy".

The "after beat" is a percussive sound made by the right hand and played on the second beat of the bar in a 4/4 bar. To obtain this percussive sound, it's necessary to slap the edge of the thumb on the strings very quickly and with strength.

In this lick, you'll notice that the thumb of the right hand is used to play the high E string! This creates a softer and muffled sound.


Click on the picture to download the Guitar Pro 7.6 file.


Pierre Danel
Born into a family of amateur musicians, Pierre started playing the guitar at the age of 8. His very first guitar was a left-handed acoustic guitar! Being right-handed he quickly switched to a right-handed one, feeling more at ease.

After a time spent learning classical music at the conservatory of music, Pierre quickly got interested in the electric guitar. At the age of 10, he bought his first electric guitar and had a blast playing Nirvana riffs. It was only much later that he decided to become a professional guitarist.

Pierre chose music as his main topic for his baccalaureate, but at 16 he left his high school to join the "American School of Modern Music" in Paris. This school was at that time an annex of the "Berklee School" where he learned jazz. It was at this point that Pierre really began to take a serious interest in music theory, solfeggio, and harmony.

His favorite guitar when learning the guitar was an Ibanez RG 63-21 that cost 150 euros. Pierre even recorded 2 albums with his band Kadinja with that guitar.

Pierre is now endorsed by the famous guitar brand Vola with whom he created a beautiful signature guitar:




The VASTI 7 PDM J1, a 7-string available in 2 versions: the "Vintage White Gloss" and the "OGD matte".

They have both a body made of ash and a maple neck.

This unique guitar mixes the spirit of a Stratocaster and a telecaster to offer a crunchy sound that Pierre likes.

"It's a great strat with a telecaster shape and with some telecaster characteristics like the wood used for example." Pierre Danel.

Pierre is also a talented sound engineer, he mixes his own albums for his band Kadinja. Although he has worked with many excellent sound engineers, Pierre has always had the desire to do it himself. For 7 years now, he has been working alongside another sound engineer in a famous studio in Paris. He, therefore, divides his time between the stage and the studio.
Kadinja
"I'm very proud of my band because it's a metal band that managed to gather very good French musicians. I have a lot of respect for them.

And it's precisely because they're not all metal musicians that the band is so rich musically."

A new album has been in preparation for several years and is not finished yet, mainly because of the Covid crisis and the departure of the singer. But the band hopes to release it as soon as possible.


Guitar Pro
"I started using Guitar Pro with Guitar Pro 4! I used it a lot when I started playing guitar, especially to write ideas when I was 15 or 16. It taught me a lot of things. It was mainly a composition tool at one point in my life. The Guitar Pro was also my tool to work on my harmony and music theory lessons.

I used to write my lessons with Guitar Pro all the time to see how it sounded, it really helped. I used it to edit my compositions for school to see how they sounded.

I now use Guitar Pro 7.6 to edit the songs of my band Kadinja." Pierre Danel.

The songbooks in PDF and Guitar Pro formats are available for purchase on Kadinja's Bandcamp.


Pierre Danel news
Between tours, Pierre has just recorded 5 Kadinja songs for the Play Guitar Hits application. The app helps you learn famous songs with interactive tablatures, multi-angle videos, and high-quality backing tracks.
Leave a comment
Your email address will not be published.
The official Guitar Pro tabs and scores library
Free
Guitar Pro tabs
pack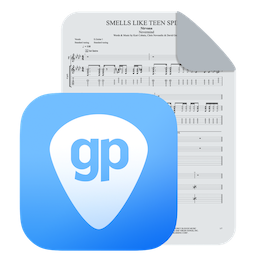 Download hundreds of riffs, licks, and exercises to spice up your guitar practice time.
Get the latest Guitar Pro generation