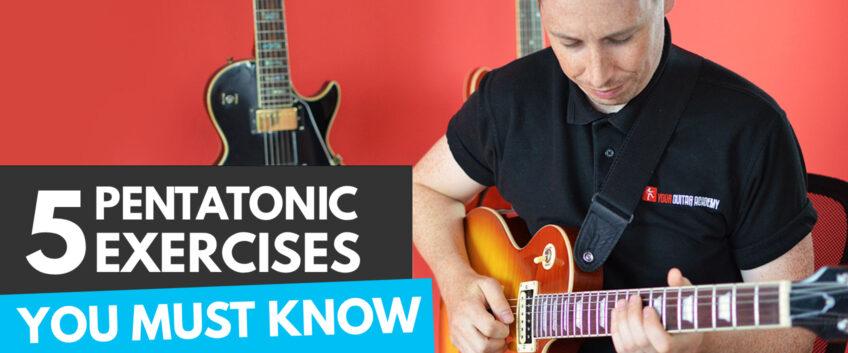 5 cool guitar pentatonic exercises to help your improvisation
Last update:
Author: Thomas Duflos
In this lesson proposed by Your Guitar Academy, we take a look at 5 very different pentatonic exercises that will not only improve your technique and speed but also give you a new set of ideas to try when improvising. We have included a free backing track and Guitar Pro tablatures. Give it a try today!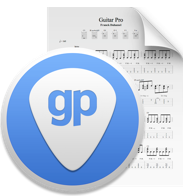 "5_pentatonic_exercises.gp"
(click on the image to download the Guitar Pro 7 file)

"5_pentatonic_exercises.gpx"
(click on the image to download the Guitar Pro 6 file)
Download the backing track here.

Guitar Pro 7.5 tip
Use the "Speed Trainer" to gradually accelerate the tempo as you improve your playing. You can use the slow down and loop functions in the program to take each exercise and learn in at your own pace.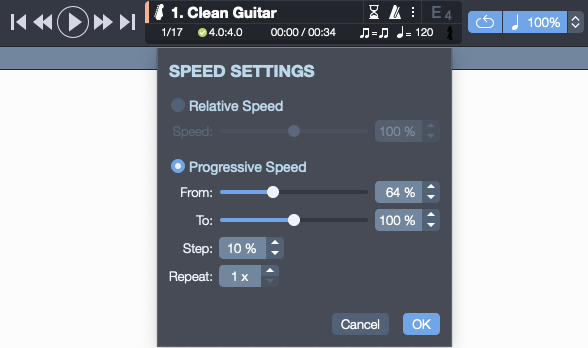 The Theory
These exercises all use the A Minor pentatonic scales. We use all 5 shapes, so if you would like to learn more about the 5 shapes then please check this course out: lead guitar intermediate lesson.
For each exercise, here are the shapes we use:
Exercise 1 (3 Up 1 Down): Pentatonic Box 1.
Exercise 2 (Tetratonics): Pentatonic Box 5, 1 and 2 (in that order).
Exercise 3 (Descending 5's): Pentatonic Box 5, 4 and 3 (in that order).
Exercise 4 (Octave Pentatonics): Pentatonic Box 1.
Exercise 5 (Pentatonic 3rds): Pentatonic Box 5, 1, 2 & 3 (in that order).
Speed
So, what speed should you play these at? Well, this is a great question! The answer is to play at a speed that is comfortable for you. We've recorded the exercises at 120BPM, which can be a good aim. However, to best practice these exercises you should play them at a speed that gives you time to think about each note. Only once doing that for a long time should you start to speed up. Taking longer in the first place to run the exercises slowly is so important, as the speed will then happen very naturally. 
More About Your Guitar Academy
"Our company is dedicated to bringing you the best guitar lessons you can get. Whether you want to learn 1-2-1 with a tutor, via Skype, via Video Exchange, or via our online courses. Wherever you are in the world and whatever budget you are working with, we have top class tuition ready for you".

Dan, guitar teacher at YGA
If you want to rapidly improve your guitar skills, then please check out Your Guitar Academy online guitar courses.
They also offer Skype guitar lessons and private guitar lessons in areas all across the UK, including guitar lessons in London. 
Leave a comment
Your email address will not be published.
The official Guitar Pro tabs and scores library
Free
Guitar Pro tabs
pack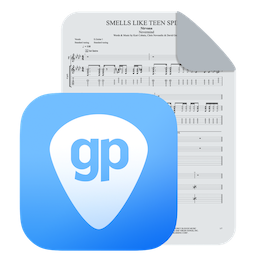 Download hundreds of riffs, licks, and exercises to spice up your guitar practice time.
Get the latest Guitar Pro generation