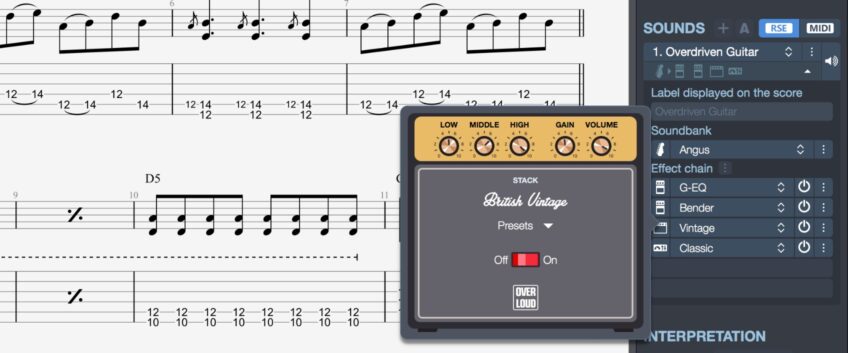 Guitar Pro 7 Signature Sounds Explained
Last update:
Author: Thomas Duflos
There are over 700 signature sounds available in Guitar Pro 7. They allow you to reproduce the rigs and sound settings of the greatest guitar players, such as David Gilmour, Jimi Hendrix, Slash, Van Halen, and more.

Use them to improve the sound of your own Guitar Pro files, or plug your guitar into your computer and start playing using Guitar Pro 7 presets! No need to buy an entire guitar rig's worth of gear to have fun.
So as to get closest to the real-life sounds of these legendary guitar players, each signature sound consists in the addition of an RSE (Real Sound Engine) instrument to an entire rig (with amps, pedals, and effects rack). Each sound recreates the entire chain of effects from the instrument to the amp, and you can also customize the settings.
Where to find them in GP7
You can find the signature sounds in the track inspector located on the right-hand side of your Guitar Pro 7 window. These sounds are labeled signatures.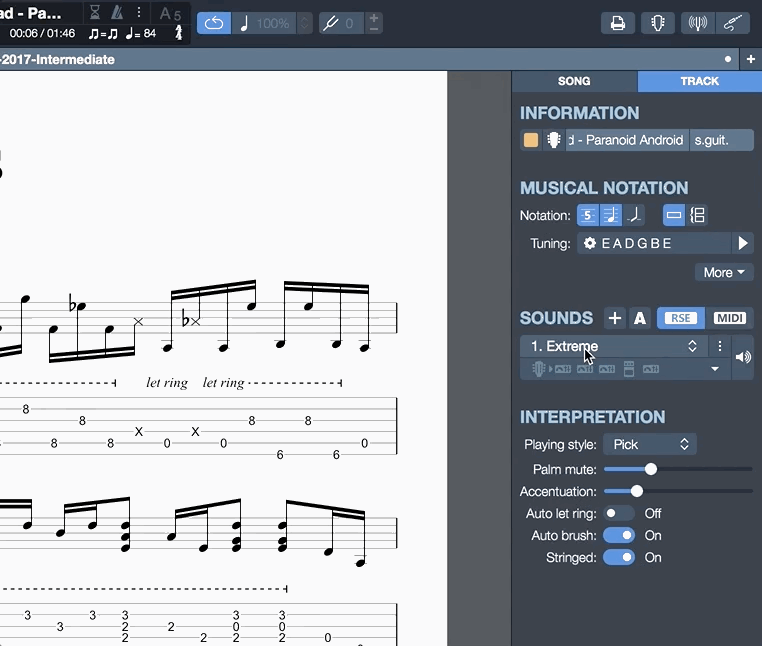 Click on the name of the sound to display the list of sounds.
The Signatures category is available at the bottom of each type of instrument. These signature sounds have been crafted for:
• Acoustic guitars
• Electric guitars
• Basses
• Keyboards et synthesizers
• Orchestral instruments
• Drums and percussions
How to identify them
The signature sounds are named after an artist or a title. For example, Hills Autowah is referring to the song "Run to the Hills" by Iron Maiden.
Download here the complete list of signature sounds available in Guitar Pro 7.
How do they sound
Paranoid by Black Sabbath
This is an example of the signature sound called Paranoid Octave. It is used by Black Sabbath in the song "Paranoid".

Purple Rain by Prince
Another example with the sound Purple referring to the effects used for the song "Purple Rain".

Stairway to heaven by Led Zeppelin
Third example with the signature sound called Stairway. This uses Jimmy Page's sound settings for the song "Stairway to Heaven".

How to use them and why
You can use signature sounds to improve the tone of your own compositions or any Guitar Pro 7 files. It's also possible to edit the volume and the settings for each sound.
Leave a comment
Your email address will not be published.
The official Guitar Pro tabs and scores library
Free
Guitar Pro tabs
pack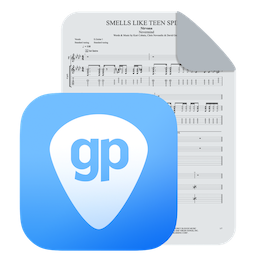 Download hundreds of riffs, licks, and exercises to spice up your guitar practice time.
Get the latest Guitar Pro generation