Live from NAMM 2023: Don't Let Me Down
Last update:
Authors: Julien Bitoun Thomas Duflos
The annual NAMM Show took place in Anaheim, California from April 13th to the 16th. As was the case with every past version of the event, many manufacturers were there to showcase their new products and many musicians, influencers and gear geeks made the pilgrimage to get a glimpse of what's new and exciting. And just like every other year, the Arobas team was present and we wanted to share the experience with you.
When musicians talk about "NAMM", they usually mean the NAMM Show. NAMM itself is a US lobby, the National Association of Music Merchants, that promotes music-making and instrument building. The NAMM Show has been taking place for more than a century: the first Show was in 1901, and it only stopped very few times during the Great Depression, World War II and COVID. Before 2020, there was a Winter NAMM (in Anaheim, California, South of Los Angeles) and a smaller Summer NAMM in Nashville. Summer NAMM 2020 was canceled, there were no shows in 2021 and only one show per year in 2022 and 2023.




Due to the new post-COVID world order, many of the bigger brands have stopped going to the NAMM Show. Historic names such as Gibson, Fender and Taylor were missing, choosing not to spend a considerable sum to get their booth with a full team when they can promote their products through Zoom calls and virtual events. While this makes sense from a short-term business point of view, visitors to the show and members of the press don't have as much of an incentive to get to California from all parts of the world if the main players are absent.

The Frankfurt Musikmesse show stopped in 2019 due to that lack of attendance, which is never a good sign for our market. But the 2023 NAMM Show was far from the sorry state of Musikmesse before its demise, and many exhibitors had done their best to make it worth the trip for music geeks worldwide.

More than 46 000 people showed up, which is far from the record attendance of the 2020 edition (more than 115 000 people), but still a lot of guitar and audio enthusiasts under the same roof!
A first-hand experience of the 2023 NAMM Show: Julien Bitoun
I've been attending the NAMM Show for more than a decade now, starting in 2011. I didn't get to go to the 2022 edition, so that year was my first since 2020. The contrast was striking of course, as many areas of the Convention Center that used to be very crowded were now empty and not even open to the public. I was also disappointed that a few brands like Taylor and Strymon were mentioned as exhibitors but they didn't have a proper booth, only an office for appointments.

But apart from that, Namm 2023 was a blast: it was a chance to get to meet many actors of the music business, and the relatively small attendance gave us plenty of time to talk with no hurry whatsoever.
Electrics
I've seen a few artists and influencers and gave them a nod in passing (Vernon Reid from Living Colour, Herman Li from DragonForce, Tim Pierce, Rhett Shull who is much taller in person), but I was there for the gear, and the brands who showed up did not disappoint.

Guitar-wise, Godin had a lot to offer.


The Canadian brand has a habit of being almost too discrete while offering excellent value on well thought-out guitars. The semi-hollow Montreal Premier had a beautiful new Arctik Blue finish with a maple fretboard and a very cool Seymour Duncan Antiquity at the neck position (paired with the classic bridge JB), and several other models were available with Lollar, TV Jones and Lace Sensor pickups. Godin was also showing the new Multiac Mundial, a very light and great-looking take on the 30-year-old Multiac concept. Speaking of birthdays, Seagull had a 40-year Anniversary S6 featuring the original headstock.

Ernie Ball / Musicman was also present, and they had many new variations on their existing models, starting with the six-string version of the cool and mysterious Kaizen. That very angular and odd-looking instrument, with its slanted frets and hyper-contoured body, is the result of Musicman's collaboration with virtuoso Tosin Abasi, and until now it was only available as a seven-string instrument. Steve Lukather was celebrating his 30-year stint with the brand in style via the L-4, the newer version of his signature model available in three different versions: three single coils in solid vintage-style finished, two humbuckers in two different sunbursts showing off the maple top, and the special limited edition Steamroller featuring a humbucker, two single coils and a Floyd Rose, which hasn't been featured on a Luke since 1998.

Sterling, Musicman's more-accessible brand, was also firing on all cylinders with a gorgeous cheaper version of the Goldie version of St Vincent's signature model, as well as a Bigsby-equipped butterscotch James Valentine.
Acoustics
Martin had a big and beautiful booth as usual, and they had brought many gorgeous acoustics to the show, including the new Street Legend dreadnoughts.
Picture: Parker from Guitar Tabs Daily at Martin's booth.
The D-18 and the D-28 Street Legend are distressed versions of the ultimate classic acoustics, and their factory relicing was inspired by actual vintage pre-war guitars from Martin's own museum, which means they are as faithful as can be.

Acoustics were also the stars of the show on the Yamaha booth with the very deluxe FG9, a very classy and understated dreadnought crafted in Japan that showcases how good the brand's guitars can be.

Thanks to extensive R&D and 3D measurements courtesy of the Yamaha Custom Shop, the FG9 has the most balanced and dynamic sound of the range, and it is available with a mahogany (FG9M) or a rosewood body (FG9R).
Pedals
As usual, many pedal brands were also present to get our GAS going. The biggest star of the show was without a doubt the Binson Echorec, which is a re-creation of the legendary Italian drum echo unit of the sixties famously used by David Gilmour during the glory days of Pink Floyd. The unit has been carefully re-created from the ground up in a more solid and more flexible version (it even includes some sort of tap tempo!), and even though it bears the historic Binson name, it has been designed and made by the Danish boutique brand T-Rex, who knows a thing or two about vintage delays thanks to their tape-powered Replicator.

After a few months in stompboxes purgatory, DOD was back in full force, presenting most of the pedals we've grown to love from the US brand in their best version yet, from the Gonkluator ring mod to the bass synth and octaver Meatbox.

There was no JHS booth this year, but the Missouri brand was present nonetheless through their latest collaboration, the Lizard Queen. What started off as a heartwarming video in which JHS designed a tribute to the classic Electro Harmonix "big boxes" of the seventies with the help of graphic designer Daniel Danger (who also owns the biggest Electro Harmonix collection worldwide) finally became a real EHX model! The nano version of the Lizard Queen is a noisy, unruly fuzz with an octave-up effect thrown in for good measure.


Walrus Audio had the Fundamental Series, eight pedals that all look exactly the same (black enclosure, simple self-explanatory name, three sliders and a switch), and they do exactly what they're supposed to, without the usual eccentric aspects that we tend to associate with Walrus. Those pedals are priced at a lower point and their goal is to introduce newer players to their first pedals at a fair price while keeping the sound and build quality at a level that's worthy of the brand.
Finally, the Chilean brand DSM & Humboldt brought the newer version of their fully analog preamp/amp simulator, the Simplifier MkII. The first version had already become a cult classic so they didn't need to change it too much, but they did add several virtual speakers to choose from (Jensen, Alnico Blue, Greenback) as well as a built-in plate reverb, which turns the Simplifier into the perfect headphone amp as well as a mean recording machine.
Julien's conclusion
The question remains: is it still worth making the trip to NAMM based on that 2023 edition? Depending on how many appointments you manage to cram in, you might not need to go there for the whole duration of the show (four days).

But the NAMM Show remains a unique opportunity to get to meet many music industry people in the same place at the same time, which would be impossible otherwise. Bigger brands that decided not to come should reconsider and maybe attend with smaller booths than what they used to bring over, and I'm sure that emerging brands did benefit from the exposure they got from being there.

There's only so much that can be shared over Zoom, and 2024 sounds like the perfect time to finally resume seeing in-person interactions as the norm.
Thomas Duflos' experience at the NAMM Show 2023
This is the second time I've been to NAMM. This year I was expecting a smaller, quieter show than last year, but it was still a very good one, and here's why:
First of all, as Julien pointed out, several big brands were again absent but fortunately I met countless influencers, artists and partners at the show. I also enjoyed the oddly calmer and more relaxed atmosphere of the last day, which was a Saturday this year.
I was accompanied by one of the developers of Guitar Pro: Maxime Seurre, here at the Aristides guitars booth:




Maxime brought his valuable technical expertise to our meetings with our partners. Moreover, Maxime knows countless artists and influencers, so he helped me find them in the jungle which is NAMM! I thank him for his help.
I invite you to discover with me some of the new products, influencers and unusual things that I could meet in this gigantic American-style show.
Ask me questions in the comments, and I'll be happy to answer them!
The Guitar Pro artists I met at NAMM
Maxime and I have had the chance to meet many artists, most of whom use Guitar Pro on a daily basis! Here is a small selection of them.
Paul Davids
This man needs no introduction. Paul told us that he has been using Guitar Pro since version 3! And that he enjoys version 8 a lot. Check out his Guitar Pro artist page here.

Kfir Ochaion and Carlos Asensio

The 2 famous Youtubers have been using Guitar Pro since its creation. For example, Carlos from Guitarraviva has been offering Guitar Pro files to his millions of subscribers for many years.
Julia Lange
Julia is a talented guitarist coming straight from Germany. I discovered her when I first listened to her band Funky Times. I am a big fan of her band, go and listen to them! Take a look at their Guitar Pro artist page here.
Rabea Massaad
Rabea has joined the Neural DSP team. I particularly enjoyed his performances at the Neural booth, which was simply one of the most impressive booth at NAMM with a stage and lots of computers and guitars available to try their plugins.
The effect pedals I liked
The good news is that a lot of pedal brands were present this year!

Walrus Audio pedals

As Julien mentioned, one of the new effects pedals to report comes from Walrus Pedals who has just released a new range of pedals called: The Fundamental Series.
With this new series with a sober look, Walrus wants to satisfy both newbies and pros at the same time. The settings are simple and efficient with 3 sliders and 1 3-way switch to change the mode.
IK Multimedia
IKM was presenting TONE X, the really impressive and powerful amp and cabinet simulator.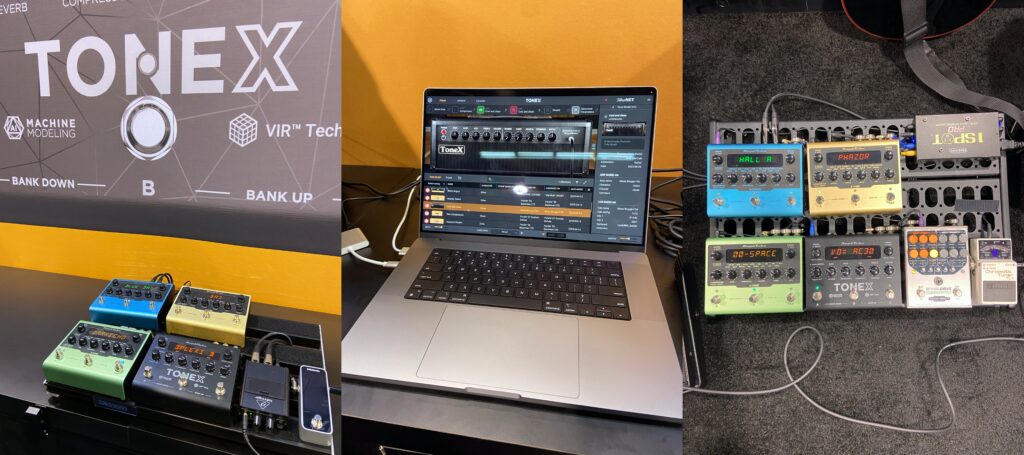 Jam Pedals
The stand of the Greek brand was magnificent! I invite you to discover their beautiful pedals on their website at jampedals.com.
Solar
I was first surprised by an interesting little curiosity that I did not know and that is not a novelty: the pedal from Solar named CHUG.
Its metal look appealed to me and I found this pedal rather interesting, it is in fact a preamp with a very high saturation level.

The amps
I noticed the presence of the brand Two-Rock and its amps that I find totally magnificent!


Guitars: NAMM Show weirdness!
Here is my selection of incredible guitars that I was able to admire at NAMM this year.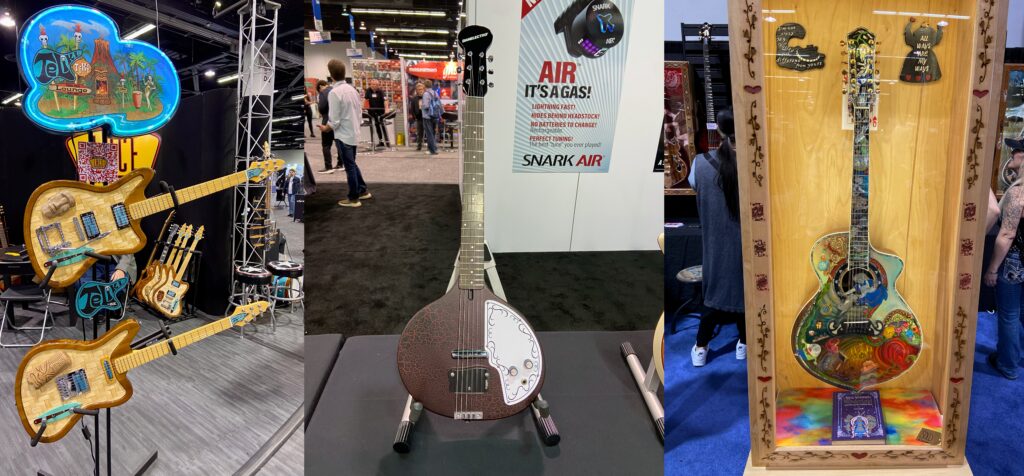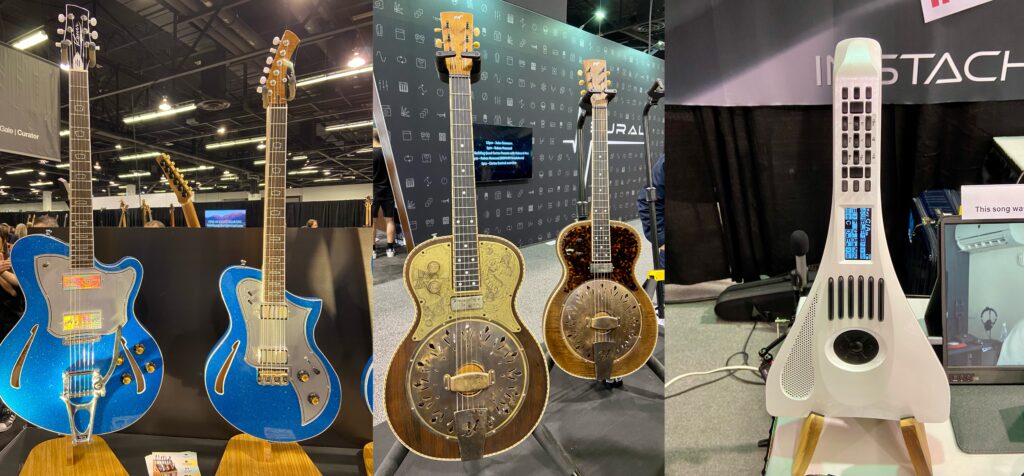 The creator of the funny concept Chibson was present this year at NAMM. I invite you to discover his crazy creations too!
In conclusion, this NAMM was for me a success and again a very good experience. The numerous meetings with our partners allowed me to advance on several projects.

The NAMM is above all an incredible opportunity to meet in person the people with whom you discuss by video the rest of the year and also to meet new potential partners.

Ask us about the NAMM 2023 in the comments below!
Leave a comment
Your email address will not be published.
The official Guitar Pro tabs and scores library
Free
Guitar Pro tabs
pack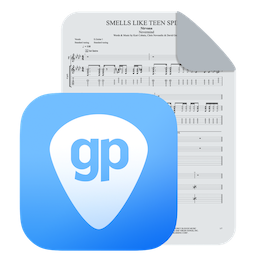 Download hundreds of riffs, licks, and exercises to spice up your guitar practice time.
Get the latest Guitar Pro generation