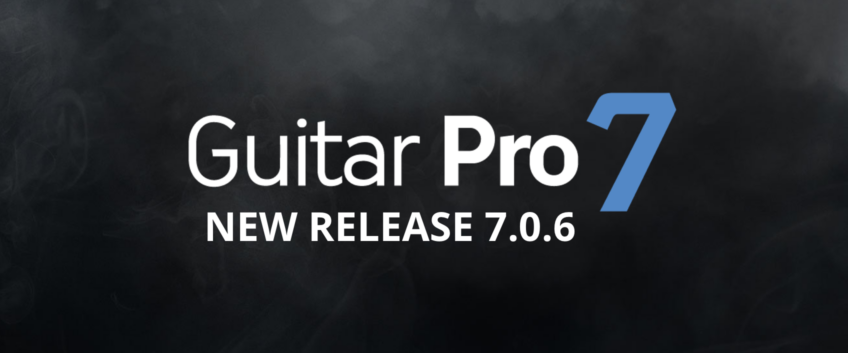 Guitar Pro 7.0.6 Update Now Available
Last update:
Author: Thomas Duflos
The new free Guitar Pro 7 update is online. Among the most notable changes we have brought to Guitar Pro 7, you'll find that we have made it compatible with macOSX 10.13 High Sierra, improved the automatic backup feature and printing quality, added some new keyboard shortcuts, and fixed a number of software issues.

Many thanks to our users, many of whom have taken the time to send messages to customer support and shared with us their suggestions for improvement or difficulties they may have encountered when using Guitar Pro 7. This new free update will meet many of your requests, and we do hope you will like it. Let's take a closer look at what we've added there.
Guitar Pro 7, ready for High Sierra
Apple released their latest version of the Mac Operating System just a few days ago. This new Guitar Pro update fixes some bugs that are related to questions of compatibility with macOS 10.13. If you're already using High Sierra or if you intend to install it on your computer, then we do recommend you update to Guitar Pro 7.0.6.
Improving automatic backup and data recovery
If your Guitar Pro 7 ever shuts down unexpectedly before you had the chance to save the file(s) you were working on, you can now recover your work by simply restarting Guitar Pro 7. The program will ask you if you wish to re-open the file(s) that were active before the shutdown.
When you start the program, you'll see a blue caption appear warning you that "Guitar Pro did not close correctly during the last session". To recover your files, click on Restore the last backup files.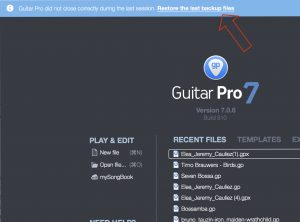 New keyboard shortcuts
Guitar Pro 7 gets ever user-friendlier, as we've added 7 keyboard shortcuts for Windows and Mac. Guitar Pro 6 users will be glad to see F5 and F6 shortcuts back, for easier access to score and track properties.
F2 Show/Hide edition palette
F3 Switch between displaying only one of the piece's tracks, and displaying all tracks (1 instrument only, or all instruments)
F5 Show/Hide the Song inspector, to define the score's properties
F6 Show/Hide the Track inspector, to define the track's properties
F8 Show/Hide global view
F9 Enable/Disable looped playing
F10 Show/Hide automation editor
The program now adapts to lower screen resolutions
Guitar Pro 7's windows Preferences, Stylesheet, and Chord library will now fit whatever size your screen is in, and can be resized by you for easier use on lower screen resolutions.
Specific display of the root note on the virtual instrument view
The root, or tonic, is the note on which a chord or a scale is founded. It is now highlighted in a blue square on the virtual fretboard when the Scale option is on.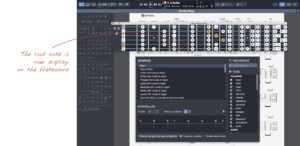 Printing better-looking music scores
The thickness of score lines has been reduced for printing and for .PDF and .PNG exporting.

Other improvements and fixes:
The "Solo" and "Mute" options are taken in account when audio exporting
Performances are enhanced, notably for MIDI playing
MusicXML importing and exporting have been improved
The interface and score's design have been enhanced
We have clarified issues regarding Copy / Paste
We have fixed wrong bend rendering when MIDI playing
We have brought various fixes regarding ties
We have fixed the Transposition and the Arrange Bar tools
We have brought various fixes regarding shortcut
We have made various corrections regarding translations
We have made various fixes regarding crashing, notably in relation to Undo and the use of Bluetooth speakers
How to update Guitar Pro?
Launch the updater to start using Guitar Pro 7.0.6:
Windows: menu Help > Check for updates…
MacOS: menu Guitar Pro 7 > Check for updates…
Leave a comment
Your email address will not be published.
The official Guitar Pro tabs and scores library
Free
Guitar Pro tabs
pack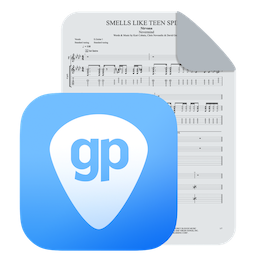 Download hundreds of riffs, licks, and exercises to spice up your guitar practice time.
Get the latest Guitar Pro generation