TesseracT
Metal, United Kingdom
Ascending to the forefront of the progressive hard rock and metal community through creative fearlessness and determination, TesseracT invites listeners on an expansive, esoteric, and atmospheric journey, constructing unique and immersive worlds within their music, all of it drenched in swirling layers of sound, distinctive melodies, and unapologetic experimentation.
What TesseracT has achieved with Polaris, released by their new UK label home Kscope, is nothing short of total liberation in an otherwise rigid genre. Many progressive metal bands will claim creative independence but in fact, adhere to the same "rules" as anyone else. Much the way Tool, Deftones, and Radiohead created signature atmospheric fingerprints while reinvigorating their sound with each new album's broadened horizons, TesseracT's evolution is one of perpetual motion. The journey is itself the destination and the albums are the vehicles.
Unburdened by genre restrictions, emboldened by an embrace of melody, dynamics, and singular focus, TesseracT delivers a bold statement of purpose with Polaris. TesseracT founder Acle Kahney (lead guitar), longtime collaborators Jay Postones (drums), Amos Williams (bass, backing vocals), James Monteith (guitar), and returning vocalist Daniel Tompkins have honed in on the most exciting elements of their now trademarked sound. Dense, destructive, reconstructive, and forward-thinking, Polaris delivers on the promises made with the fierce One and the even more progressive Altered State.
TesseracT has arrived at the highly coveted destination of true creative freedom through bold artistic risk-taking, which has resulted in a loyal audience who are not only comfortable with being challenged by each successive release but demand to be. A new TesseracT recording is a gift to unwrap, a puzzle to solve, an adventure that beckons.
Why do I like Guitar Pro?
We chose Guitar Pro as it is a very straightforward and intuitive software, that enables you to get instant results. Which is exactly what a busy band needs. A band like TesseracT employs a lot of articulation and affectations in its playing, and Guitar Pro has all those covered in its sound banks. It's actually a really cool educational tool that I wish I had access to when I was learning all those many years ago when the dinosaurs still roamed the earth. Technology wins!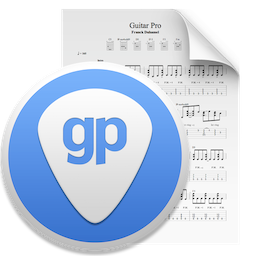 tesseract-messenger.gp
The official Guitar Pro tabs and scores library