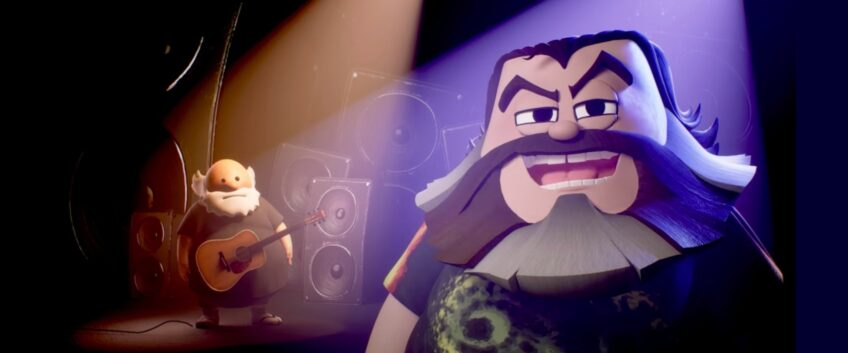 Discover Tenacious D! [5 tabs to download]
Last update:
Author: Thomas Duflos
I had the chance to go to the Tenacious D show in Brussels, on June 13th 2023. The experience was amazing, and I'm thrilled to share it with you today.

I'm also very happy to share the Guitar Pro extracts of 5 of their songs. The full versions of these 5 songs are available on mySongBook.

If you have any questions, share them in the comment section below.
Thomas.

What a show!
The Tenacious D concert took place at Forest National in Brussels. From the outside, the place looks a bit like a supermarket. But once inside you realise it's pretty big and rather nice. I was expecting to get a bad sound like it's sometimes the case in big areas, but I found the sound to be really ok this time.

Since I arrived several hours early, I was able to position myself almost behind the barriers in front of the stage. I was ready to get my mind blown away!

The opening act was performed by the surprising and talented Steel Beans, the "one-man-band" Jeremy DeBardi. Indeed Jeremy sang and played the guitar and drums at the same time. This was very surprising and I have to admit that it's an impressive achievement to be able to do these 3 things at the same time. His rock guitar tone was powerful. I enjoyed his heavy riffs and drum rolls.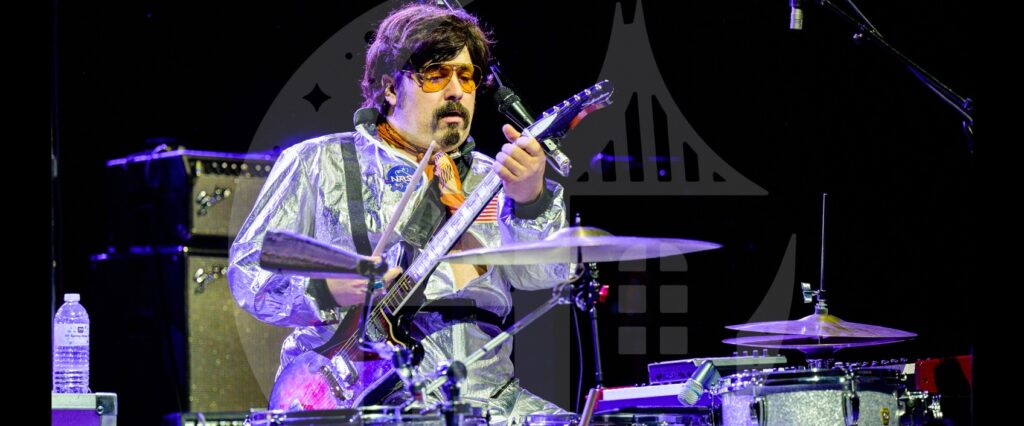 The "Greatest Band On Earth" bounced on stage with the "Opening Theme" song from the Tenacious D movie. Their theatrical entrance immediately set fire to The Forest National.

The legendary band played most of their classics, but I was pleasantly surprised by several new ones, such as their new "Video Games:

And they also played their amazing cover of Chris Isaac's Wicked Game.

Take a look at the full setlist below:
The setlist

Kickapoo
Low Hangin' Fruit
Rize of the Fenix
Wonderboy
Tribute
Video Games
The Metal
Sax-a-Boom
Baker Street (Gerry Rafferty song) (Kyle's 'Max-a-Boom' solo)
Roadie
Dude (I Totally Miss You)
Wicked Game (Chris Isaak cover)
Beelzeboss (The Final Showdown)
Double Team

Encore:
Master Exploder
The Spicy Meatball Song
Fuck Her Gently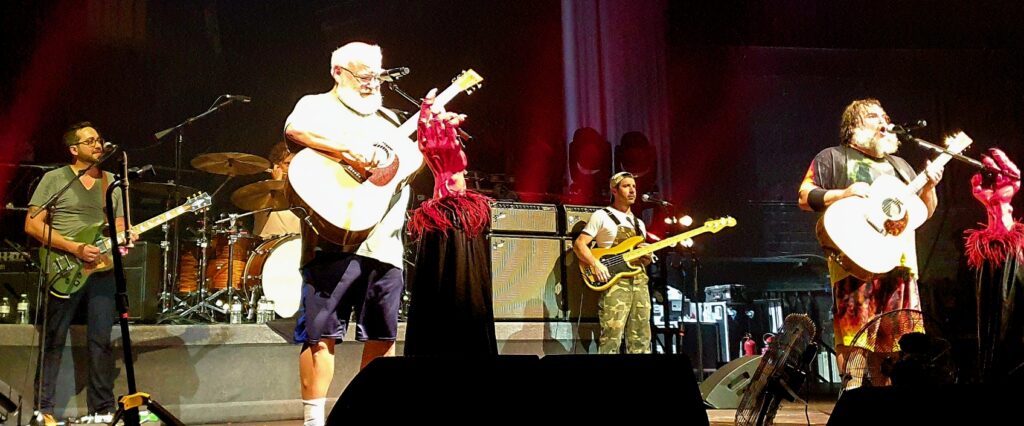 Picture credit: Maxime Porez.
I asked a few questions to John Konesky
I asked a few questions to Tenacious D's electric guitarist John Konesky. I thank him for his kindness and for the time he took to answer my questions.

Follow John:
John Konesky Instagram
John Konesky Youtube
John Konesky Linktree

1 – When and why did you start playing the guitar?


"I started playing guitar when I was 9 years old. I saw a Guns and Roses video and I thought Slash looked really cool and decided that's what I wanted to do. I found early on that I really enjoyed the process of learning guitar. I enjoyed my lessons for the most part and loved the feeling of improving. I weirdly don't remember having musical inspiration until later in my development. In the beginning, I just wanted to be good at something that the other kids in school couldn't do. I liked being different and for a short time around that age, I was the only one in my school learning guitar… Especially rock guitar. It certainly didn't make me cool, but I felt cool."


2 – Do you know how to read music?


"I know the basics of reading music. Enough to know how to notate timing etc into Guitar
Pro so I can have playback on my tabs. Guitar Pro has helped me dust off some of the reading chops I once had. When I started learning guitar my teacher taught out of the Mel Bay book that taught basic sight reading, so as I progressed through that, I had a decent handle on reading for a while. Once I stopped reading though it almost all went away."


2 – How did you join Tenacious D?


"It's a story that's been out there quite a bit, so I'll keep it brief! I met Kyle first through a mutual friend in Columbus Ohio where I'm from. I played in a band with her boyfriend at the time, and she'd met Kyle on a tour stop in Columbus on the first album tour. We always thought it was so awesome that she was friends with Kage! Then, Kyle happened to be starting this band called Trainwreck and wanted to play some shows in the Midwest so he ended up bringing me and John Spiker on board to play in the band. We moved to LA shortly after that and things just progressed from there. We were in the right place at the right time when the guys started making Pick of Destiny."


3 – How is the creative process going with Tenacious D?


"That's something that I think people often have the wrong idea about. The only people truly involved in that part of the process are Jack and Kyle. They're Tenacious D. The rest of us are all very lucky to be involved as the live/studio band but we're not part of the creative process per se. There have been times when some of us have contributed, but it's not super common. That being said, I'm not exactly sure where Jack and Kyle are at on the current creative process. We've obviously seen some new stuff popping up, like Video Games, so it wouldn't surprise me if more was on the way. But I can't honestly say."


4 – How do you prepare for a tour like the one you've just done? (The Spicy Meatball tour)


"We have a couple rehearsals before the tour. This one was a bit more intense because we had to also do production rehearsals since we had a bigger show plus pyro which requires everyone knowing where and when that happens. I also just try to play guitar a lot more leading up to a tour and I like to spend some good warm-up time before a show as well just to keep my fingers moving."


5 – Tell us about the guitars you play on stage




"There are 2. The guitar I start the show with is my new signature model by Paoletti Guitars. I'm really loving it. Halfway through the show, I switch over to banjo for Video Games, and then I switch to my Baratto after that for the rest of the set. It's styled after an SG but it's chambered. It's the perfect SG to me. It's weighted nicely so it doesn't flop forward, and it's a bit thicker so the body feels more substantial like a Les Paul, but you still get that awesome SG upper fret access."


B – Tell us about the 2 Mesa you are using on stage


"It's really just 1. The second is a backup – Set up with exactly the same settings and mic'ing as the main in case we need to do a quick swap if a tube goes. They're identical Mesa Boogie Lonestars which has been my go-to amp for well over a decade. To me, they're the perfect touring combo amp, and behold, Mesa discontinued them!"


6 – How was born Wynchester?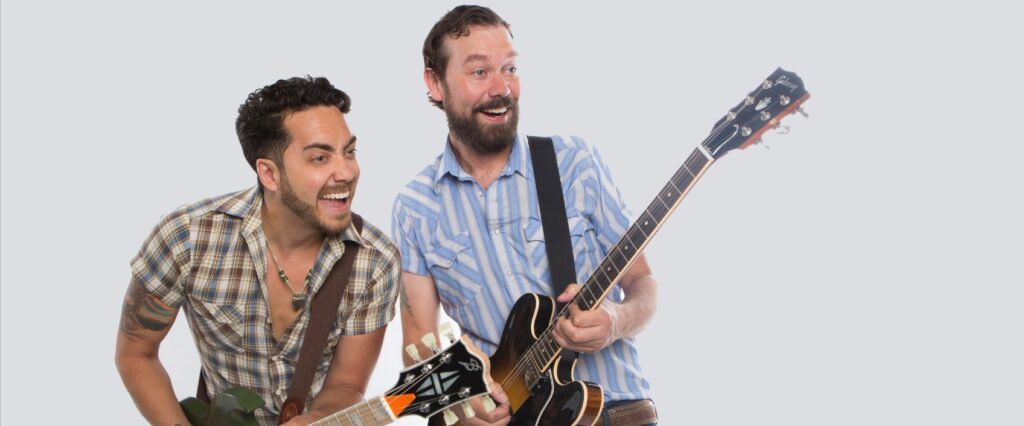 "Wynchester was born in a bar called Ireland's 32 in the valley. It's a rad little divey Irish pub that had a really fun country jam night on Tuesdays. Mike and I would go just to hang with musicians there we know, and we'd all get up and play songs together. That's when Mike and I started writing songs for Wynchester. It was born out of wanting to have more material to play at the jam night. We quickly realized how much we like writing together and how effortless the process was for us to work together, so we started to take Wynchester more seriously. Initially, we only played as a duo so it would be easier to get on gigs, but we always wanted a great live band, which is what we have now. We have our second record on the way and we're hoping to keep growing it from there!"

Website: www.wynchester.com

7 – What do you think of Guitar Pro? And the latest version Guitar Pro 8?


"I love the new updates. Initially, I used it primarily as a teaching tool but it's also been incredibly useful for composition, as well as writing up charts and tabs for Wynchester songs so I can send them to our band in advance for an easier time learning the material. It's so awesome to be able to churn out professional charts and sheet music relatively painlessly.

It's definitely become a big part of my process over the years!"


5 Essential Tenacious D riffs [With tabs]
Practice Tenacious D's most famous songs in Guitar Pro 8. Subscribe to mySongBook to get access to thousands of songs. Check it out here!
1 – Classico
This short song contains parts of three famous classical pieces:
Bach's "Bouree in E Minor",
Beethoven's "Für Elise",
Mozart's "Eine Kleine Nachtmusik".

This duet will not be easy to learn I can tell you. But it's enjoyable to play, you won't need a pick for this one, except if you are a chicken-picking player.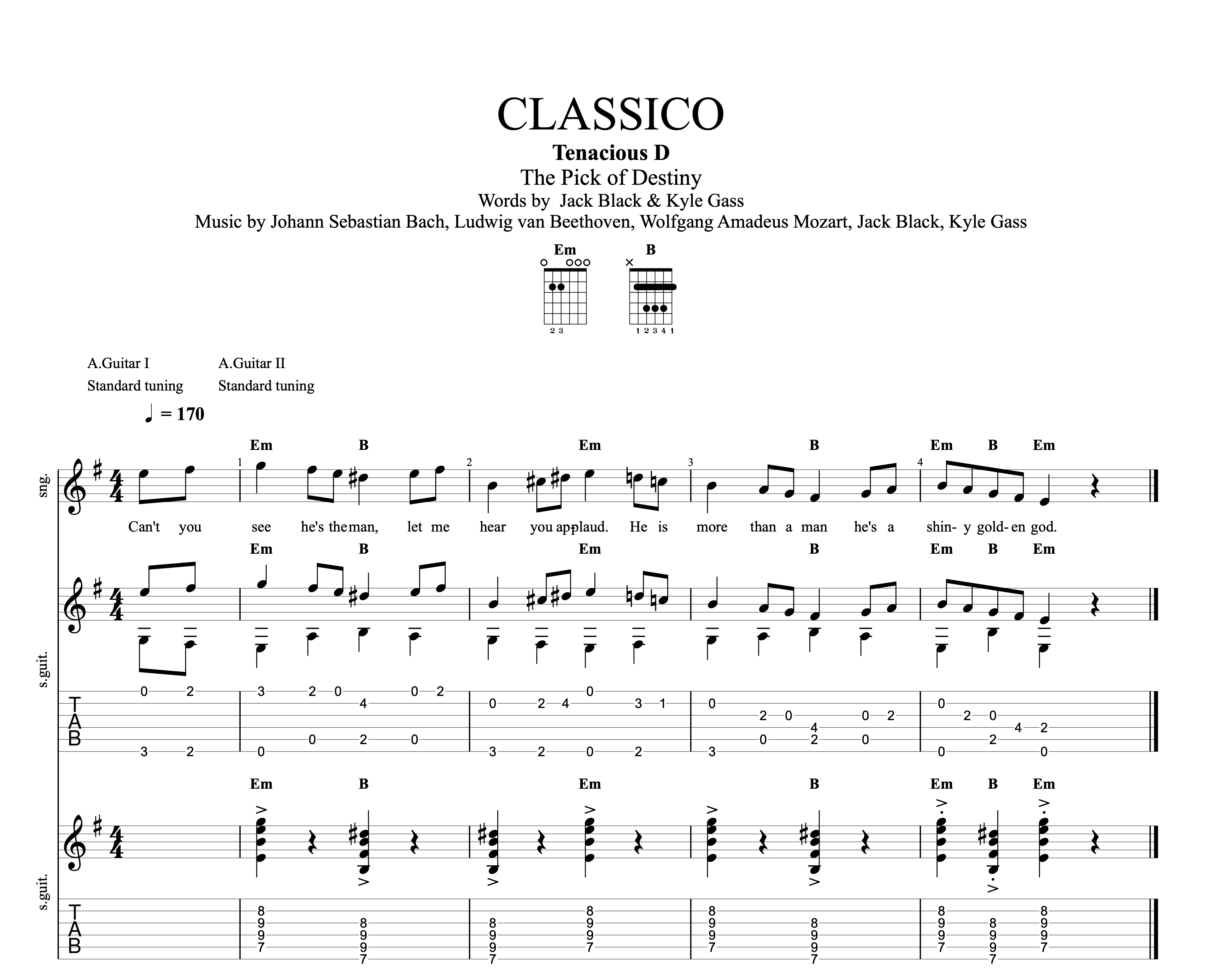 2 – Dude – (I totally miss you)
This intro is made of soft strumming on the bass strings. The chord shapes are really easy on the one. Have fun!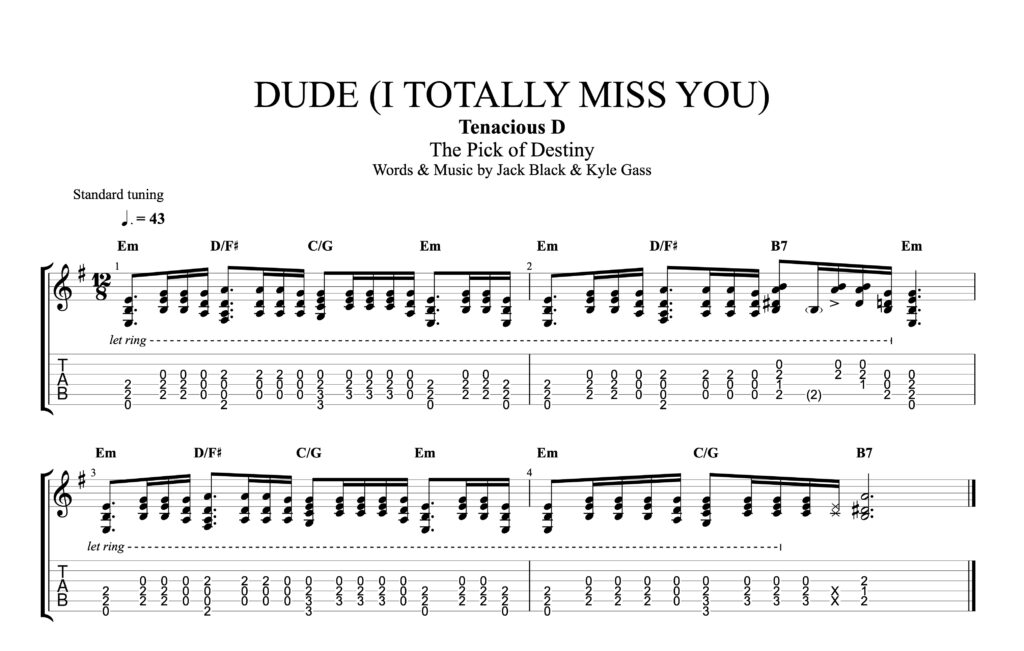 3 – Kickapoo
This intro to this classic Tenacious D song is really cool to play. You'll need to let the bass notes. The movements of the pick can be tricky to play for this intro. Focus on alternating the pick as much as possible to gain fluidity. The tempo is fast so you'll need to go soft on the pick, be swift and gentle on the pick. The chords are easy to play but you'll need a bit of practice to successfully play the strumming.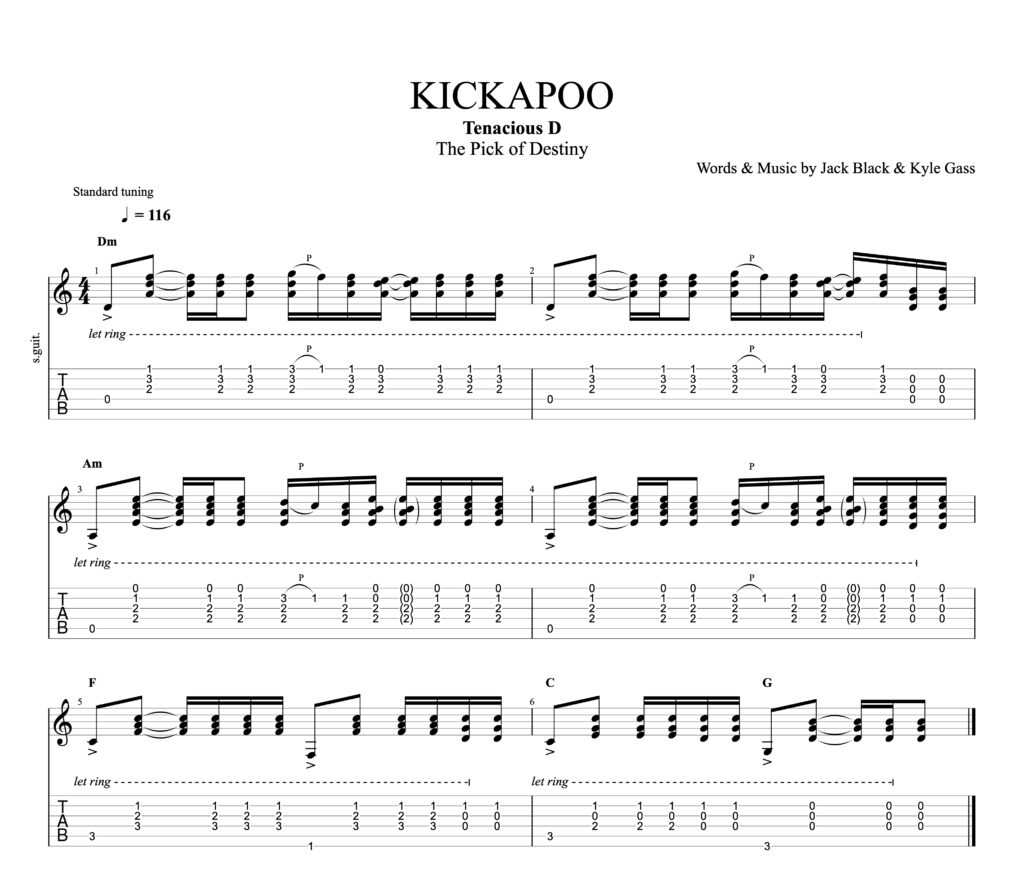 4 – The Metal
Fun fact: you can "play" this song in the video game: Guitar Hero III: Legends of Rock. But I think it's funnier to play this riff on a real guitar.
When Tenacious D performs this song on stage, "The Metal", a beast made of metal, comes on stage to perform a diabolical dance with Kyle and Jack!

This riff is a very good exercise for improving your left-hand technique. You'll have to play cool effects like palm muting and pull-offs. Learn it one bar at a time, at a slow speed then speed up. Use the Speed Trainer in Guitar Pro 8 to practice at your pace. Don't forget to tune your guitar to drop D.


5 – Tribute
Tribute is among the most famous and oldest songs of Tenacious D. You might already know the story of the song, but for those who are not familiar with it, this is it: When hitchhiking Jack and Kyle met the devil
who asked them to play "the best song in the world", otherwise the devil will eat their souls.
Unable to remember the best song in the world, they played a tribute.

In the official clip, it's Dave Grohl who embodies the devil!

Looking at the technique, this intro is a bit like the Kickapoo intro.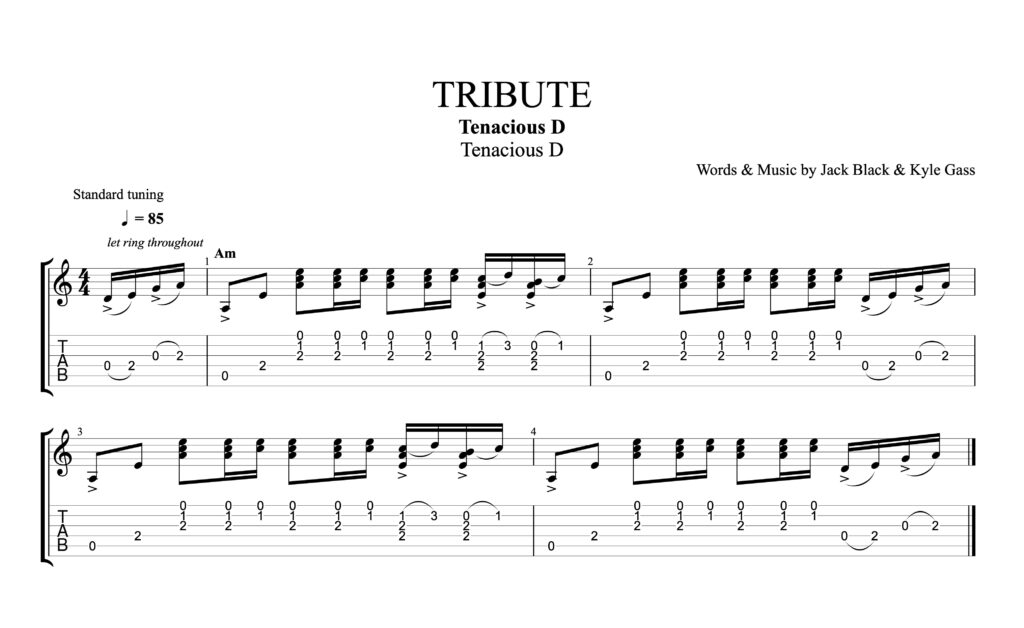 I hope you enjoyed this article! Please share your questions, suggestions and anything you want to say in the comment section below.
Thank you!

Thomas Duflos
Leave a comment
Your email address will not be published.
The official Guitar Pro tabs and scores library
Free
Guitar Pro tabs
pack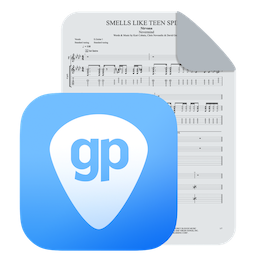 Download hundreds of riffs, licks, and exercises to spice up your guitar practice time.
Get the latest Guitar Pro generation