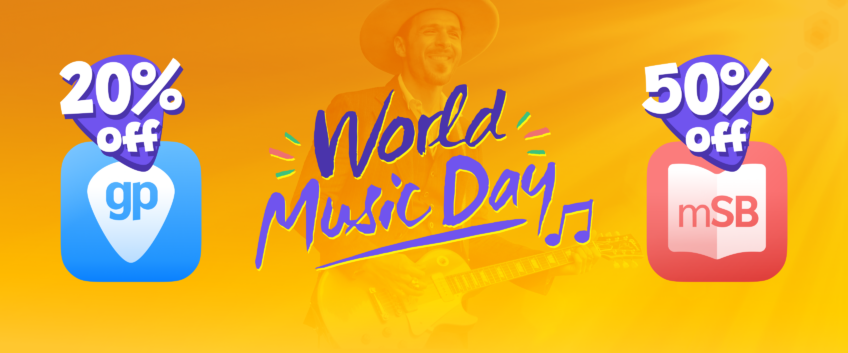 [Special offer ENDED] + 50 free tabs. Celebrate music with Guitar Pro!
Last update:
[This offer is now closed, stay tuned for the next one]. From June 20 to July 5, save 20% on Guitar Pro 8 and 50% on the 1-year subscription to mySongBook.
Guitar Pro 8 is now available for $55,96 instead of $69.95.

Don't miss out on the biggest sales of the year!

If you already have a previous version of Guitar Pro, enjoy 20% off the upgrade price. Upgrade for $27,96 instead of $34,95.
What is Guitar Pro?
Guitar Pro is the essential toolbox for guitarists of all levels, guitar teachers, musicians, artists and content creators. It has been the reference in tablature reading and editing for over 25 years!

"Guitar Pro is really easy to learn and understand. You don't have to be a "rocket scientist" to learn how to use it. The layout is really simple to understand and has all the features I need. That's why I like using it."
Emanuel Hedberg

What's new in Guitar Pro 8?
Discover the magic of the new audio track feature!
Spice up the sound of your Guitar Pro scores
It is now possible to add an audio file to your scores which can allow you for instance to play along with a backing track or one of your own audio recordings.

Adding the recording of the singer's voice will considerably improve the sound of your scores, giving them a whole new dimension and that will make your scores sound realistic and more professional.
Transcribe faster and more accurately
The new audio track feature is also ideal for transcribing. Simply synchronize your audio file with your score to transcribe songs more easily. With Guitar Pro 8, no more back-and-forth with third-party software!

Numerous new editing options have been added to help you edit faster like the command palette. The design mode has been improved and new options have also been added to the style sheet:
Improve your scores and your guitar skills

Create scale diagrams, improve your playing with the visual metronome, and fine-tune your sound with the new pedalboard.
Discover the new things you can do with Guitar Pro 8's here.
What is mySongBook?
mySongBook is a score library directly accessible in Guitar Pro 8. It contains easy arrangements for solo guitar, as well as "full score" sheet music with all the instruments featured in the original album or live versions. You'll even find arrangements for ukulele!

Subscribe now to access thousands of hit songs available in many different styles, levels and instruments.

The 1-year subscription to mySongBook is now $15 instead of $30 until July 5, 2023.

Don't wait!
Download the free Guitar Pro 8 tabs pack

Play 50 legendary guitar intros!
4 Non Blondes – Whats Up Intro
A Perfect Circle – The Outsider
AC/DC – Back In Black
Aerosmith – Walk This Way
Alice Cooper – No More Mr Nice Guy
Black Sabbath – Paranoid
Blue Oyster Cult – Don't Fear The Reaper
Blur – Song 2
Boston – More Than A Feeling
Chuck Berry – Johnny B Goode
Coldplay – Yellow
Creedence Clearwater Revival – Proud Mary
David Bowie – China Girl
Deep Purple – Smoke On The Water
Derek And The Dominos – Layla-
Dick Dale – Misirlou
Dire Straits – Money For Nothing
Dusty Springfield – Son of a Preacher Man
Free – All Right Now
Genesis – I Can't Dance
Guns N' Roses – Sweet Child O Mine
Iggy Pop – The Passenger
INXS – Need You Tonight
Jet – Are You Gonna Be My Girl
Jimi Hendrix – Purple Haze
John Mayer – Waiting On The World To Change
Johnny Winter – Rock And Roll Hoochie Koo
Kiss – I Was Made For Loving You
Led Zeppelin – Whole Lotta Love
Lenny Kravitz – Are You Gonna Go My Way
Lynyrd Skynyrd – Sweet Home Alabama
Metallica – Enter Sandman
Nirvana – Smells Like Teen Spirit
Pink Floyd – Wish You Were Here
Queens Of The Stone Age – No One Knows
Radiohead – Creep
Rage Against The Machine – Bombtrack
Ram Jam – Black Betty
Red Hot Chili Peppers – Dani California
Roy Orbison – Pretty Woman
Soundgarden – Spoonman
The Animals – The House Of The Rising Sun
The Beatles – I Want You
The Clash – Should I Stay Or Should I Go
The Eagles – Hotel California
The Kinks – You Really Got Me
The Police – Message In A Bottle
The Rolling Stones (I Can't Get No) Satisfaction
The Rolling Stones – Start Me Up
Toto – Hold The Line
Any questions?

Feel free to ask us anything in the comments or send a message via our support here.
Leave a comment
Your email address will not be published.
The official Guitar Pro tabs and scores library
Free
Guitar Pro tabs
pack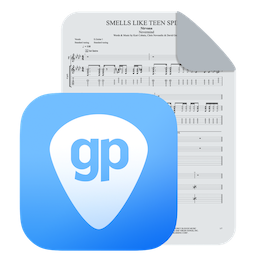 Download hundreds of riffs, licks, and exercises to spice up your guitar practice time.
Get the latest Guitar Pro generation