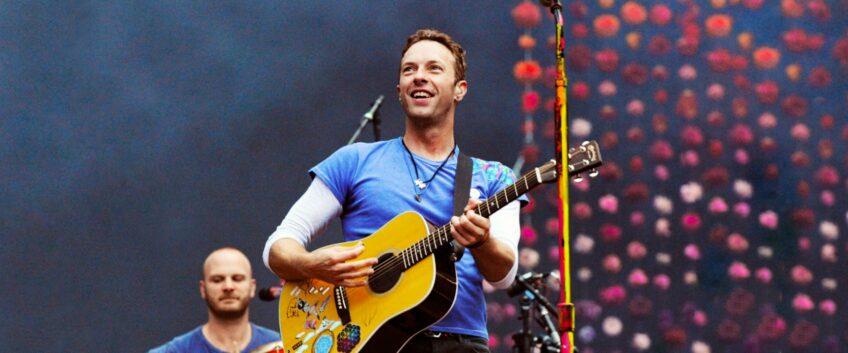 16 essential acoustic rhythm parts [with tabs]
Last update:
Author: Julien Bitoun
There is no way around it: the acoustic guitar is first and foremost a glorious tool to accompany the human voice, a perfect foil for a good song, and the ultimate songwriting device. Before any riff, solo, or intricate fingerpicked part, every guitarist worth their salt should be able to play a basic rhythm part on a steel-string acoustic.

Those twenty songs are all timeless classics, songs that were hits when they were released and that have stood the test of time since then. All the tabs for Guitar Pro are available and will allow you to practice your right-hand technique. Concentrate on making those rhythm parts as steady and lively as possible (of course Bob Dylan's groove is much stiffer than Jason Mraz's, with different strokes for different folks), and when you've mastered them try and sing along. Even if you're not a proper singer yet, a lot of fun is guaranteed for all.
You can download the excerpts of these 16 songs for free.

But these legendary songs and thousands more are available in mySongBook, Guitar Pro's integrated sheet music library.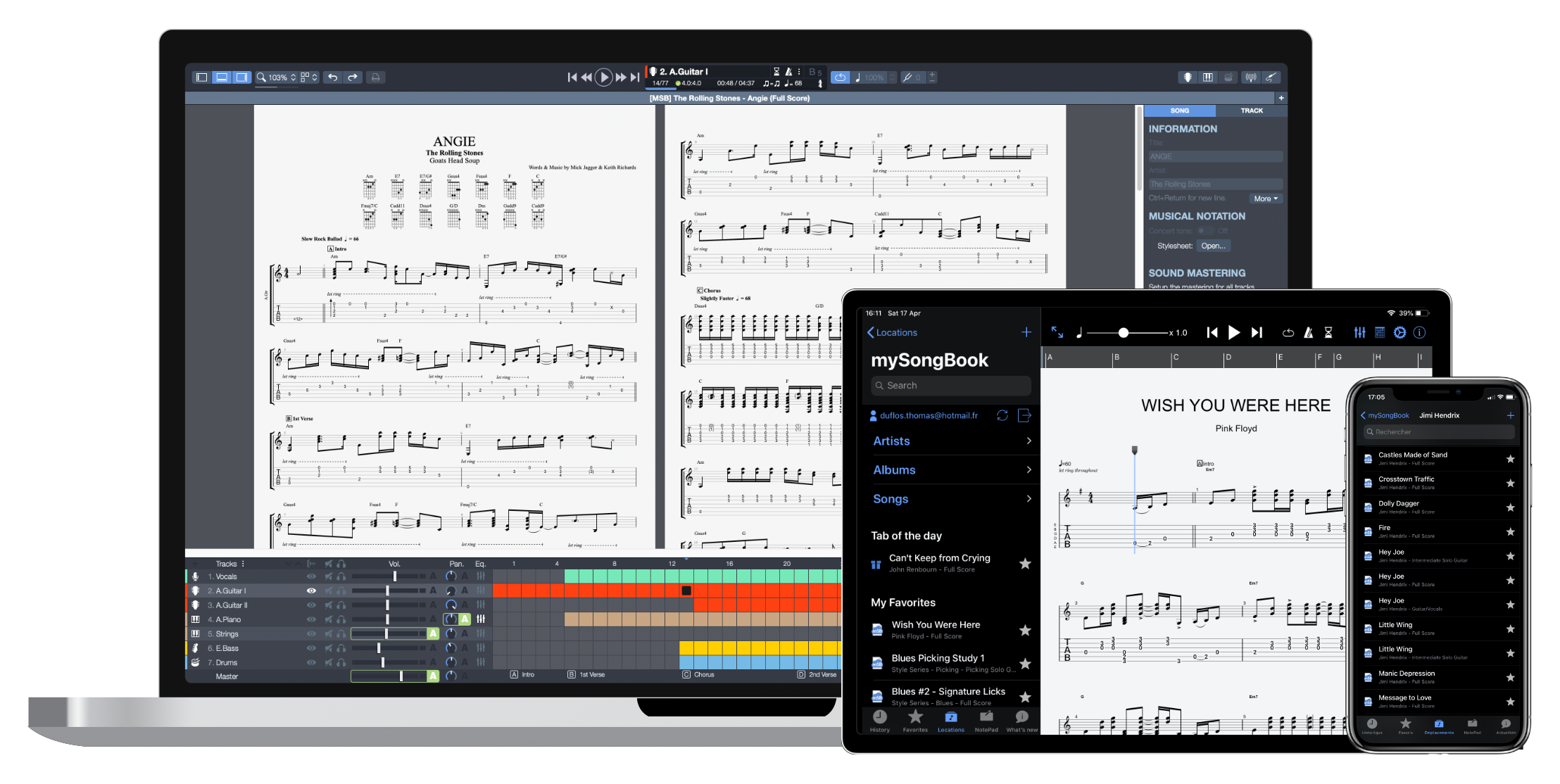 1 – America – A Horse With No Name (1971)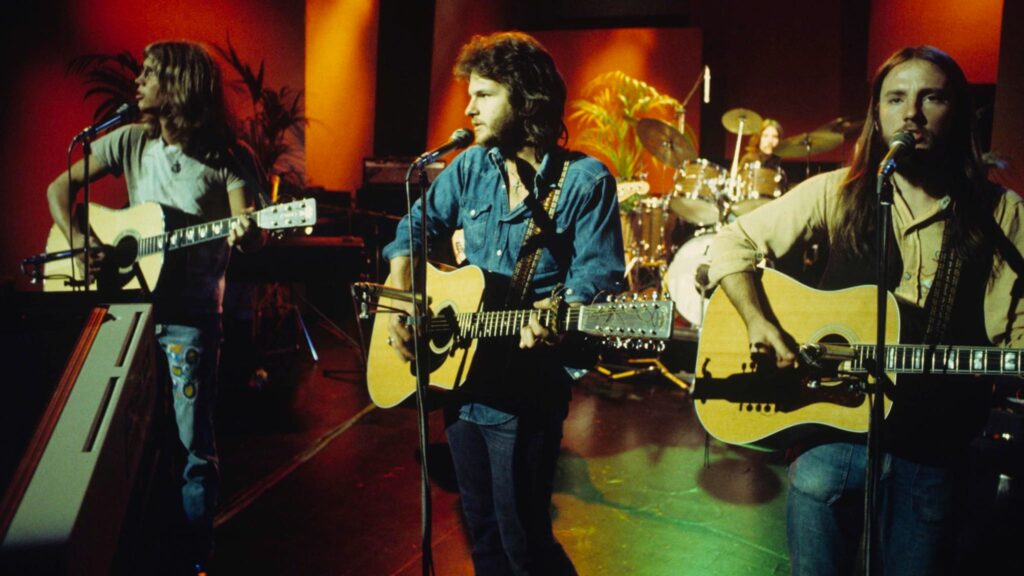 Even though they have released 23 albums to date (including one as late as 2015), America is still most famous for their very first single taken from their first album, the gorgeous classic "A Horse With No Name". The band was a trio made of three singers and guitar players, using both 6 and 12-string guitar. That mixture explains why it can be hard to pinpoint exactly who is playing what on the original recording, and that folksy hit single was played in a weird open tuning.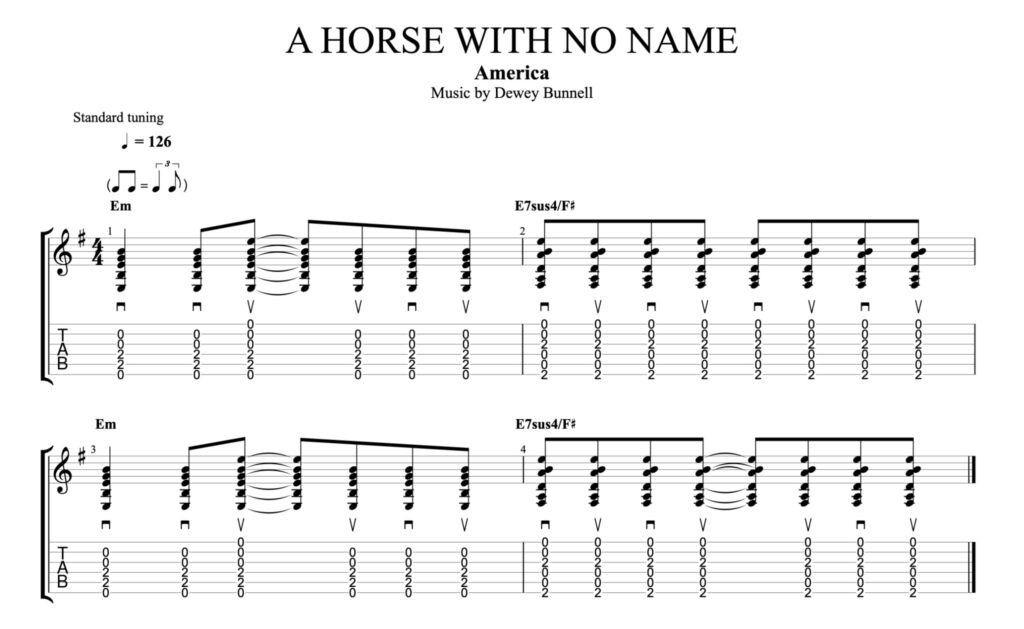 But the version you have here sounds great too, and it will help you find a nice right-hand groove since the left-hand fingerings don't require too much attention. Use a 12-string acoustic for maximum effect.
2 – Bob Dylan – Blowin' In The Wind (1963)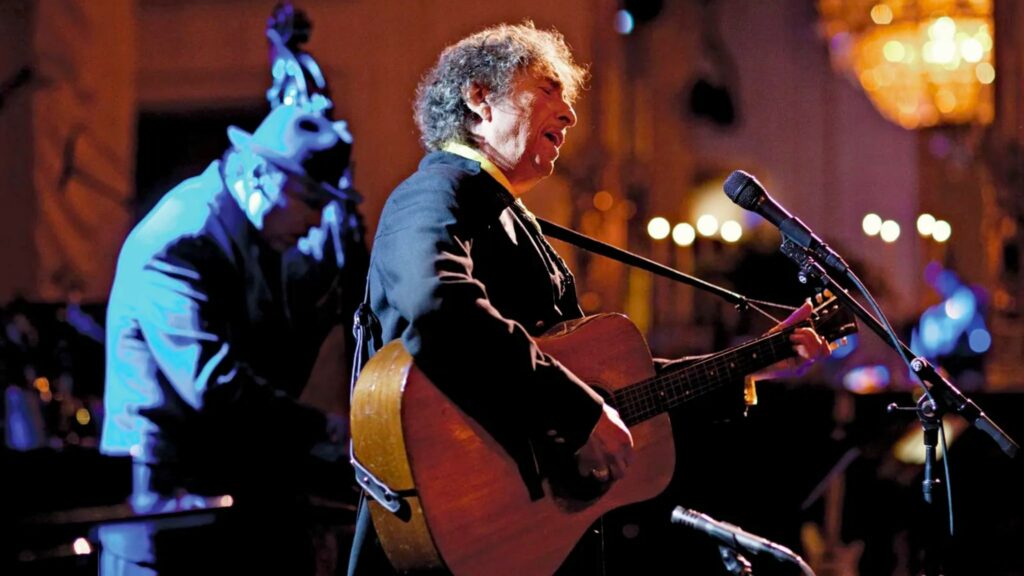 Bob Dylan is a songwriter first and foremost. In fact, he's such a good writer that he even got the Nobel Prize for literature in 2016. But his guitar playing should not be overlooked. He's a rhythmic force to be reckoned with, and on his first albums he's doing all the heavy lifting himself, alone on an old Gibson J-50. "Blowin' In The Wind" is one of the highlights of his second album, The Freewheelin' Bob Dylan, and it has been covered many times but the simplicity of the original remains very powerful.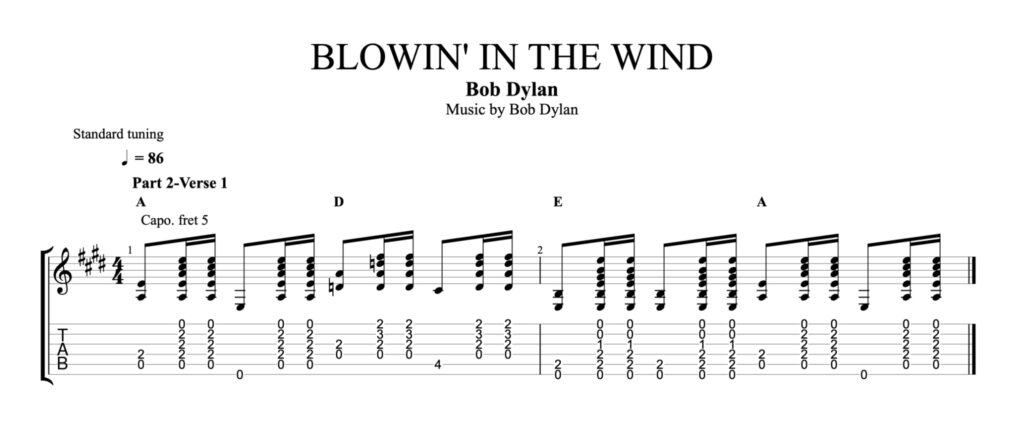 The capo on the fifth fret can be changed to fit your vocal register, and the simple chords allow you to concentrate on the melody that is going on in the low register. Pick clearly and try to separate your low E and A from the other strings as much as possible.
3 – Bob Dylan – Knockin' On Heaven's Door (1973)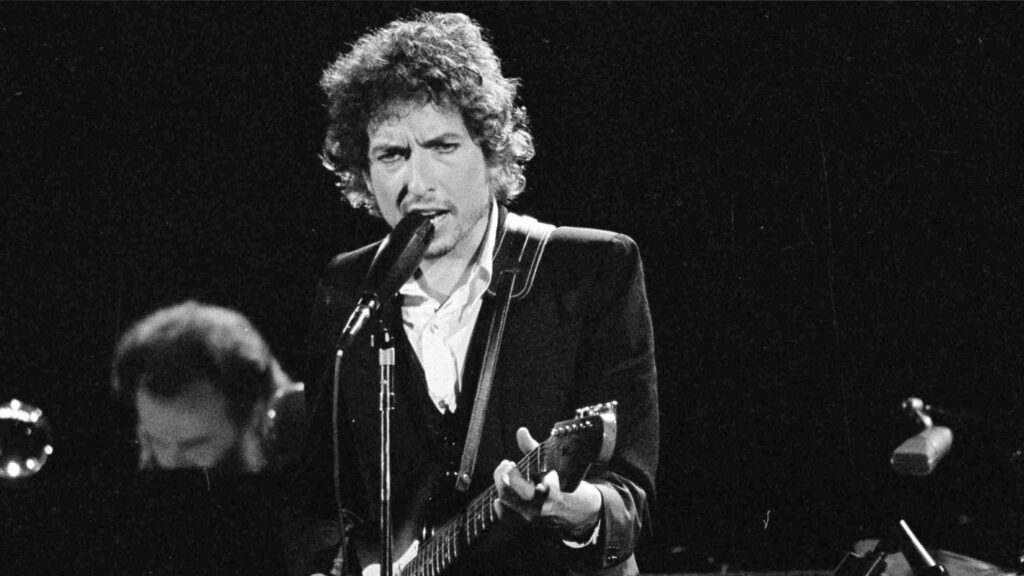 That song was originally taken from the soundtrack to the western movie Pat Garrett and Billy The Kid, in which a bearded Bob Dylan makes an appearance (alongside fellow singer Kris Kristofferson), but it became even more iconic when the hard rock band Guns N' Roses made it a hit a second time around in the nineties.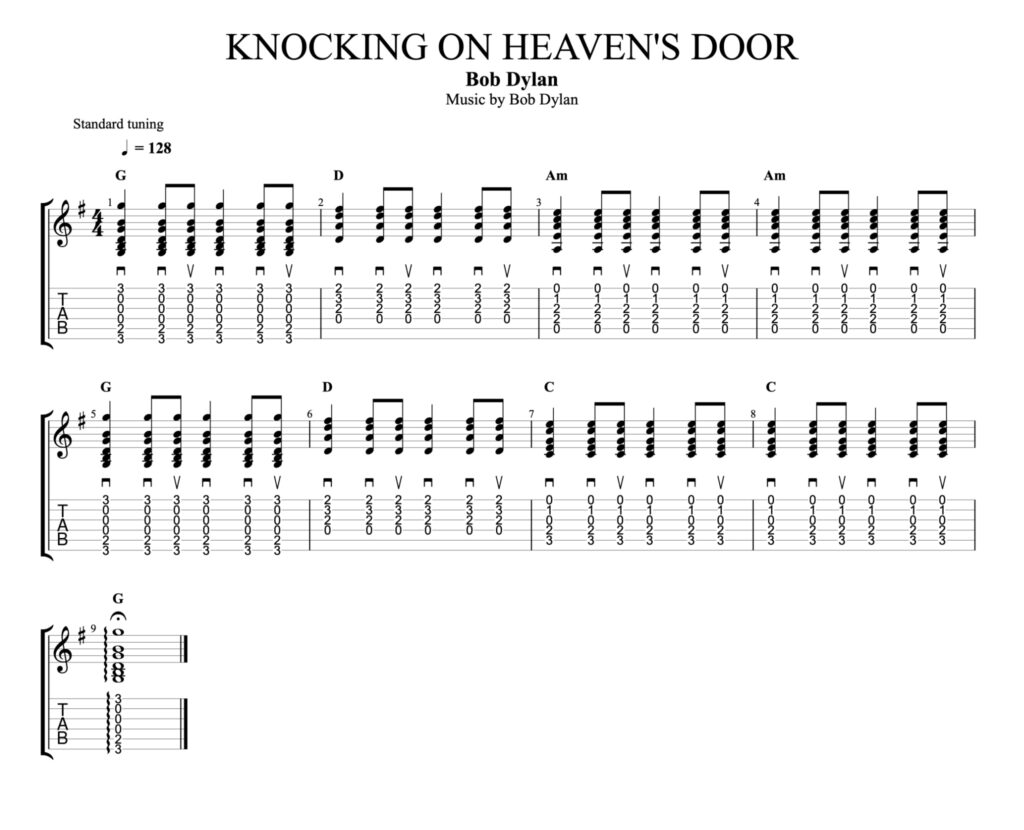 That rhythm part is a perfect introduction to four "cowboy chords" that you're going to be needing for the rest of your guitar-playing life, and the right-hand pattern is repetitive enough that you'll soon be able to sing along.
4 – Bob Marley – Redemption Song (1980)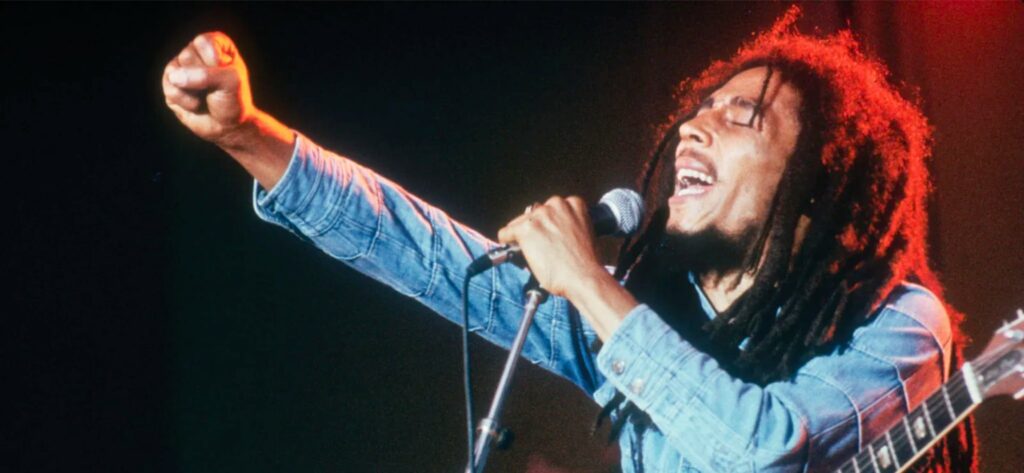 "Redemption Song" was an anomaly in Bob Marley's catalog. It was tucked away at the very end of the Uprising album, and it remains the one and only solo acoustic performance by the reggae icon (a full band version also exists, but it's not nearly as good). That deep, powerful and heartfelt performance makes us wish Marley had recorded a full album as a solo performer. The chords are pretty simple and the strumming is a pattern you must know if you're trying to be a proper singer/songwriter.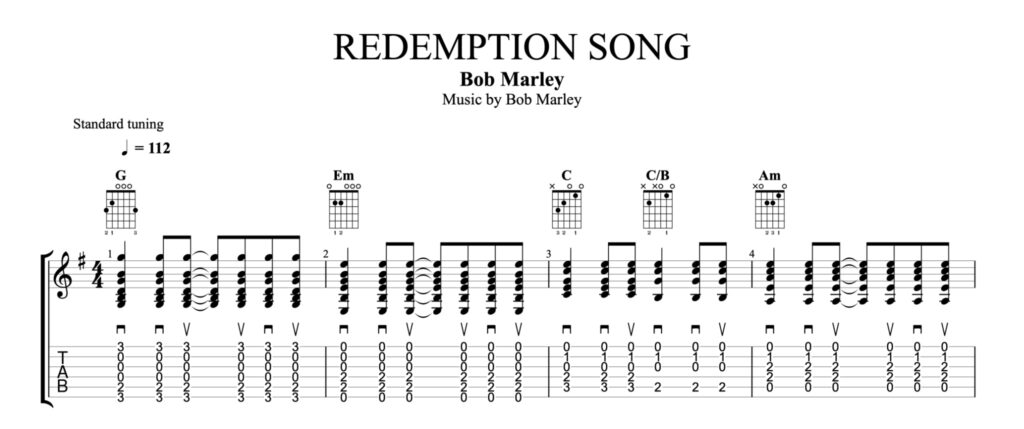 Notice how the bass line descends from C to A by way of the B, and how the last time around it goes to D instead of Am, making it more hopeful and creating more tension that gets resolved with the chorus.
5 – Coldplay – Yellow (2000)
"Yellow" was the second single from British pop band Coldplay's first album, Parachutes, and more than twenty years later it is still a beloved classic and one of those songs that the band must play at every performance they give. Singer Chris Martin also plays the acoustic guitar (usually a Martin dreadnought for live performances), and his rhythm part is simple but brilliant.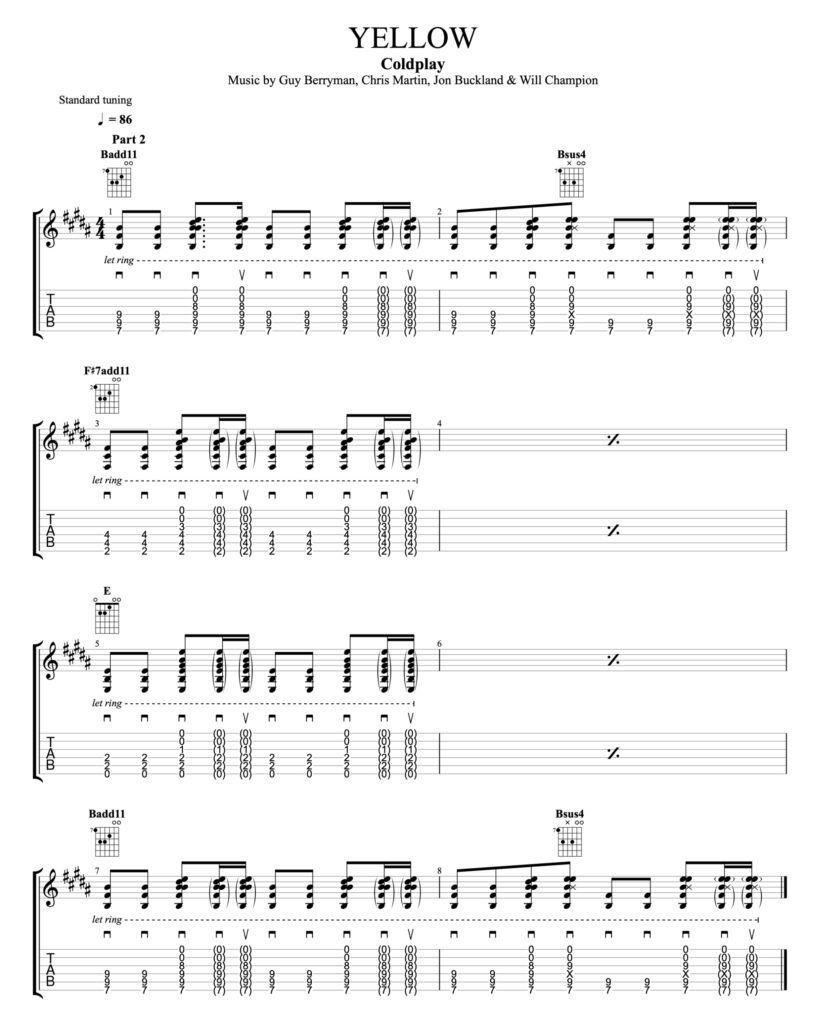 The clever names of the chords like Badd11 or F#7add11 should not scare you: they are major barre chords with the B and high E ringing as open strings. In fact, Martin frets the low E with his thumb in order to let the open strings ring as much as possible.
6 – Creedence Clearwater Revival – Bad Moon Rising (1969)
Even though Creedence Clearwater Revival was mostly an electric band, their songs are so well-crafted that they perfectly translate to a simpler acoustic context. In fact, guitarists Tom and John Fogerty (the latest also being the singer) have a rhythmic approach on the electric that sounds really close to acoustic strumming. "Bad Moon Rising" is one of their most well-known songs, and it was the first single taken from their third album, Green River.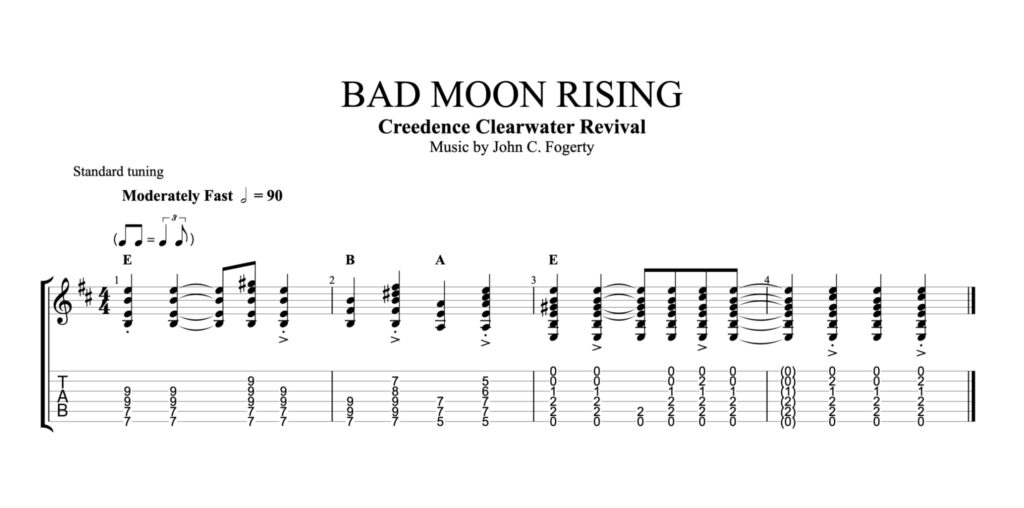 The chords are basic, but the tempo is pretty fast so keep your right hand moving and try to keep up!
7 – Jason Mraz – I'm Yours (2008)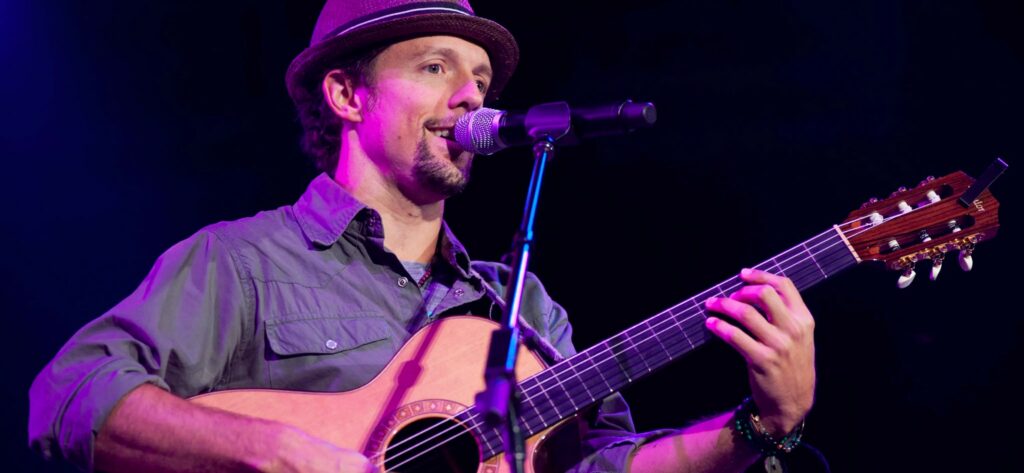 American singer Jason Mraz was already well into his career when he started performing "I'm Yours" as part of his live shows, before it was even released on an album. It quickly became a crowd favorite, which prompted him to put it on his third album, We Sing. We Dance. We Steal Things…. Then, the single took off like a wildfire and it even broke a record with 76 weeks spent in the charts. It can easily be understood, since that little reggae ditty is absolutely infectious and instantly feels light and good. Jason is an exception among the guitarists mentioned here since he mostly plays on a nylon string acoustic (he even has his own Taylor signature model).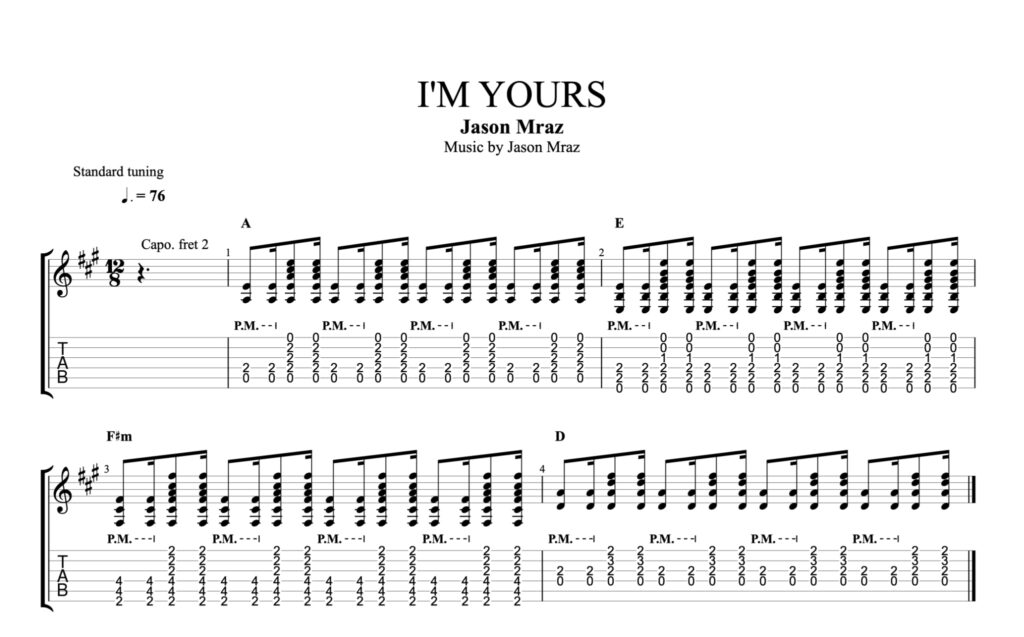 The 12/8 time signature should not throw you off, it's just a means to an end, a way to get your right hand closer to that laid-back reggae feel that keeps the song moving without rushing it.
8 – John Lennon – Imagine (1971)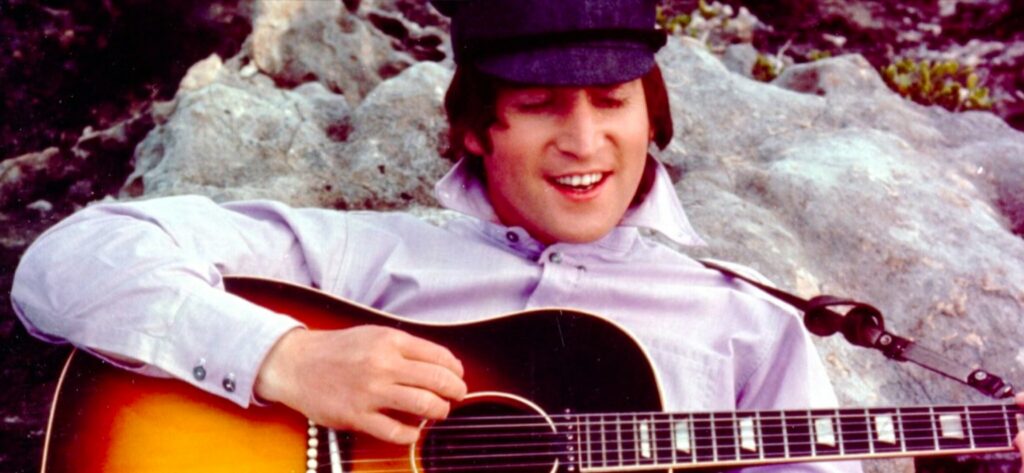 "Imagine" is more than just a song. It is one of the most famous songs of all time, a true hymn that's been sung by millions and will most likely endure the test of time for centuries to come. It was taken from John Lennon's second solo album of the same name, and the ex-Beatle had enlisted the help of Phil Spector to produce it, hence the heavy reverb. Despite that very rich production, there are very few elements, and the basic tracks are piano, bass and drums, with nary a guitar in sight. For the purpose of that article however, we created an acoustic version that will sound perfect to keep your audience singing along, with the help of a few simple chords and a nice steady right-hand rhythm.

9 – Oasis – Wonderwall (1995)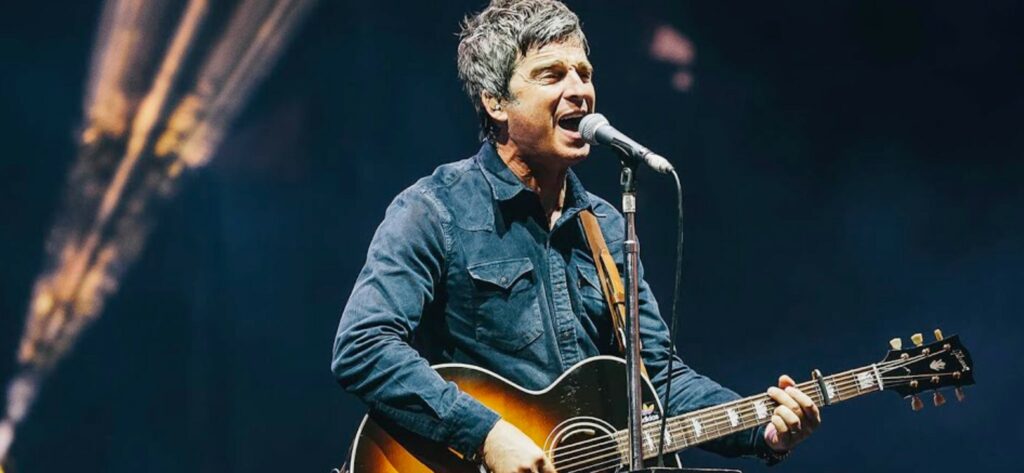 "Wonderwall" is almost a joke to play on the acoustic guitar, since that Oasis hit single (taken from their second album (What's The Story- Morning Glory) has been overplayed and covered to death by every single acoustic singer since 1995. However, it remains a great rhythm part, with the very clever twist of those two high notes on the B and high E ringing through the four different chords, acting as a drone to tie the whole thing together and make it more harmonically interesting.

10 – Queen – Crazy Little Thing Called Love (1979)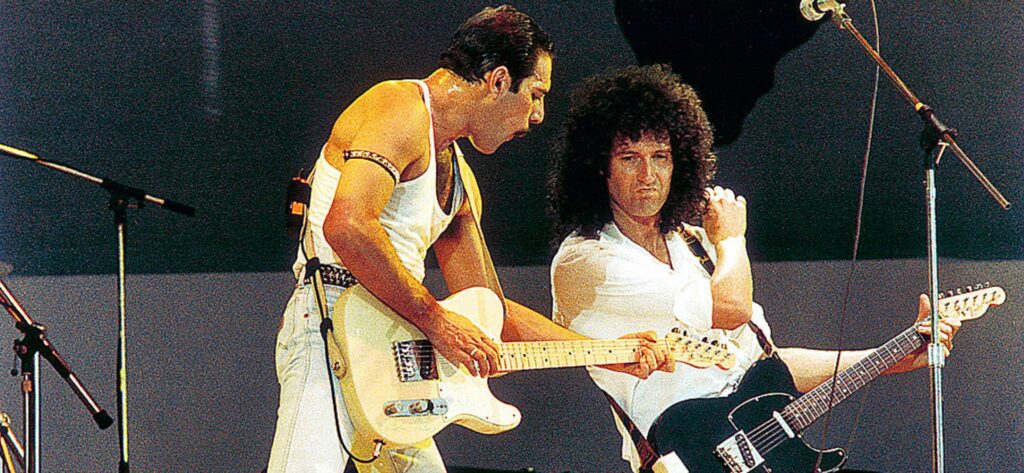 It could be argued that the British band Queen has had a hit in every possible music genre, and "Crazy Little Thing Called Love" is their attempt at a classic country/rockabilly song. And what an attempt it is! The driving acoustic was played by singer Freddie Mercury himself, while Brian May plays the electric guitar parts. The right-hand strumming wears the influence of early rock 'n' roll proudly on his sleeve and could have been part of an Everly Brothers song. It stays in D but a simple extra finger makes it more complex and keeps it moving along while leaving room for the vocals. American country singer Dwight Yohakam covered the song in 1999, and his version is pretty great too, even if it is much less tongue-in-cheek than the original.

11 – Stealers Wheel – Stuck In The Middle With You (1972)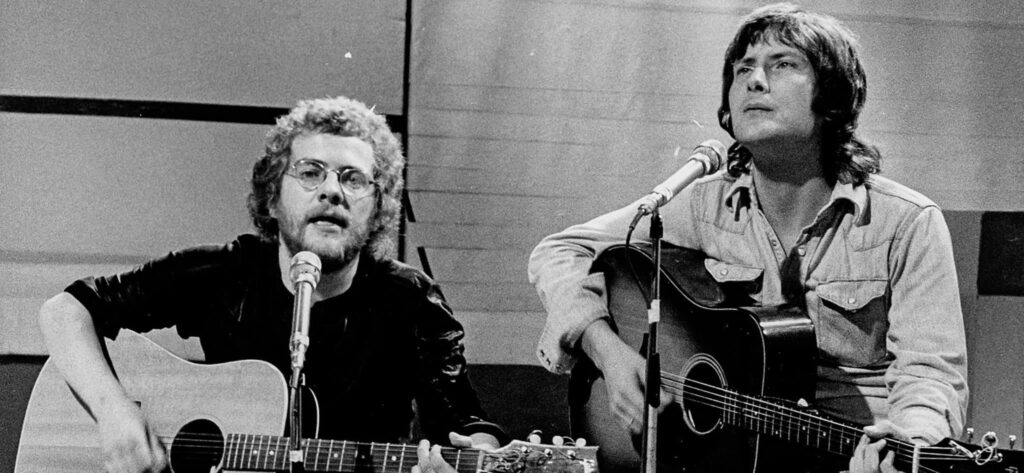 The name Stealers Wheel might not ring a bell, but you've probably heard of singer/songwriter Gerry Rafferty, who went on to write great solo songs. Even though the fantastic folk song "Stuck In The Middle With You" was originally written as a Bob Dylan parody, it became a hit in its own right and even found a whole new audience when it was featured in Quentin Tarantino's first movie, Reservoir Dogs. The intro is really interesting in its choice of unusual voicings, and then the actual rhythm part starts on a simple D chord strummed in a very laid-back fashion.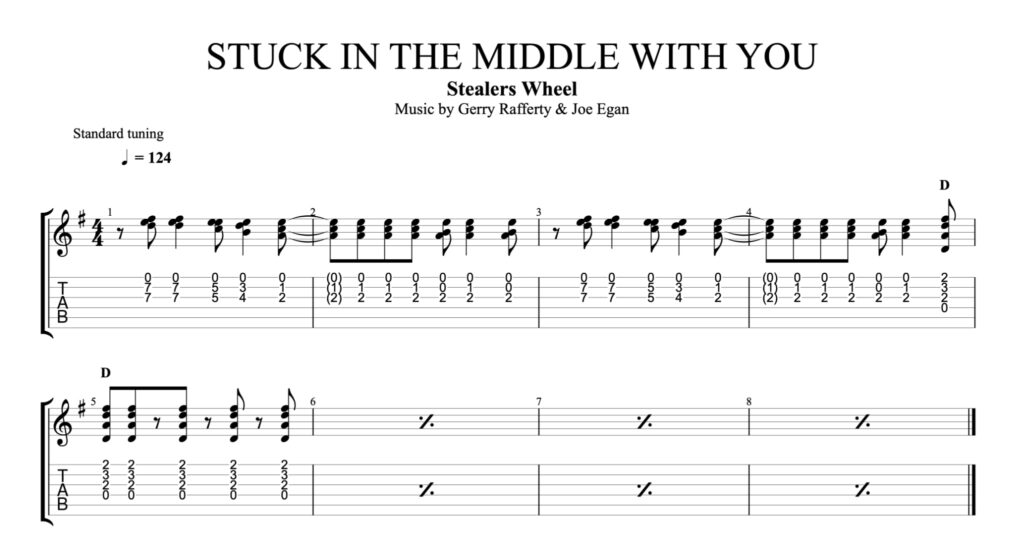 12 – The Beatles – Love Me Do (1962)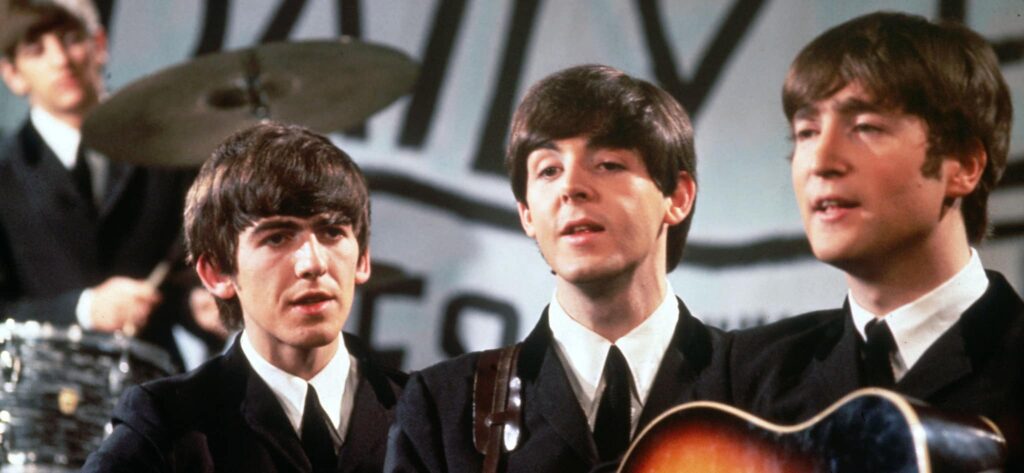 Again with the Everly Brothers influence! That very cute folk-country song happens to be the first single released by a little British band from Liverpool, the Beatles. The rest, as they say, is History, but that debut is still a very strong song, and that guitar part is a very nice way of working on two chords that you will absolutely need (G and C) while getting that right hand in the groove. Keep it moving and try to sing along, especially if you have another player who can harmonize with you.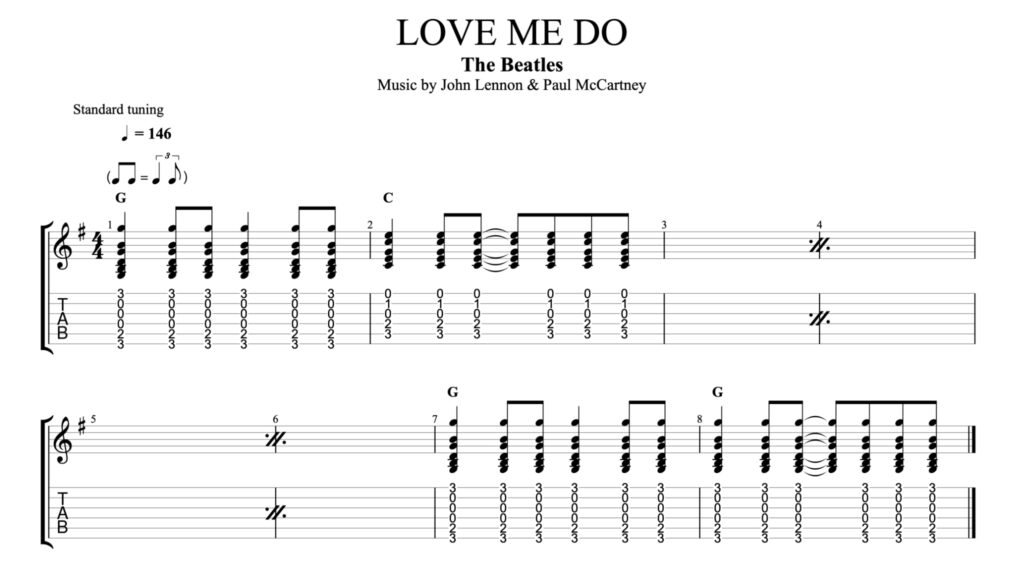 13 – The Cranberries – Zombie (1994)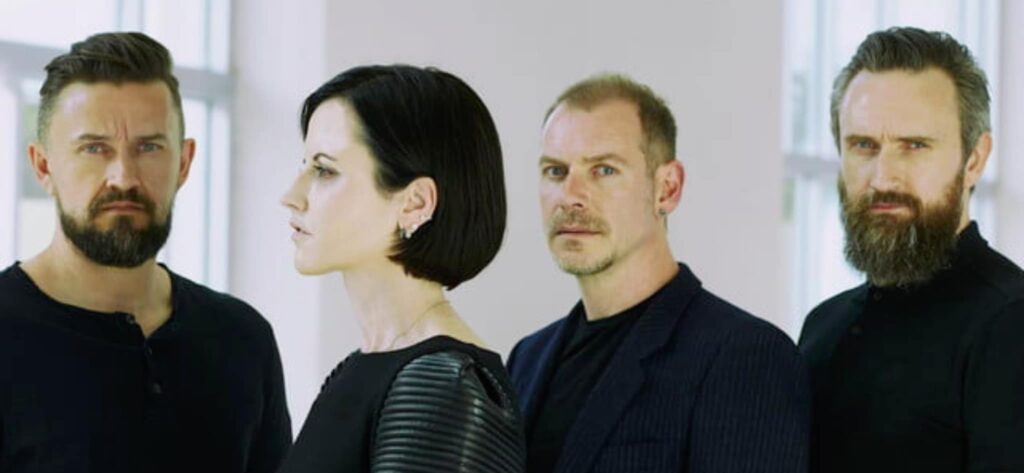 If you only know the grungy hit single "Zombie", you might be surprised to learn that The Cranberries actually were a folk-influenced alternative rock Irish band. But "Zombie", the first single from the band's second album No Need To Argue, is at its core a very-well written protest song not unlike many folk classics. It might be hidden behind a wall of distortion, but the guitar part has some beautiful overtones, courtesy of the top three open strings that keep ringing throughout, creating a true dissonance when the low F# clashes with the open G.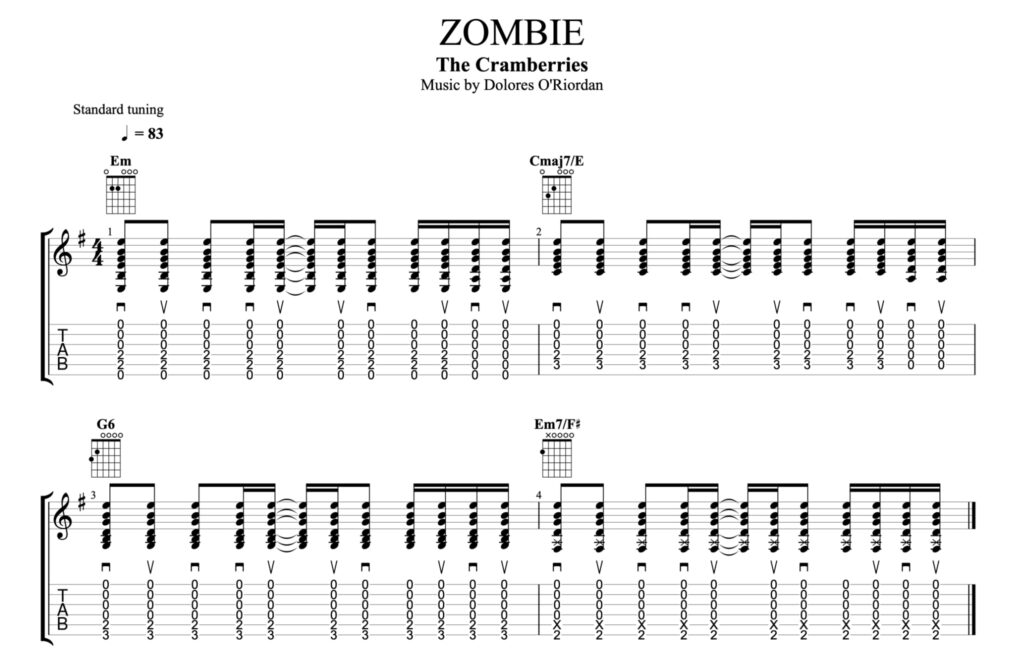 14 – The Rolling Stones – Angie (1973)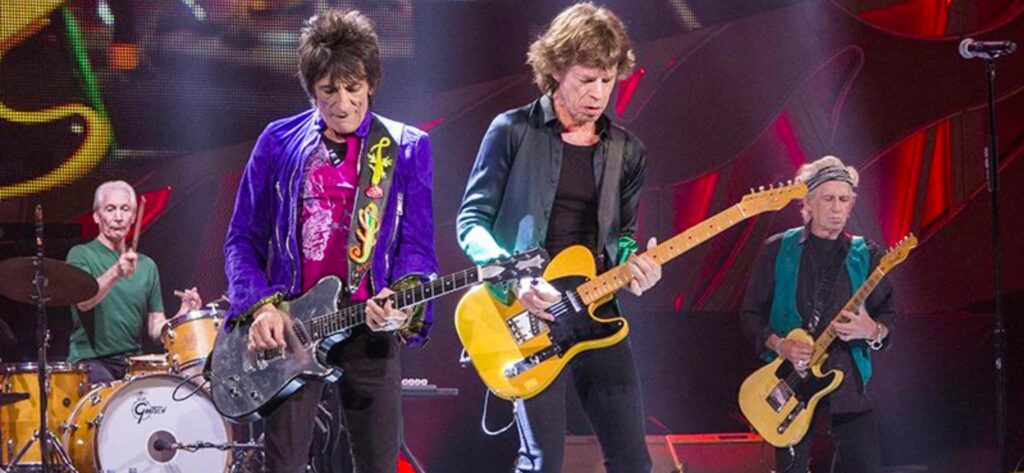 Technically speaking, this is the intro part. But it deserves to be part of that list as one of Keith Richards' finest acoustic moments, strumming his Gibson Hummingbird with both chords and arpeggiated parts that perfectly balance each other. Once the vocals enter the picture, the guitar becomes a little more subdued, but remains gorgeous throughout. The Rolling Stones were already deep into their career by then, and "Angie" is a single from their 11th album Goat's Head Soup, but it has a special place in the band's repertoire. Deep and naive at the same time: think of it as romantic Delta Blues and you'll get the picture.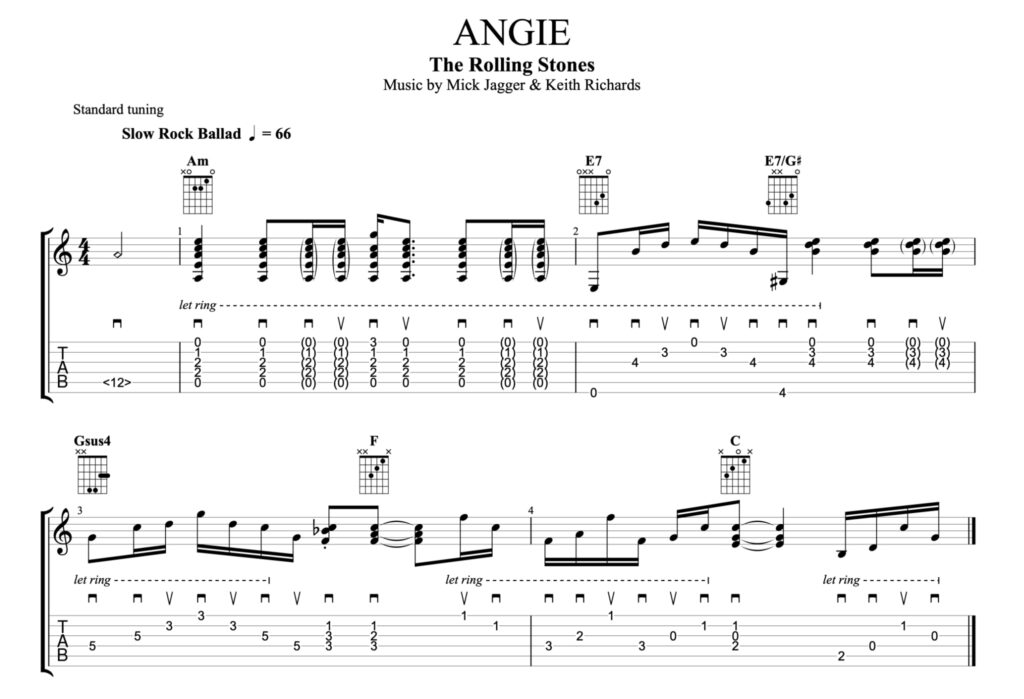 15 – Tom Petty – Free Fallin' (1989)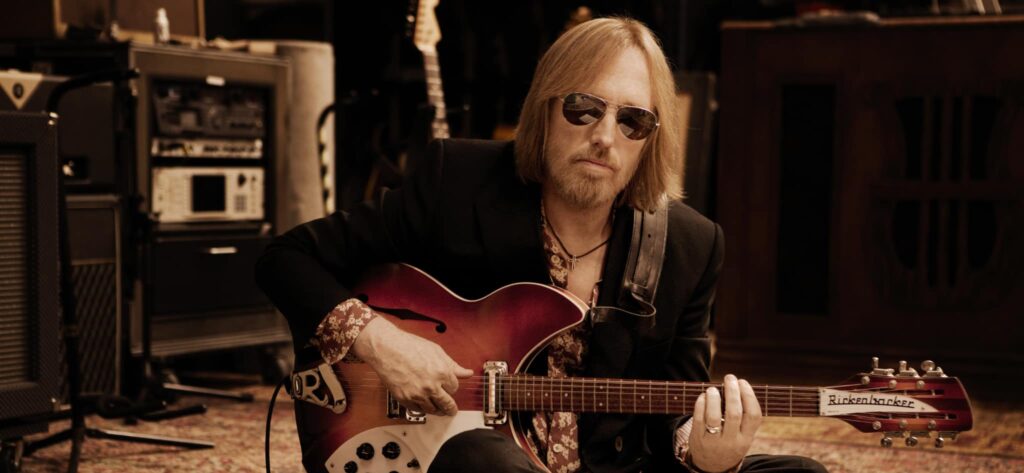 The acoustic guitar was very unfashionable back in 1989, but Tom Petty knew better: with the help of producer and fellow Travelling Wilbury Jeff Lynne, he created a true wall of acoustic guitars, ringing like a thousand twelve strings on his first solo album, Full Moon Fever. That album is the kind of smash on which half of the songs became hit singles, but "Free Fallin" became the ultimate Petty single, a mid-career classic that's been covered by many artists, including John Mayer. The strumming pattern is dead simple, but the clever use of open strings to make the chords more resonant is a trick that every songwriter should remember.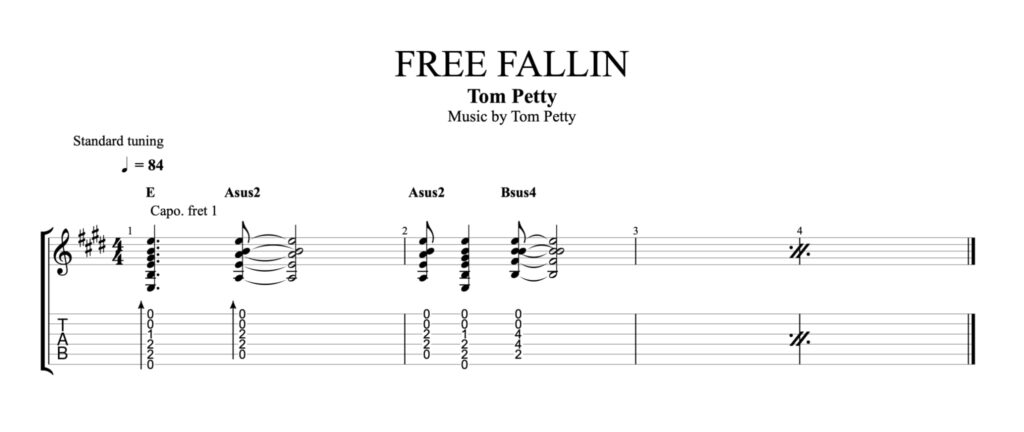 16 – Tracy Chapman – Talkin' Bout a Revolution (1988)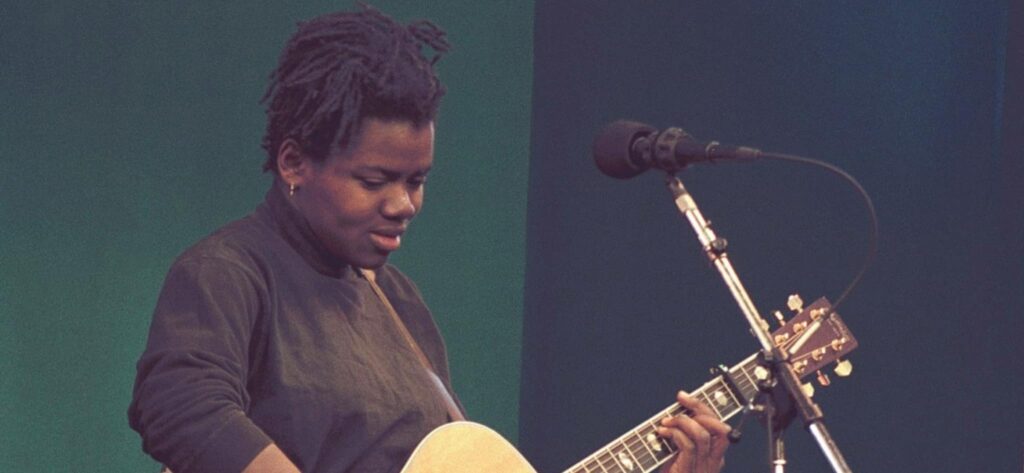 "Talkin' Bout a Revolution" was not a success when it came out in 1988, as opposed to the previous single from American singer's self-titled debut album, "Fast Car". However, it ended up becoming a true classic, a song that has been sung by every revolutionary movement since then and a folk song that belongs to the people and not just the artist who wrote it. Tracy Chapman's acoustic playing is simple but very driving: it remains the same throughout the whole song, but manages to remain interesting thanks to her brilliant sense of dynamics. Learn from that and try to play that rhythm part with a loose wrist.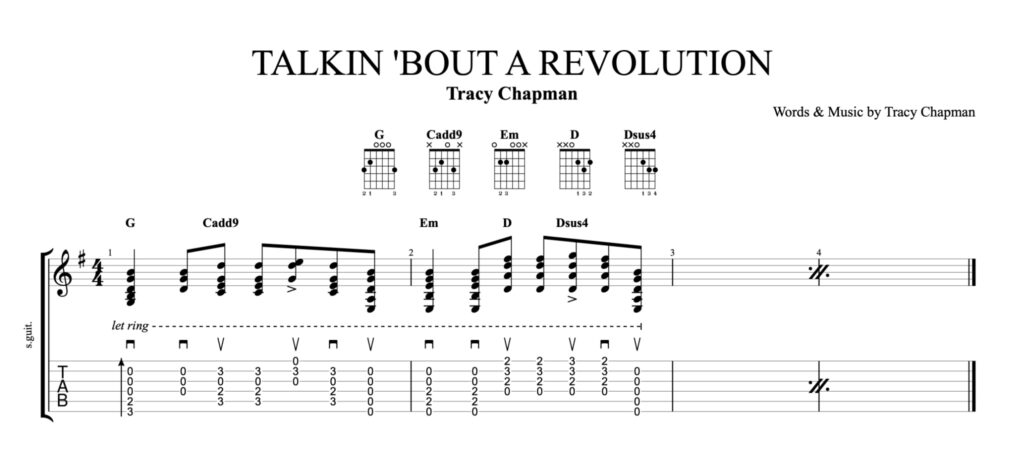 Those twenty rhythm parts are just the beginning of course, and we encourage you to work out the chords and right-hand patterns to all your favorite songs (and a lot of them can probably be found on the Play Guitar Hits app).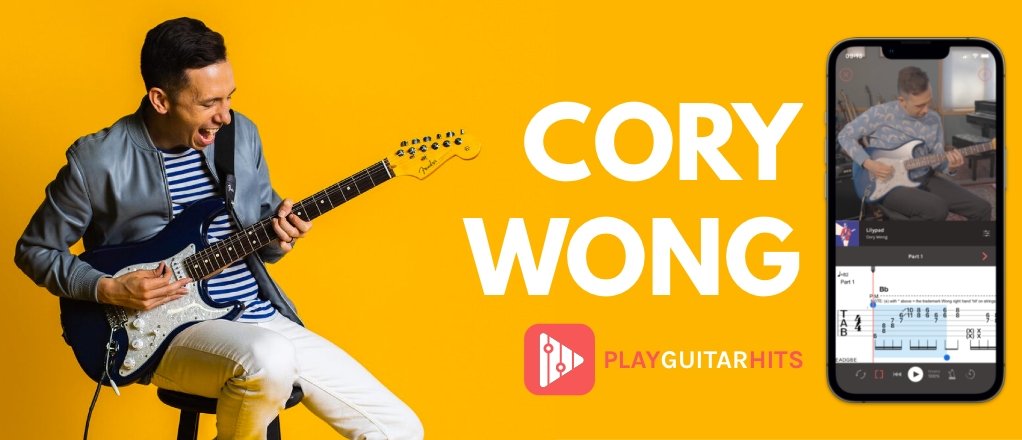 Remember: a great solo usually lasts for 20 to 30 seconds, while the rhythm part lasts for the whole song. Don't get your priorities wrong.
Leave a comment
Your email address will not be published.
The official Guitar Pro tabs and scores library
Free
Guitar Pro tabs
pack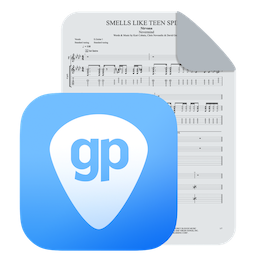 Download hundreds of riffs, licks, and exercises to spice up your guitar practice time.
Get the latest Guitar Pro generation