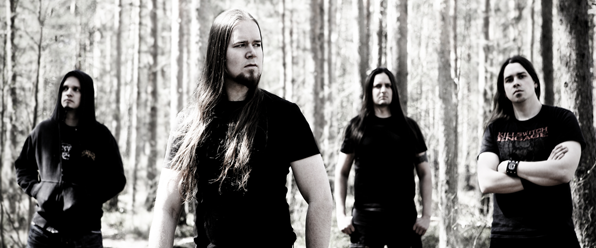 Learn to Play Insomnium's song "Through the Shadows" on guitar (free tab)
Last update:
Author: Thomas Duflos
The Finnish band Insomnium are releasing their new album One for Sorrow in Europe, and take the chance to share their latest riffs with us. The tablature score of "Through the Shadows", their first single, is available for free download.


An Art of Balance
Born in the heart of Finland, Insomnium combine traditional Finnish music and Metal sounds, seeking out balance between melody and power, sadness and hope. The band has crafted its unique identity throughout the years, never losing sight of musicality as the common thread in their creations.
Formed in 1997 by Ville Friman (guitar), Markus Hirvonen (drums) et Niilo Sevänen (bass/vocals), the band took in Ville Vänni as a new guitarist in 2001. After two demo records and four albums, Insomnium have been enjoying growing fame and have made a name for themselves as worthy successors to such bands as Dark Tranquility or Amorphis.

Through the Shadows
(free download)
"Through the Shadows" takes us into the world of melodic Death Metal: heavy rhythms and harmonized passages tinged with melancholy. Each instrument finds its place, which makes this song a very interesting tab to play on two guitars.
Make sure you respect the alternating chords with a let-ring effect and muted back-and-forth motions (Palm Mute with the side of your hand). This will give more volume to your playing and reinforce the drums' rhythmic patterns.

Measures 8,9 and 10 – track "Guitar I"
The solo tracks will have you work on technical elements like tapping and harmonized guitars. No particular technical difficulty, except for keeping the motif's sound clean when tapping. Indeed, you need to look out for reverberation when you practice the pull-offs to the open high E string, so that the whole thing sounds great with two instruments.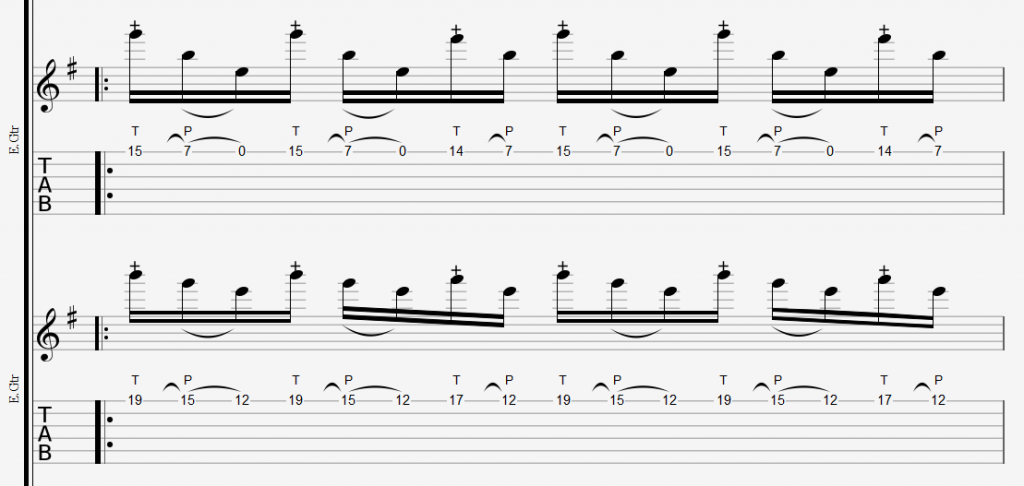 Measure 6: multitrack view – tracks "Main lead" and "Lead Harmony"
The whole Arobas Music team wishes you great fun with this. Please do share your interpretations of "Through the Shadows" with us, on the Arobas Music Facebook page, or ask your questions on this weblog. Happy listening, and joyful playing to you all!
Leave a comment
Your email address will not be published.
The official Guitar Pro tabs and scores library
Free
Guitar Pro tabs
pack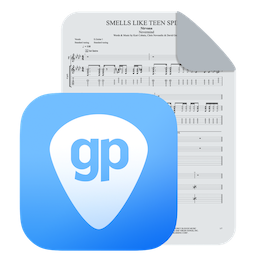 Download hundreds of riffs, licks, and exercises to spice up your guitar practice time.
Get the latest Guitar Pro generation